Design Museum peddles the cycling revolution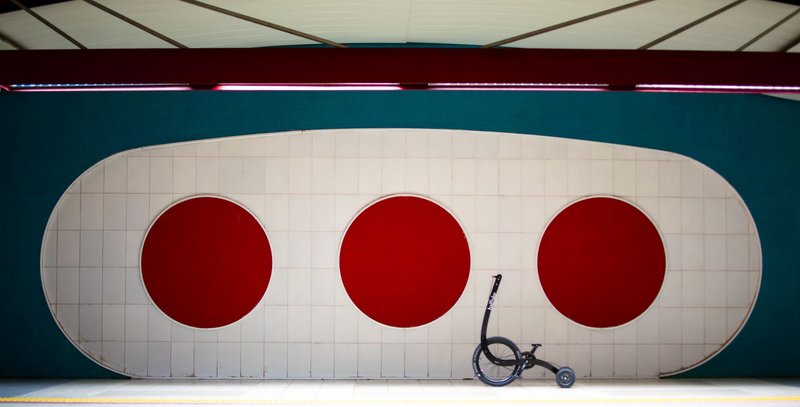 The soon to be launched halfbike, looking a little like a scooter with pedals
I'm not a regular cyclist but I still enjoyed Cycle Revolution, the Design Museum's last major exhibition before it heads off to its new High Street Kensington home.
It was Sir Terence Conran that first had the idea for the show, which is organized around four main thematic cycling tribes of High Performers, Thrill Seekers, Urban Riders and Cargo Bikers. It's a pertinent time for a show on cycling – given the recent explosion in interest especially in urban areas, with cycling hire schemes, cycling cafés and increased cycling storage provision within office developments. But before we get too carried away, in 1949 there were an estimated 23.66bn kilometres of cycling in the country compared with a mere 5.23bn last year. And while 37% of those in Copenhagen commute to work or school by bike, just 4% in Britain cycle daily.
Cycling enthusiasts will no doubt get a big kick out of the many bicycles on display – from an 1880 safety bicycle right through to the latest in racing high performance and ingenious lightweight folding models. Seeing Eddy Merckx's drop handlebar, tubular steel and metal spoked bike from 1969 alongside those ridden by Sir Bradley Wiggins and Chris Hoy demonstrate just how far things have moved on in terms of technology and material innovation. There's a huge variety here including wooden bikes, folding bikes, choppers, mountain bikes, tall bikes, half bikes, cargo bikes, as well as associated design material, film footage, and other interpretations.
Personally, I enjoyed finding out about the bicycle design industry both historically and even more the present day, and the ways that urban designers and architects may be able to create a more cycling-friendly environment. Britain led the world in cycling exports by 1914 and cycling is clearly still a highly-crafted industry despite all the technological innovation. Six makers are filmed talking about their approach to designing and building bikes, among them Caren Hartley of Hartley Cycles, who studied metalwork and jewellery design at the RCA before transferring her skills to bicycles. At Brookes, a leading maker of saddles and cycling bags, there's still a place for hand-stitching. The show also traces the extraordinary success of the Brompton and Moulton bikes and hears from design celebrity enthusiasts such as Paul Smith and Norman Foster.
In a room on the future of cycling, we are shown some of the ideas dreamed up to make the city better suited to cycling, among them Gensler's subterranean cycleways, Foster's plan for elevated cycle paths, and the Thames Deckway, a floating cycleway along the Thames.
Designed by Urban Salon, the whole exhibition is nicely put together from the start, with four tyre tracks making up their way up the stairs to the gallery before heading off around the room with occasional detours over the plinths.
This show is good at conveying what is perhaps the key appeal of cycling – freedom and liberation, from the sheer joy of a downhill sprint in rough terrain for a rider who otherwise uses a wheelchair, through to the amazingly skilful control of riders such as Danny MacAskill, who is featured in a film in the show.
Enthused visitors can indulge in cycling-related merchandise in the giftshop or, for those who want to jump straight on the saddle, hire a bike from the Brompton hire facility outside.
Cycle Revolution until June 30 2016, Design Museum, Shad Thames, London
---