Natural swimming in the city is already a reality in Denmark. Could it catch on in London?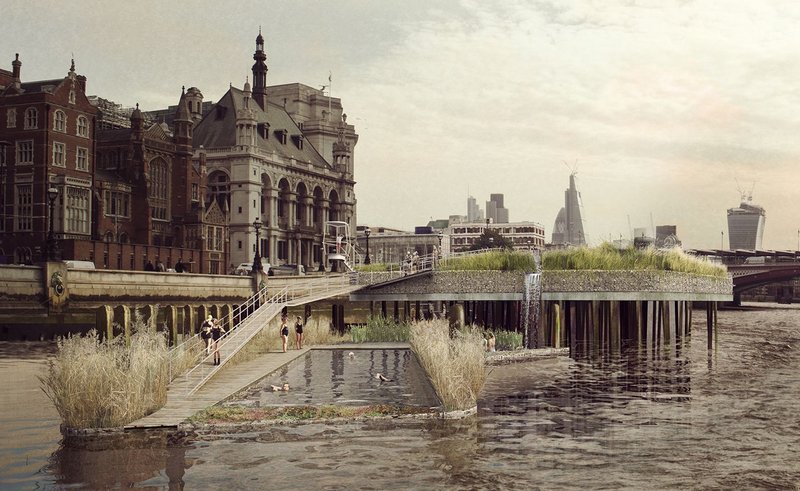 Gazing at the uninviting grey waters of the Thames on a dismal winter's day, it's hard to find the idea of natural urban bathing remotely appealing. Yet all that changes after a visit to Urban Plunge, an exhibition at the Roca London Gallery dedicated to new visions for swimming in the rivers and harbours of our cities.
Curated by Jane Withers, this exhibition puts forward several visions for new swimming venues in unlikely urban locations as well as the inspirational example of Copenhagen, where a similarly ambitious vision for harbour baths has been made reality.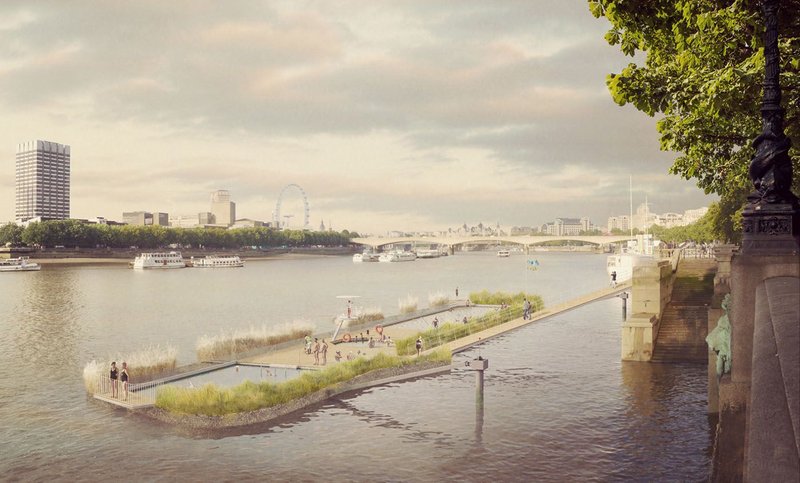 The exhibition starts with some brief context, referencing intriguing historical precedents in Paris, New York and London and establishing that the connection with urban bathing has mostly been lost in the last 50 years. But it's the new proposals that are the main attraction. Studio Octopi's river baths for the north side of Blackfriars Bridge and at Temple are intriguing if a little incongruous in their setting, but then that's partly the attraction. If built, surely they'd be hugely popular, providing paddling and lap pools in protected zones of the river. The Blackfriars scheme presupposed a cleansed Thames of the future with water safe enough to swim in, while Temple is a floating proposal incorporating three pools surrounded by planting.
The +Pool concept proposed by Family and Play Lab architects for New York's East River is innovative in both design and finance. The cross-shaped pool aims to be the largest crowd funded civic project, and would filter river water through its walls. Funding is currently being raised for a floating laboratory to test the idea.
Perhaps the odd ball in the exhibition is the King's Cross Pond Club, which aims to be the first public swimming pond in the UK. Situated in the midst of the King's Cross regeneration site, the proposal by Ooze and Marjetica Potrč would incorporate biological filtration processes into a small pond combining zones for swimming, water plants, and wetland planting.
The success story is Copenhagen, where upgrades to the city's sewage system has meant that it is now safe to swim in the harbour. Two pools, designed by JDS Architects, have been completed and judging by the images in this show look to be highly successful, conceived as urban parks extended into the water with areas for swimming, skateboarding and sitting. A separate House of Water vision by Tredje Natur for an island dedicated to learning about water and the environment looks fantastical but with the harbour pools already a reality, you wouldn't rule it out.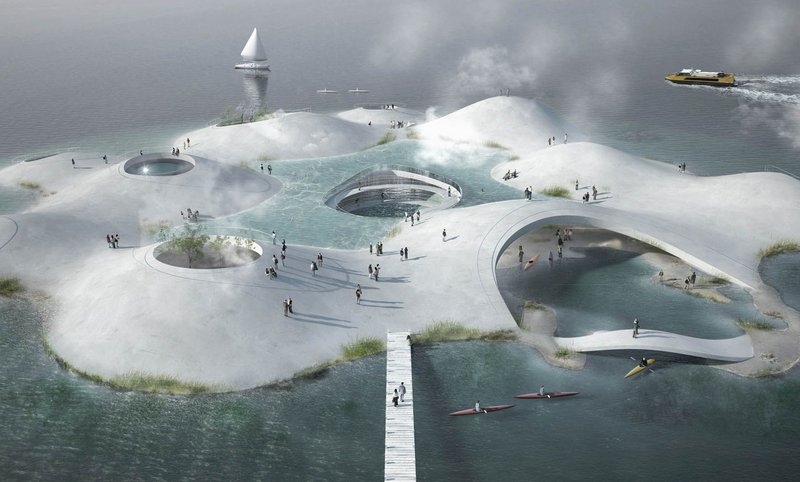 Meanwhile London is rather lagging behind the Danish. However, we learn at the exhibition that safe swimming in the Thames has been under discussion at the mayor's office. After Boris bikes, is it too late for Boris baths?
Urban Plunge: New designs for natural swimming in our cities, until 10 January 2015, Roca London Gallery, Station Court, Townmead Road, London
---