"People are fascinated with how things are made," says Nick Humphrey, co-curator of the new permanent furniture gallery at the V&A – surprisingly the museum's first devoted to the subject.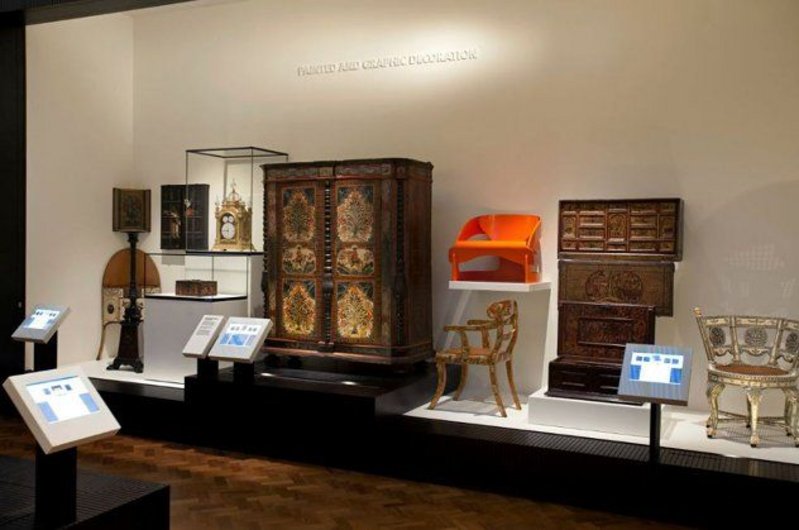 Designed by Nord, the Dr Susan Weber Gallery is an attempt to satisfy this curiosity by explaining the many traditional and contemporary processes behind furniture manufacture and decoration from wood turning to digital manufacture, and from japanning to moulding solids.

It certainly packs a lot into the relatively modest single space, which formerly housed the now relocated ceramics study centre. As well as the 16 manufacture techniques arranged down the sides, a central display presents pieces that represent changes in form over the last 600 years. There are also examples of furniture materials -animal, vegetable and mineral - plus displays telling the stories of individual designers and makers such as Eileen Gray and Thomas Chippendale.

But it's the manufacture that comes across the strongest. Ever wondered how upholstery evolved or the myriad painstaking processes that go into fine lacquer work? The gallery presents these and many others through a mix of objects, tools, and diagrams. My favourite is the footage of the injection- moulded manufacture by Vitra of Verner Panton's stacking chair that combines robotics with hand-finishing and can produce chairs at a rate of 18/20 per hour.

Technique aside, the objects alone are worth a trek up to the sixth floor gallery. Familiar items by Marcel Breuer, Charles and Ray Eames, Frank Lloyd Wright, Jasper Morrison and Ron Arad are dotted among 200 pieces drawn mainly from the museum's own collection, all chosen for their illustration of a particular aspect of manufacturing. While the pieces show off the makers' expertise, we are also encouraged to look at the backs, the insides, and the underside too.

There are plenty of curios including Lutyens's 1903-04 safe cabinet for a stockbroker in the style of C17 Dutch furniture; a trompe l'oeil 1670 wall cabinet from the Netherlands and an elegant chair leg in the form of an animal's hoof and leg similar to that of many a stately home piece but which surprisingly turns out to be Egyptian and more than three thousand years old.

The gallery design is austere but effective with stained oak central display plinths and two long friezes down either side with recesses for display, which also conceal the servicing. Also successful is the digital-labelling system– a first for the museum, which allows for uncluttered displays and scope to access more information on the exhibits.

Gitta Gschwendtner's specially commissioned piece inspired by the collection is a perfect quirky addition to this array – a U- shaped bench incorporating the various forms of chair legs and backs from history, all playfully mismatched. If, thousands of years from now, design historians unearthed this, they'd certainly be baffled.