Anyone can reach – or disseminate – architecture in the digital age, argues a new exhibition that traces the power of drawing from past giants to the present day and beyond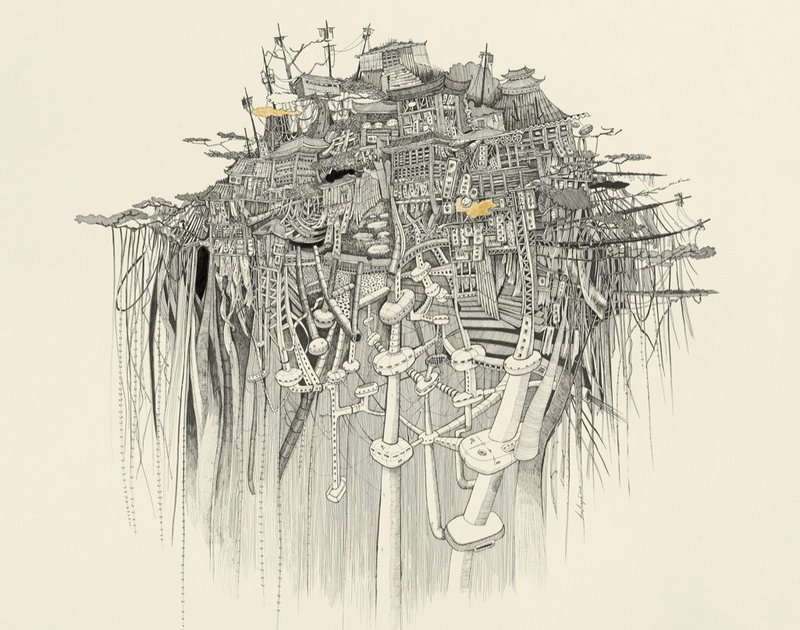 Forever Lost hand drawing by Ana Aragao from Vanishing Points: Architectural Imagination in the Digital Universe at Roca Gallery in London.

Credit: Ana Aragao
Hamza Shaikh may be only a few years out of architecture school, but when he recently shared a drawing on Instagram, he got half a million views. Such is the reach of social media, which is clearly fuelling a new, and potentially more democratic, age of architectural dissemination.
'There are no gatekeepers. People of any background, any age, any financial history, can make it,' says Shaikh of this 'algorithmic revolution'.
For architects, says Shaikh, drawing has always been 'our USP, our weapon of choice,' enabling them to communicate ideas and artistic visions clearly and compellingly. Now, however, not only can architects and architectural students instantly access myriad sources and imagery, their work can be disseminated 'at breakneck speed to anyone and everyone', opening up new possibilities for discourse and career direction.
This is the context for the exhilarating new exhibition Vanishing Points: Architectural Imagination in the Digital Universe at the Roca Gallery in London. A collaboration between Shaikh and the Drawing Matter archive, it brings together drawings by Shaikh and his peers with work by a huge array of architectural greats, from Zaha Hadid's Post-it note sketches to meticulously detailed 18th century pencil drawings by Francois Joseph Belanger.
It's a celebration not only of the new horizons for architectural communication, but of the power of drawing in the hands of architects across the years, from traditional pencil sketches to AI-fuelled creations, and all sorts in-between.
Now an architect at Gensler, Shaikh has a clear entrepreneurial streak; when a student he experimented with a clothing line and music events promotion before founding the Two Worlds Design podcast. Meanwhile, he had begun showing his conceptual design work on Instagram and connected with an active community of architects and students eager to express their ideas through social media. He now has nearly 30,000 followers. The new exhibition follows his recent book Drawing Attention – Architecture in the Age of Social Media, in which the same contemporary contributors share how they work and, in doing so, demystify their techniques.
Shaikh admits he 'felt like a kid in a chocolate factory' when he visited the Drawing Matter archive to discuss which drawings should be part of the exhibition. And while he and his peers are clearly looking to embrace the potential to build new audiences and opportunities via social media, he stresses that they are at the same time looking back, respectful of practitioners from the past. As Shaikh puts it, 'we're standing on the shoulders of giants'.
There are certainly plenty of giants in Vanishing Point – Le Corbusier, Mies, Rossi, Stirling, Gowan, the Smithsons, OMA, Superstudio – mainly, but not exclusively, drawn from the 20th century. These archive images are arranged in central displays throughout the installation and are flanked by the contemporary work, inviting viewers to examine techniques, draw parallels, and consider how both past and present architects push the boundaries of the technology available to them. Themes relate to the type of drawing, whether hand-produced (by pen or digital tool), layered collages or composites, abstracts or fictions that tell stories. There are also perspectives and 'metrics' including axo and iso representations. There is, quite deliberately, a huge variety, some a tour de force of technical dexterity and imagination, others simple sketches, including a Gehry design on a food-stained napkin.
Some of the contemporary exhibitors have shared insights into their tools and drawing processes to reveal how their images are built. One of the most extraordinary exhibits is Forever Lost, a large-scale pen drawing by Ana Aragao, an architecturally trained illustrator from Portugal with a particular interest in megastructures. She likes to work lying down on the floor over her drawings, which can take several months to complete.
Shaikh's own contribution, Sacred Synthesis, is a rich combination of old and new drawing and collage techniques. This involved hand-finishing with charcoal on aged paper at a traditional drawing board, but also digital collage with AI to explore a new visual language for sacred architecture. He is particularly exited by the potential of AI as a resource that architects can harness, describing it as 'like Google on steroids'.
There is plenty to intrigue – isometrics by contributor s.y.h. include a Venice-like city scene populated by characters who appear to be playing out some sort of action drama. Not all are young guns – the exhibition also includes drawings by long-time cyberspace explorer Neil Spiller and Perry Kulper, Professor of Architecture at the University of Michigan.
Another exhibition contributor, Eric Wong, is an eloquent example of the power of social media to open up new possibilities. His drawings came to the attention of Netflix, which commissioned him to create an entire digital world for one of its productions.
'I hope people will come here and feel that we are going through a major shift in the profession,' says Shaikh, referencing proposed reforms to architectural education and building safety as well as the proliferation of social media.
He feels that the architect's role has the potential to change massively. Maybe new titles will be needed to describe what those with architectural training do.
'We have nothing to lose. Let's try to open up our horizons and communicate to the public, to the market, to the world, that we offer more than just CAD details for toilets. That we can envision worlds for Netflix movies for award-winning directors – there are so many things that people with architectural backgrounds are doing that are revolutionary. We just need to celebrate them.'
Vanishing Points: Architectural Imagination in the Digital Universe, until 31 July 2023, Roca Gallery, Station Court, Townmead Road, London SW6 2PY
Drawing Attention – Architecture in the Age of Social Media, edited by Hamza Shaikh, is published by RIBA Publishing, 2023
Buy Drawing Attention from the RIBA Bookshop