वेणु Venu is an anarchic bamboo shelter that embodies the architecturally trained Indian artist's interests in hands-on construction, natural materials, accessible visitor interaction and vernacular architecture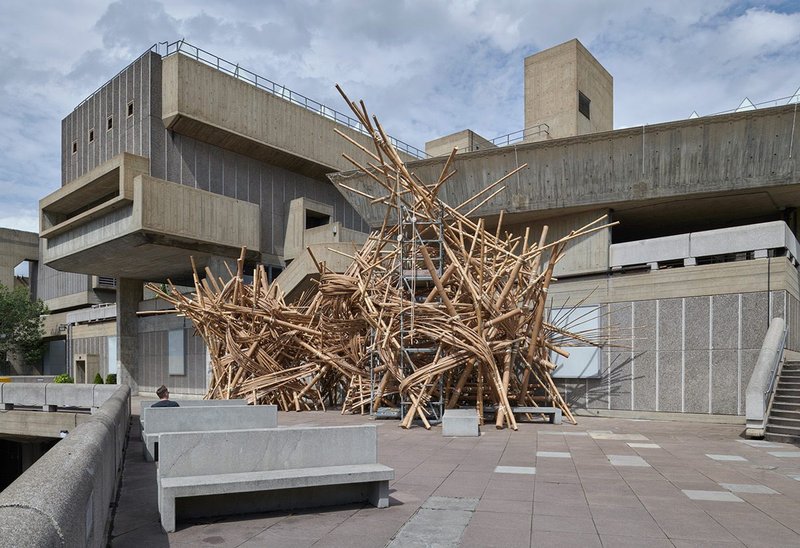 वेणु [Venu] by Asim Waqif, the Bagri Foundation Commission 2023, on the Hayward Gallery Terrace, London. Courtesy of the artist. Photo © Jo Underhill
With its lashed together coils of bamboo strips and jutting poles, Asim Waqif's वेणु [Venu] installation creates quite a contrast with the concrete form of the Hayward Gallery on London's South Bank. It's as if a giant basket has crash-landed and deconstructed on impact to form an anarchic shelter.
Walking into Venu, visitors are enveloped by the nest-like assemblage, formed from 610 bamboo poles and 700 strips of bamboo. As they continue through, they are invited to use the carved sticks provided to make sounds by striking the structure.
Waqif, an architecturally trained artist from Delhi in India, created Venu over 10 days in an improvised construction process with a team of 10, assisted by architect Shantanu Heisnam. There are two main materials: an underlying steel skeleton and the expressive coils and canes of the bamboo harvested in Kerala and cut into strips by craftspeople before being shipped over to London.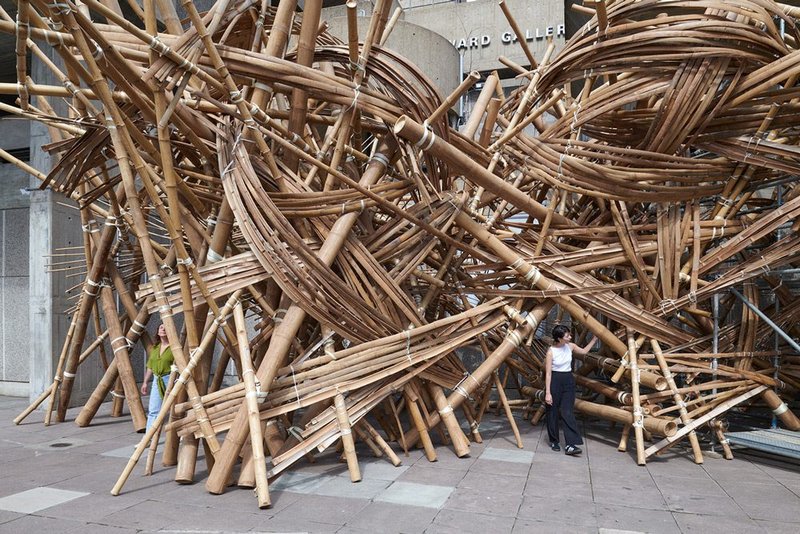 वेणु [Venu] by Asim Waqif, the Bagri Foundation Commission 2023. The installation was constructed by Waqif, architect Shantanu Heisnam and a team of 10 on the Hayward Gallery Terrace, London. Courtesy of the artist.

Credit: Photo © Jo Underhillll
The structure is a new version of Improvise, a site-specific installation for the Kochi Muziris Biennale in India and is the third annual commission supported by the Bagri Foundation by artists from or inspired by Asia. Waqif is enjoying the 'contradiction' between the organic bamboo structure and the concrete setting and is hoping its prominent position on the South Bank and 'spirit of inventiveness' will engage people who wouldn't normally venture into art galleries, whether those skateboarders in the nearby Undercroft, those visiting the weekend food market, or those simply passing by along the riverfront.
'I want to create a situation where people can be liberated from the burden of formal appreciation of art,' he says. 'I want to create playful situations in my work.' He is wary of over-defining what he creates, adding: 'It's good to keep things open for people to manoeuvre through.'
The installation embodies key threads running through his work – a hands-on, fluid construction process, use of natural materials, accessible visitor interaction and an interest in vernacular architecture, basketry and weaving. His commissions often occupy abandoned urban spaces – he prefers sites with stimulating contexts rather than the neutral, white cube confines of a gallery.
It's more than 20 years since Waqif stepped away from architecture after studying at the School of Planning and Architecture in Delhi. Initially, he worked in set and exhibition design, where he enjoyed the immediacy of the process in contrast to that of architecture. He also made documentaries researching traditional, pre-colonial town planning and water management. These, he says, made him 'sensitive to traditional practices and vernacular technologies'. He became drawn to experimental art practice and, by 2010 after working on a few public art projects, he had begun to think of himself primarily as an artist, putting to good use skills he had learnt when he worked as an apprentice in a carpentry workshop.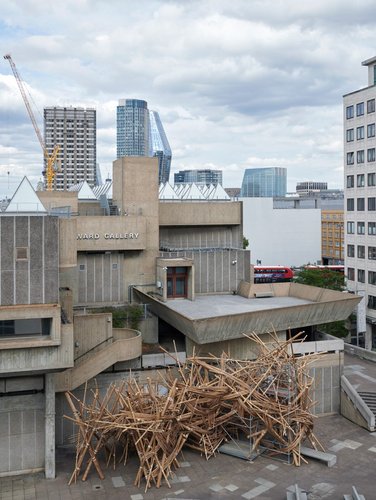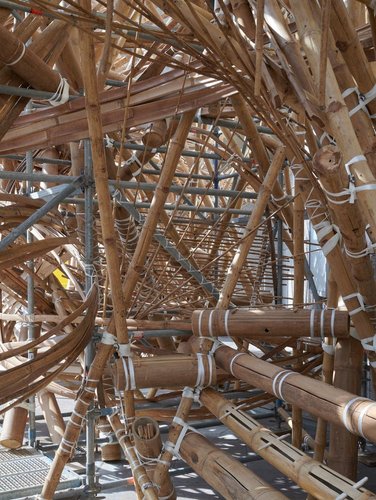 Waqif clearly thrives on the process of making, which he describes as a 'very fulfilling place for creative activity' and he also enjoys the collaborative group endeavour of his works. He became known for his work with bamboo, his projects including a long-term, site-specific installation in bamboo groves in Bamsera Bamsi, Bangladesh. He was drawn to the material because of its versatility – he uses it either as canes or, inspired by basket-making, as coiled or interlaced strips, often with spectacular results. 'I'm using a traditional technology but forming contemporary shapes with it,' he says, interested in exploring parallels between biomimetic, parametric architecture and basket making.
Waqif warns against the idea of bamboo being viewed too simplistically 'with only one lens' for its undoubted sustainability credentials. Concerned about the use of toxic chemicals for seasoning bamboo, he has been experimenting with other methods inspired by vernacular practices. In addition, new uses are being found for the bamboo once Venu is deconstructed at the end of its installation.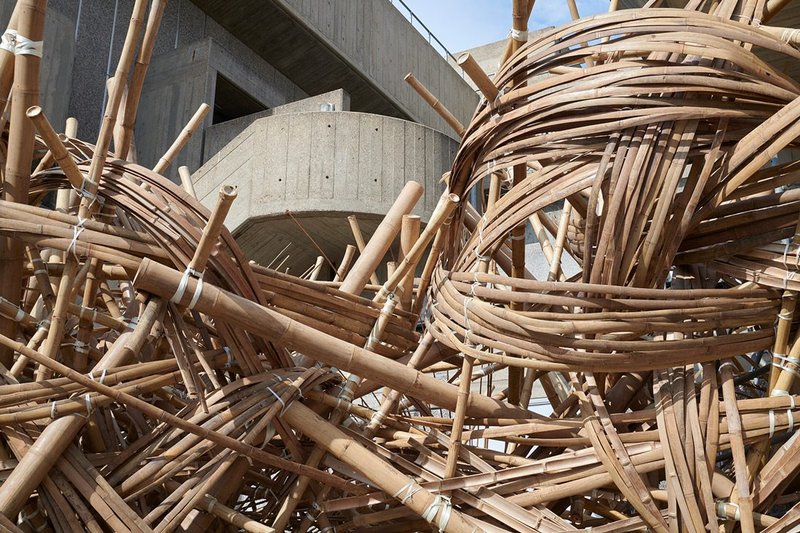 वेणु [Venu] by Asim Waqif, the Bagri Foundation Commission 2023. The bamboo contrasts strikingly with the concrete of the Hayward Gallery Terrace, London. Courtesy of the artist. Photo © Jo Underhill

Credit: Photo © Jo Underhill
Many of Waqif's other projects have used waste materials – whether car parts, construction waste or general waste – transformed into large-scale seemingly chaotic assemblages, often incorporating sound. By-production at Queen's Museum in New York (2015) was created from discarded artworks and rubbish, while Salvage at Vancouver Art Gallery's Offsite, incorporated landfill and demolition material (2017).
In many aspects he considers his projects to be architectural. Indeed he says he has recently become interested in the idea of architecture again – if he found the right sort of friendly client willing to let him experiment with space. But is quite sure that he'd never want to maintain an architectural studio.
Instead, he enjoys the fluctuating nature of working for himself, combining periods of intensive work with time away trekking and sometimes just doing nothing. Certainly, he appears to have a healthy sense of work-life balance. 'I work when I want to work and don't when I don't,' he says. 'I'm not hellbent on making some masterpiece. I want to have fun.'
While he's enjoying being back in Delhi after a solo exhibition in Pittsburgh and having set up the London installation, it won't be long before he's away again. Next up is a trip to the Chicago Architecture Biennale, where he is creating an installation in the huge atrium of the Chicago Cultural Center using construction materials borrowed for the duration of the exhibit from a found materials resource. It will, he says, be a 'beautiful pile of mess'.
Asim Waqif, वेणु [Venu], until 22 October 2023, Hayward Gallery, Southbank, London