Camille Walala brings fun and colour to the City with her installation for London Design Festival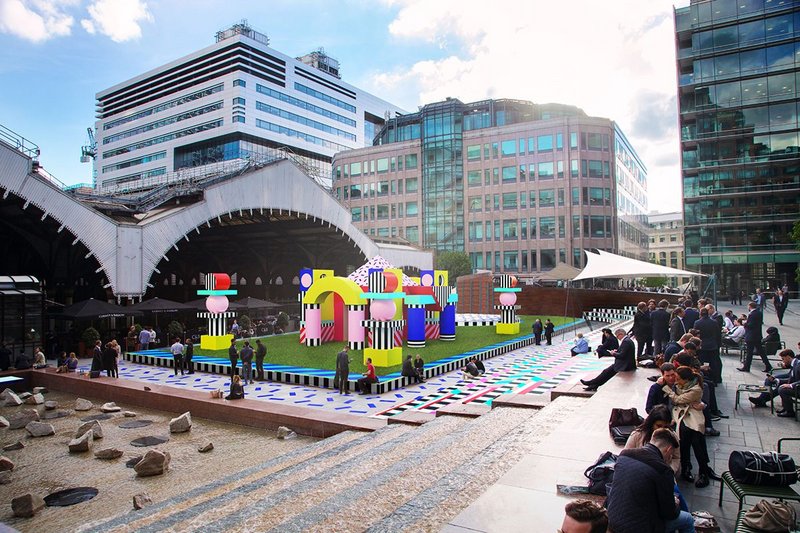 Render of Villa Walala, an interactive play installation designed by Camille Walala for British Land at Broadgate as part of the London Design Festival.
If you're passing Broadgate's Exchange Square in the next few weeks, don't be confused by the sight of smart-suited City workers frolicking amid a squidgy landscape of vinyl blocks covered in bold and colourful patterns.
This is Villa Walala, an interactive play space created by pattern queen Camille Walala for British Land as a landmark project for the London Design Festival.
The French designer hopes her 10m long by 5.5m high installation will put a smile on people's faces.
'I wanted to do something really soft that would take people by surprise and [make them] wonder what's going on," says Walala, who conceived the project as a dash of colour in the corporate surroundings, and a playful antidote to work.
Like much of her output, the bouncy landscape is uplifting, fun and colourful. It is also strongly inspired by the work of Po-Mo collective Memphis, whose work she first came across in her architect father's Paris home.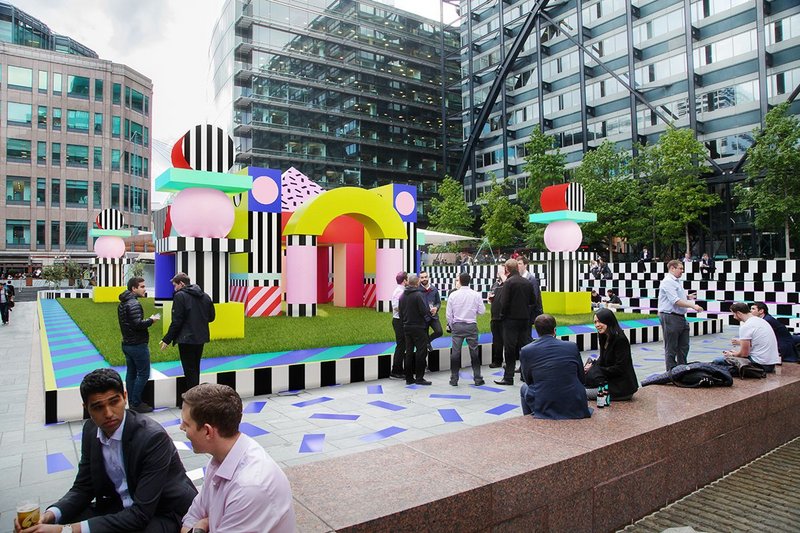 Render of Villa Walala at Broadgate. The vinyl installation's bright patterns are inspired by the work of the Memphis design collective.
'I love Memphis because they didn't take themselves too seriously and there's a sense of humour in their work,' she says.
While Memphis comes through loud and clear in her work, it's not the only influence. Walala also points to the colours and bright fabrics of her mother's house in the south of France and to the colour block textiles of the Ndebele tribe in southern Africa. Wassily Kandinsky too is a reference point as well as Sonia Delaunay – 'a big idol for me because she brought art into the everyday'.
Walala trained in textile design at the University of Brighton and now lives in east London. She has latterly made her name collaborating on pattern-based projects for everything from murals and interior design to pop-up installations including a temporary pedestrian crossing outside the Tate Modern. All draw on her characteristic use of zig-zags, stripes and bright, bold colour. Clients include Converse, Le Printemps, and Facebook.
While her collaborations with fashion brands continue, she is moving towards large-scale, more architectural installations with the aim of 'bringing a bit of fun and colour to the city'.
'I love applying pattern on volume, and working around the architecture of a building…the bigger the better for me,' she says. As well as the LDF installation, she recently completed the Walala x Play maze of geometric patterns and mirrors at the Now Gallery in Greenwich (until 24 September). This involved a collaboration with architectural designer Ioana Lupascu, who also worked on the LDF installation, and art director Julia Jomaa.
She works extensively abroad, and future prospects include a large-scale installation at the next Coachella festival in California. Her dream project is rather less glamorous: 'I'd love to paint a council estate in London. I'd like the challenge of making somewhere a bit more joyful.'
Villa Walala is one of the key installations at this year's LDF, which embraces hundreds of exhibitions, installations and events including 100% Design and designjunction.
---
Villa Walala, September 16 – 24, Exchange Square, Broadgate, London