Jan-Carlos Kucharek has strong opinions on the latest competition for another footbridge over the Thames in London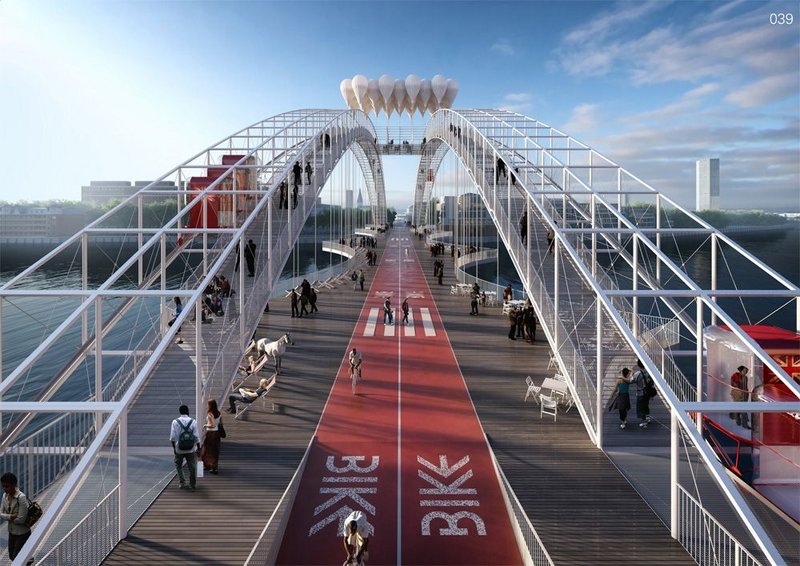 Not content with the affrontingly conspicuous Garden Bridge about to spring over the river at Temple in London, it seems that those in search of yet another icon with which to create 'an experience' out of the prosaic act of crossing a body of water have now been let loose at the capital's western end of Old Father Thames.
Wandsworth Council is looking for a pedestrian and bicycle bridge to span the river between Nine Elms and Pimlico, part of the wider £15 billion gentrification, sorry, regeneration, of its post-industrial south side of the riverfront.
It's a strange bit of London, this – when you're there you can understand why they made the Ealing comedy 'Passport to Pimlico'. It's the kind of place that keeps itself to itself; so much so that one can find oneself zipped up naked and dead inside a holdall in a bathtub and no-one seems to bat an eyelid – least of all the poor man's former employer MI6, staring out at his 'safe house' from its Terry Farrell designed HQ, across the river on the Vauxhall side. Still, it's a long way between Vauxhall and Chelsea Bridges if you're playing Pooh Sticks, so I'll concede it's a good spot to check if your twig's in the running.
Run by industry facilitator Colander and following an OJEU process, a total of 74 teams worldwide have anonymously submitted single visualisations of their design for a 'landmark' structure, which were exhibited publicly last month. Endorsed by a Transport for London local study, the exact position of any proposed bridge is still up in the air. This lack of surety comes as a relief as far as I'm concerned, because as it is the submissions are a rogues' gallery, with few good, plenty of bad and a number of downright ugly. With no other info to go on than its 'look', this should however make light work of whittling them down to the final four.
There's more than one way to skin a cat and the approaches here split into four: a single arch structure, two piers at either end, one pier and a span (both of these loadbearing or suspension) and cloud cuckoo land. I continue to be amazed by how many architects seem to mistake the Seine in Paris for the Thames; the former a picturesque serpentine through a dense classical urban composition; the latter a wide, windswept working river that's a genuine last resort for crash landing jumbos. So for me, any 'Pont des Arts' approaches, where the bridge is a 'viewing platform', 'flower market' or 'fun palace' would be the first ones to can. Next to go be the overtly sculptural structures – Grasshopper legs, Möbius strips, 'Raise the Skylon' schemes and 'because-we-can' formal doodles. Conveniently, that's over half the schemes binned already.
What's left, for the most part, would have Brunel raising a knowing if slightly bemused eyebrow or Calatrava adding another self-congratulatory notch to his bed-post. Engineer Joseph Bazalgette might have been less than impressed – if they haven't appropriated his design for Hammersmith bridge, they've muddled his beautifully functional Embankment with bike ramps. The final shortlist of four sounds like the right number – I doubt if more than that actually merit serious consideration – though with Boris Johnson supporting it, they doubtless will. Wandsworth will be entering purdah in the run-up to the election, so the shortlist will be selected around 9 May with the winner being announced at the end of July, and then on to a formal planning submission. I can't wait. For the election, I mean.
---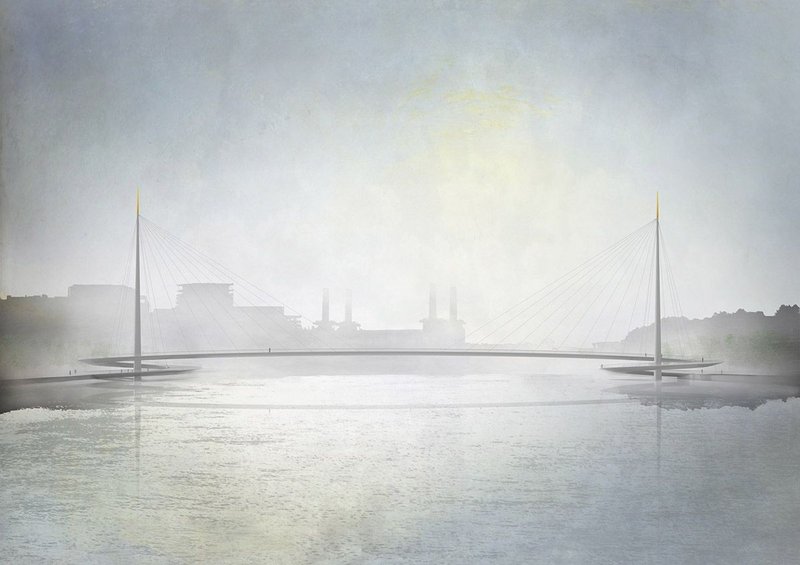 A pared-down suspension structure with two needle-like columns that not only support the span of the bridge, but the ramps that spiral down round it. Lovely!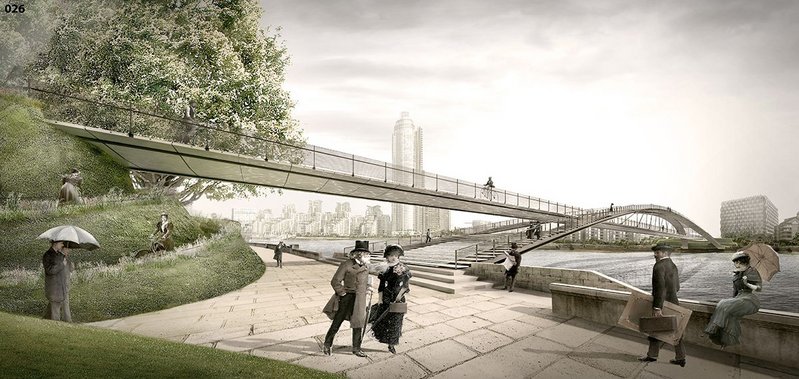 A single arch that expedites foot traffic to both banks, while providing two stupa-like landscaped hillocks for bikes to ramp down. Velo bravo!
A single span of structure slung delicately over the river like a rope bridge across a jungle ravine. It would make Tarzan proud – if Tarzan was Alvaro Siza.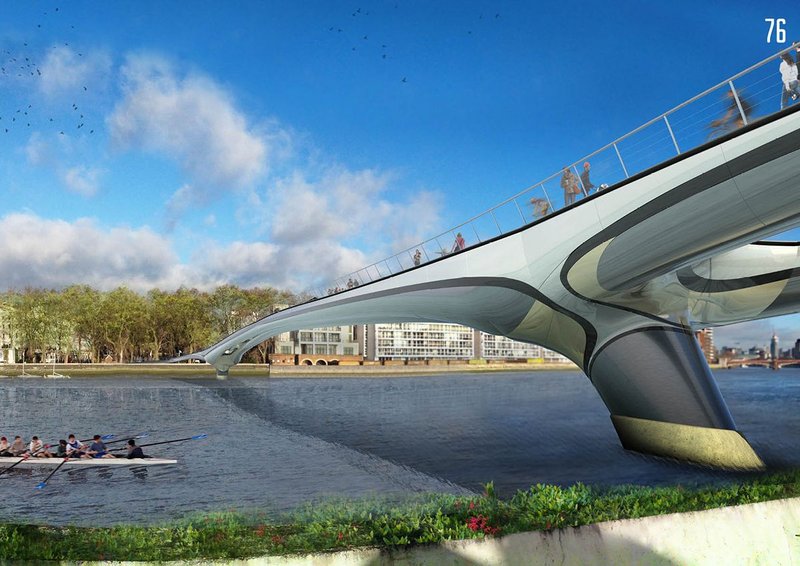 The visualisation made it look like this bridge was made of plastic. I hope it is – I'm desperate to see composite materials' strength put to good use. Plastic fantastic.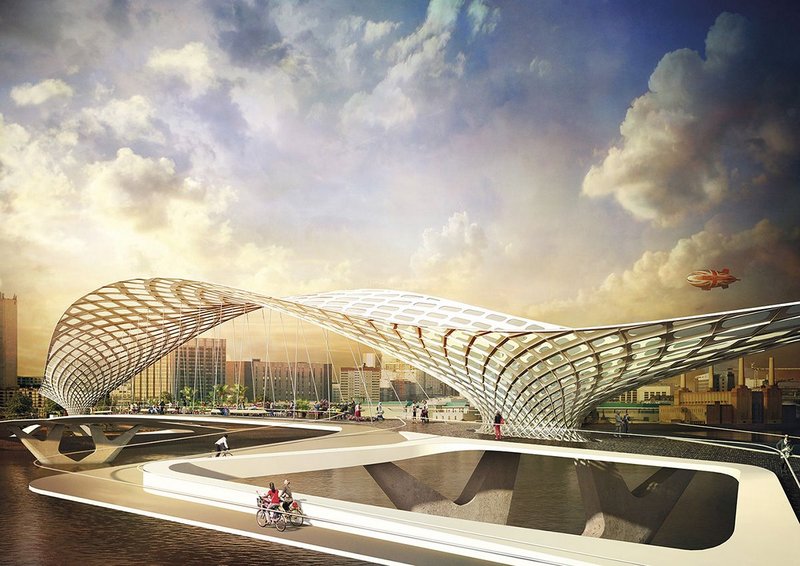 A lattice roof that height is no shelter for a flower market when sheets of rain are driving upstream. Then again, a river with more petals on it than the Ganges at Varanasi might be quite a sight.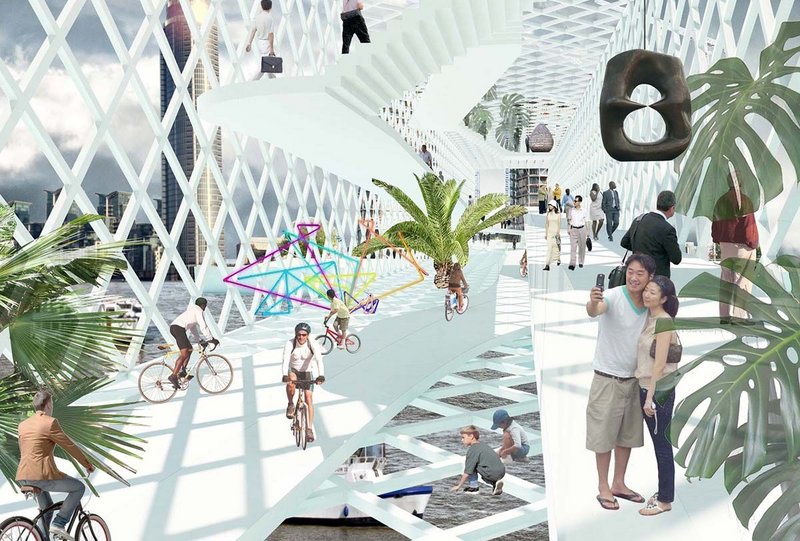 There seem to be some scale issues going on here. And with this diagrid lattice structure, I'd feel like I was trapped inside a white-painted Hungerford rail bridge. Forever.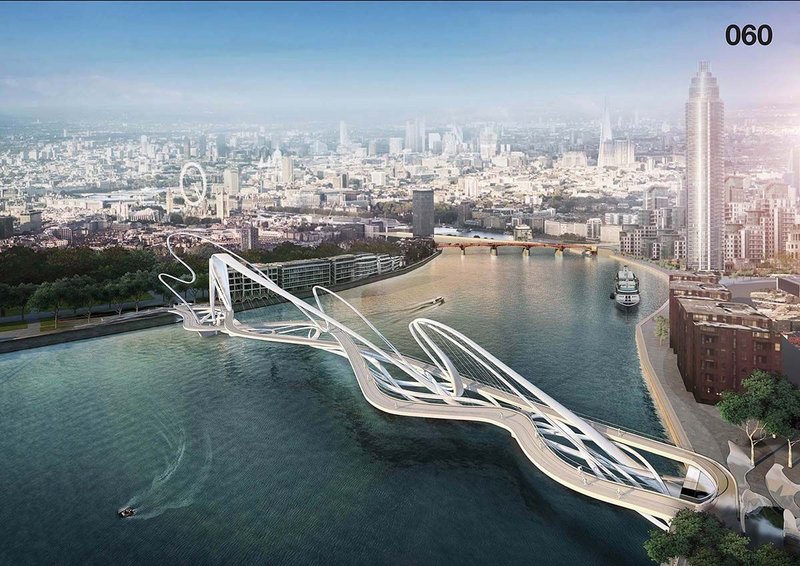 It's like the signature flourish of the genius architect made flesh. Not. Seriously, this incomprehensible squiggly mess of a form seems to lack either rhyme or reason.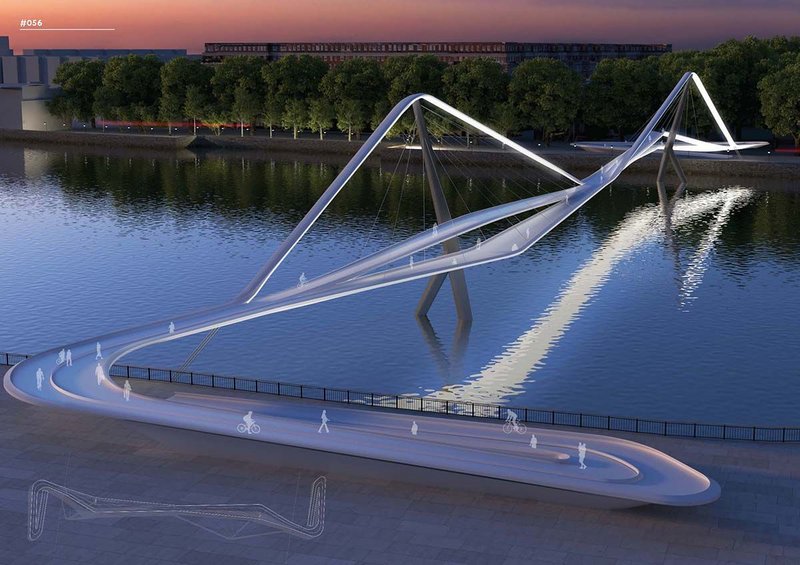 If I want to know what it's like to stare up helplessly between the legs of a gigantic praying mantis I'll watch the sequel to Honey I Shrunk The Kids.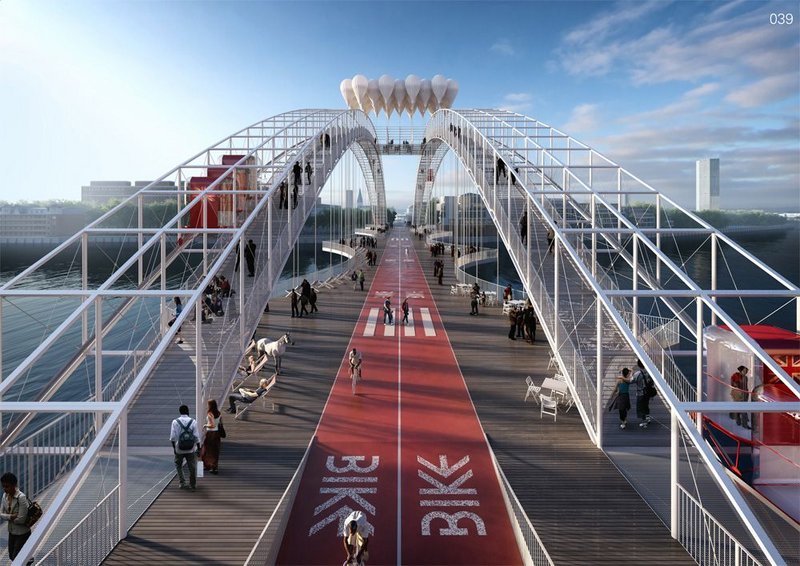 It's a pedestrian bridge. No, it's a dedicated cross-river bike route. No, it's an arching funicular rail system leading to a central 'fun palace' viewing platform. Cedric Price must be turning in his grave.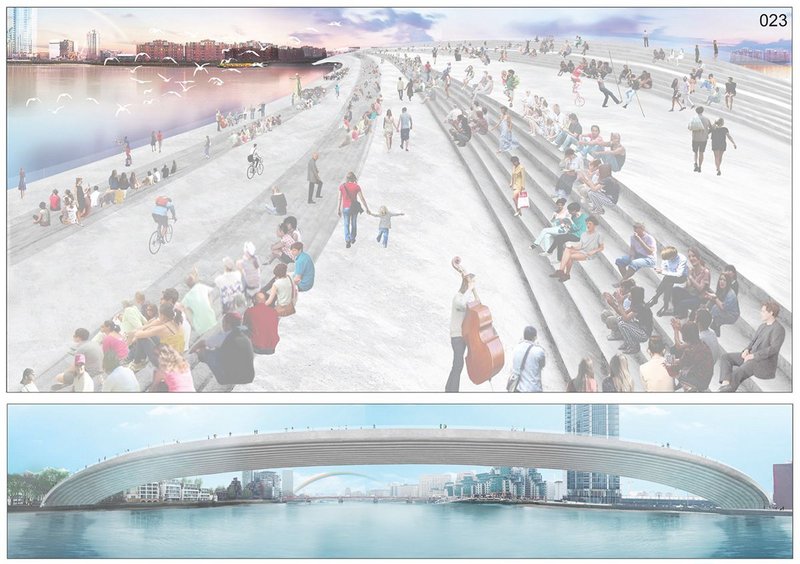 It's like the Walkie Talkie's 'Death Ray' facade has peeled off, fallen into the river and lodged itself two miles upstream. Reassuring to see it looks as bad in the horizontal axis as it does in the vertical.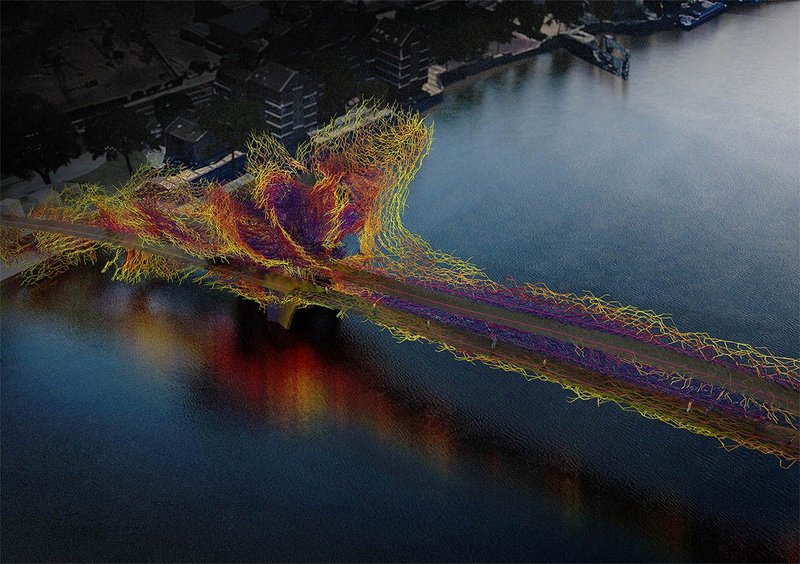 'I know – it's a connection, right? Like a network of neural synapses firing simultaneously in the brain.' NO IT'S NOT. IT'S A BRIDGE.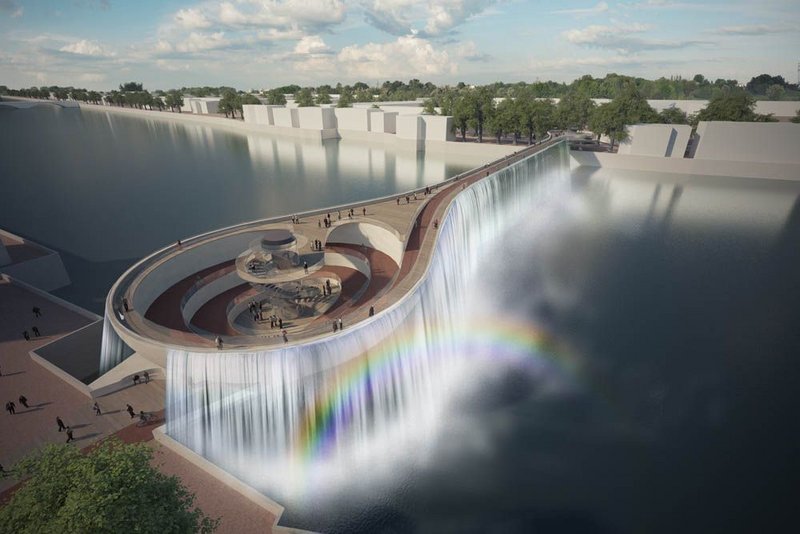 What happens if you merge Las Vegas' Bellagio Fountains with Dante Alighieri's 'Seven Circles of Hell'? This, that's what. One thing's a sure fire bet – we're all damned if it goes ahead.