One of the few sour notes of last year's Olympics extravaganza was the restriction on the architects and designers involved promoting their work for the event. A year on, as the capital indulges in games nostalgia with a number of commemorative sporting events, the Building Centre's exhibition We Made 2012 is a modest attempt to present this largely untold story.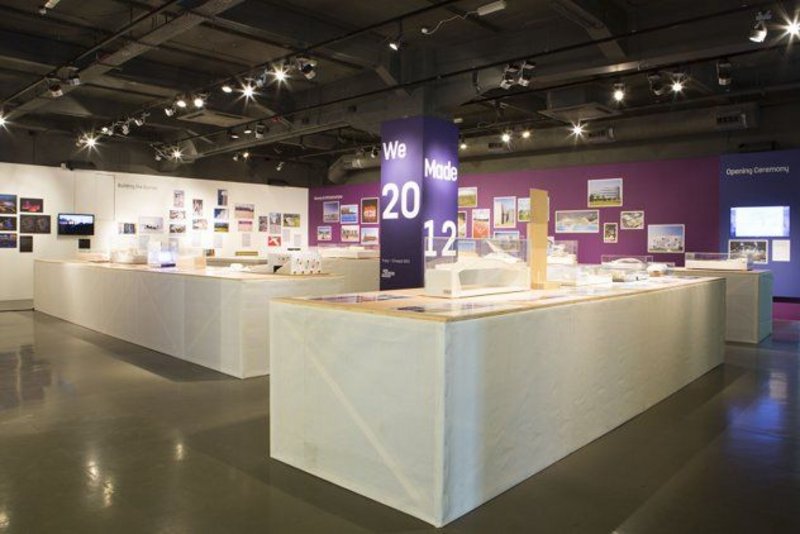 It's a case of better late than never, but not nearly quite enough to do justice to the huge expertise involved in staging London 2012.

With the stadium, velodrome and aquatics centre already well-documented, I enjoyed far more the chance to find out about lesser known venues such as the demountable shooting hall, designed by Magma Architecture, with its distinctive double-curved, white membrane that will pop up again next year at the 2014 Commonwealth Games in Glasgow.

Time-lapse footage of the construction of Anish Kapoor's Orbit was fascinating. Such a shame that all that steel fabricating precision didn't result in a more celebrated outcome. Then there were the bridges and temporary structures such as Serie Architects' BMW pavilion with its waterfall wall, and the interactive Coca-Cola Beatbox by Asif Khan and Pernilla Ohrstedt. It was good to see the impressive infrastructure buildings, most notably McAslan + Partners Energy Centre and Nord's primary substation, sharing equal billing with hidden infrastructure stories about plastic and clay pipes, surface water strategy and sewers.

I enjoyed the film celebrating Atelier One's role in the Olympic opening ceremony, from the tree on the tor to the Olympic Rings and the hospital beds, but felt there was a lot more to say here. Astoundingly, their work alone generated 36,000CAD files. Thomas Heatherwick's Olympic cauldron was absent – but then that hardly needs any more publicity.

As pleasing as it is to look back on the Olympic construction, like any new life, the real story is not the birth but the years of nurture and growth beyond. The site may be transformed, but it's way too early to judge the success of its long-term regeneration. We'll need – and will no doubt get – another exhibition in 2022 or 2032 exploring the true Olympic legacy.
---
We Made 2012, until 15 August 2013
The Building Centre, Store Street London WC1E 7BT
www.buildingcentre.co.uk
---