7N Architects' worked with five Scottish communities to discover their ambitions for local spaces in response to the Venice Biennale theme of how we live together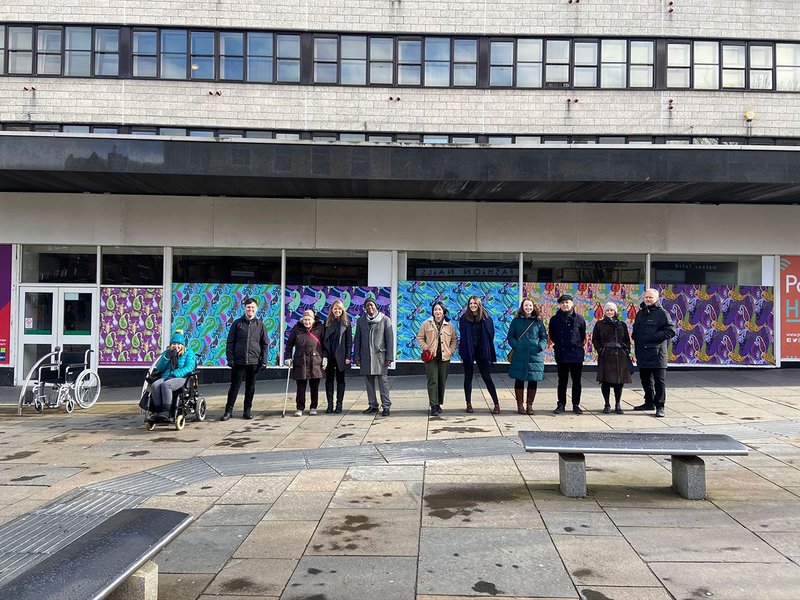 The group of citizens, designers and architects who worked together in Paisley to explore how we will live today as part of as part of What if…?/Scotland. Image Courtesy of 7N What if…?/Scotland
Originally planned for last year's postponed 17th International Venice Architecture Biennale, Scotland's Venice commission is instead taking place 1000 miles away in Dundee.
Created by Edinburgh practice 7N Architects, What if…?/Scotland opens this month at the V&A Dundee. The project, a response to the Biennale theme of How will we live together, is an attempt to 'rediscover the civic role of architecture', according to project lead Ewan Anderson, managing partner of 7N.
It is an ambitious endeavour. 7N chose a variety of architects, designers and artists to engage with 25 people on 'wish' projects that they would like to see happen in their local community.
'It's architecture unplugged - a very simple dialogue between an architect and a citizen talking about what they feel about a place, and if they could change one thing, what would it be?' said Anderson.
Keen to reflect a variety of Scottish contexts, 7N chose a city (Edinburgh, Wester Hailes), town (Paisley in Renfrewshire), village (Annan in Dumfries and Galloway), a rural location (Elgin in Morayshire) and an island (Lerwick in Shetland), and identified five participants in each to explore their locality with a creative partner and workshop their ideas for positive interventions.
The resulting ideas are often modest but with clear community benefits – a place to bring young and old together to share the tradition of boatbuilding in Annan, a conversion of a redundant petrol station into a community eating house serving food from different cultures and a new footbridge and public space over the canal, both in Wester Hailes. In Lerwick, 7N looked at how infrastructure to protect the town from rising sea levels could function as positive public realm.
The result is 25 sketch designs, shown in the exhibition along with an introduction to each of the locations and the issues that residents identified.
Rather than slick images, the design visualisations are deliberately very simple. 'We were keen to have something rough and ready that captured the essence of the idea,' says Anderson.
These displays will be supplemented by five short films about the locations by filmmaker Basharat Khan, as told by its citizens.
One common thread was a sense of disenfranchisement, particularly among teenagers, who felt there was nowhere for them to go, and among older people. Anderson hopes the project will advocate for breaking down the barriers that exist in decision-making about the future of a place by encouraging wider debate, and showing how direct engagement with communities can positively shape local plans.
The new location has precipitated a new aspect to the commission, which will also engage visitors on what they would like Dundee to look and feel like in the future, and 7N will be facilitating a series of events at the V&A Dundee with local people relating to shaping future projects and interventions in the city.
After getting over the disappointment of not going to Venice, Anderson is upbeat about both the new context, and the timing of the delayed commission just as lockdown measures are beginning to lift.
'People have been starved of being together, and have had plenty of time to reflect on how they live, and what they think about where they live,' he says, adding that he hopes the project will encourage more community involvement in the shaping of places.
What if…?/Scotland was commissioned by Scotland + Venice, a partnership between Creative Scotland, British Council Scotland, National Galleries of Scotland, Architecture and Design Scotland and the Scottish Government.  
---
What if…?/Scotland, 22 May to 21 November 2021, V&A Dundee, 1 Riverside Esplanade, Dundee DD1 4EZ