Architects Chamberlin, Powell & Bon travelled the world absorbing stylistic influences before designing London's Barbican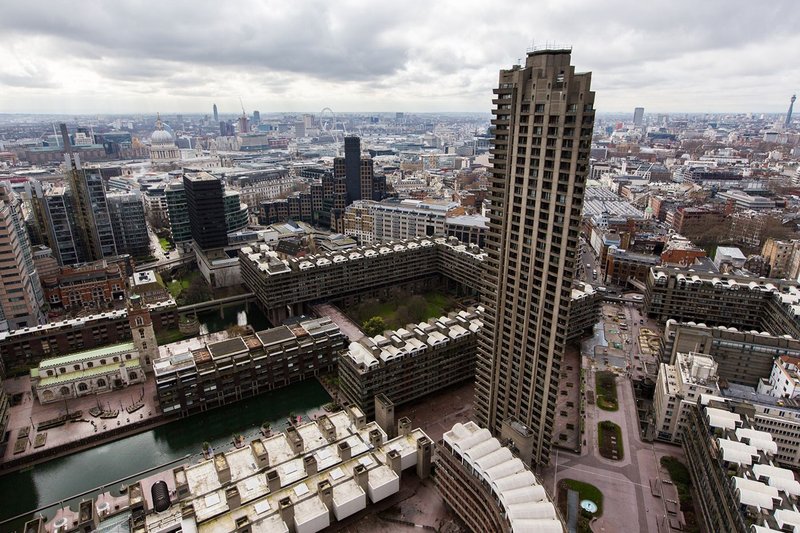 View from the top of the Barbican's Cromwell Tower, looking west, 2014

Credit: Sidd Khajuria
There's one display case in the Barbican's modest foyer exhibition on its architect Chamberlin, Powell & Bon that brings home the massive changes in architectural practice since the trio completed this huge housing complex in the 1970s. This contains Geoffry Powell's tools of trade – a set square, various compasses, a magnifying glass, a pen and set of nibs, and a wooden ruler with his name scratched on it, all laid out like antique relics. It's a striking contrast with the impersonal equivalents of contemporary practice.
As well as the tools, the foyer display gives a personal insight into the travels of the architects behind the Barbican which were so much more important in the days before the easy, near instant access to reference images of today. They were evidently keen travellers, visiting Egypt, Venice, Spain, India, the USA and more besides, taking photographs that ended up on practice greeting cards and also sketching and painting the buildings they found. As the exhibition says, the displays reveal a love of diverse periods and styles and a particular interest in urban architecture. The details of Bauhaus building at Dessau especially caught Powell's interest, as did the antiquities at Paestum, the Baroque churches in Spain and the Renaissance splendours of Venice. Postcards from Powell might just contain a sketch of a scene or a drawing of a detail, rather than words.
This very personal display gives a flavour of the personalities and interests of the architects behind the Barbican building, and complements the recently published book on the complex, Barbican: Life, History, Architecture.
The Barbican Exhibition: Chamberlin, Powell & Bon Architects, until 22 March 2015, Barbican Foyer, Level G,
 Silk Street, London, EC2Y 8DS
Barbican: Life, History, Architecture is published by the Barbican Art Gallery, £18.
---