Coronavirus need not be the coup de grace for this already struggling sector. We can choose to shop with the little guys and rediscover high streets as places for unorthodox uses and quirky design ideas says Jan Kattein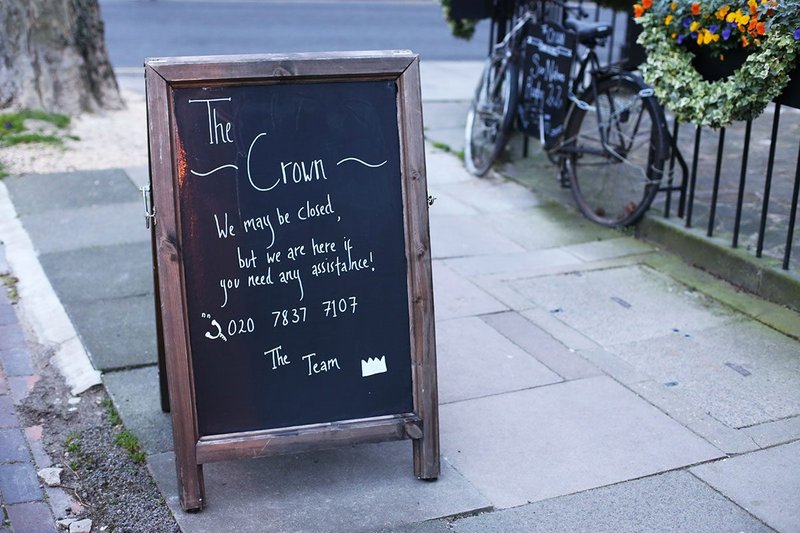 'Here if you need help' – the friendly coronavirus message from The Crown pub in north London.

Credit: Jan Kattein
Brecknock Road, Kentish Town, on a Monday morning during the lockdown. A diffuse light permeates the sky, pavements are empty, metal roller shutters conceal shop windows, the corner pub is boarded with Sterling OSB. The usually ever-present whirr of motor vehicles has subsided and wildlife is taking ownership of the deserted streets of London. Small whirls of detritus picked up by the breeze are a solemn reminder of human inhabitation.
Data compiled by the Centre for Retail Research (CRR) makes for sobering reading: 1,859 businesses have already closed this year, resulting in 21,519 job losses on the high street. These figures exclude fallout from the coronavirus crisis. The CRR blames high costs, low profitability and online competition. Simon Pitkeathley, CEO of business improvement district (BID) Camden Town Unlimited, thinks changes in consumer behaviour combined with the disproportionate extraction of land values by landlords is having an existential impact on high street businesses. 'A system heavily skewed in favour of landlords has prevented high streets and town centres adapting and evolving,' he says. 'I wonder whether there will there be a correction of the property market as a result of the crisis or if landlords will use rent holidays as an excuse to increase charges later?'
A more nuanced study of the CRR figures identifies an interesting trend. The vast majority of job losses – 17,538 – are the result of rationalisation or store closures of multiples. Pitkeathley expects that the cycle of high street adaptation that he had predicted for the next 10 years will now unfold in just 10 months.
Han Ates, founder of Blackhorse Lane Atelier, London's only craft jeans maker, recently opened a retail outlet in Coal Drops Yard, King's Cross. He closed his business to ensure the safety of his employees, but also recognises the inherent opportunity: 'My hope is that small makers will benefit from this transformation. They know much better than international brands how to serve the community because they feel accountable. Thirty to 40 years ago, you saw all sorts of small workshops on the high street. We will come out of this and rewrite our values as a society.'
Ates left a successful career in fast fashion to embrace a more connected way of working and in the process overturned a raft of age-old rules of business success. Instead of hiding the messy production process from the public gaze, Ates' workshop has an open doors policy, and hosts his renowned 'denim dinners', held to engage with local stakeholders. Rather than guarding trade secrets, Ates offers courses for everyone to learn denim tailoring. The circular economy is one of his latest concerns. Alongside the regular lines, he offers specialist denim repairs and spare parts including rivets, zips and buttons: a pair of Blackhorse Lane Atelier's jeans really is for life. Collaboration and creative exchange are essential to the business's evolution, which is why Ates shares his studio with designers, makers and photographers. He has also won funding to set up a series of artist residencies and invest in the latest technology to upcycle denim off-cuts into designer artefacts.
Back in Brecknock Road, the tantalising smell of fresh bread and cinnamon buns fills the air. A table has been pushed a table up against the inside of the entrance door at Bread by Bike, acting as a makeshift servery. A neat line of customers is chatting merrily across carefully maintained 2m social distancing gaps; '2 loaves of bread or 3kg of flour per customer, card payments only' reads a note on the door. Founder Andrew Strang explains: 'We provide an essential service to the community and to protect our staff and customers we have had to adjust how the business operates. During the last two weeks as the lockdown started to affect the closure of restaurants and cafes, we have lost 90% of our wholesale business. At the same time, we have been experiencing increasing demand from retail customers. So much so that we have been able to replace most of our wholesale business. We have also introduced a very popular delivery service – by bike, of course.'
Strang knows from his own experience what makes a successful high street: 'A clustering of good businesses is essential to give people a reason to visit. If you have a good offer people will come.'
Pitkeathley agrees and emphasises the role that a business improvement district (BID) can have in bringing businesses together and in addressing the bigger challenges they face, such as sustainability, placemaking, high street branding and competition from the gig economy. In Drummond Street, near Euston Station, the BID has set up a cargo bike scheme for businesses to expand their geographic reach and to eventually reclaim the road from motor vehicles, making space for leisure, play and street parties in one of the most densely populated areas in London.
Undoubtedly, the future of the high street hinges on collaboration and exchange between businesses, including the pooling of resources, marketing strategies and digital platforms. The current crisis is undoubtedly exacerbating existing issues and creating unprecedented challenges for high street businesses. Commiserating about this does not do justice to those on the front line. If we really want high streets to maintain their position as key social and civic spaces that connect all of us, then we need to rebut their persistent disparaging portrayal by the media and become advocates for their cause. Once the lockdown ends, we will all have choices to make that could well define the future shape and form of our urban environment and who we are as a society.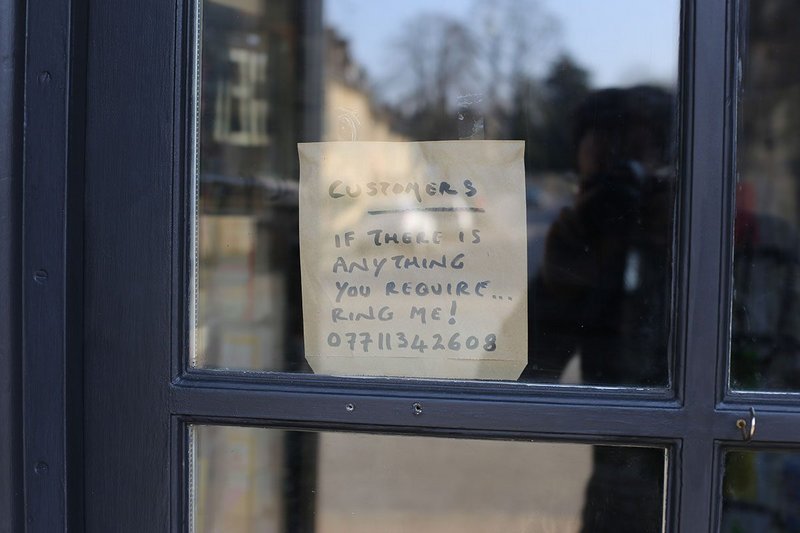 A notice in another shop window tells customers during lockdown to ring them if they need anything.

Credit: Jan Kattein
Do we need to recalibrate our alliances? Are we prepared to pay the environmental and social price for the damage caused by infinitely complex international supply chains and just-on-time delivery networks, or do we chose to support the local convenience store offering food deliveries to vulnerable people trapped in self-isolation? Are we content to order goods from tax evading multi-nationals or do we support the specialist retailer on the high street offering specialist advice and social comfort to lonely elderly people? Do we order our dinner from gig-economy giants who are thriving on their staff's questionable working conditions and zero-hour contracts, or do we buy from the local café that is organising second handbook sales in support of its local primary school playground?
Innovative entrepreneurs have discovered that retail has never been the high streets' primary concern and have built their business models around that. In a recent address at London's City Hall, Wayne Hemingway, founder of Hemingway Design and fashion label Red or Dead, reminisced about the high street where he started his first business: 'In the 1960s the high street was all of us. The idea that you shop until you drop is just crazy. I genuinely don't remember it being a place where you empty your wallet to shop.'
A need to rediscover the high street as a social space and an open and experimental platform to trial radical business ideas, unorthodox use classes and quirky design concepts – and to succeed as well as fail – is more important than ever; or, in Hemingway's words: 'How can you help the little guy? The little guy is what matters, they will become the big guys.'
As architects we are trained to see the big picture and the smallest detail. Our creativity can unlock unusual challenges, our intellectual capacity can make sense of complex and evolving situations and our social skills can mend controversial relationships. Design is at the core of most innovative enterprises, all of which will have started small. High streets are full of these little, messy design challenges, the ones with tight budgets and high expectations and those with ill-defined briefs and complex stakeholder relations. Embracing the disorderly side of architecture, shop by shop, business by business, we can be part of the transformation of one of Britain's most vital and ubiquitous civic spaces.
---