An exhibition in Florida shows that, contrary to received wisdom, working with a friend can be very successful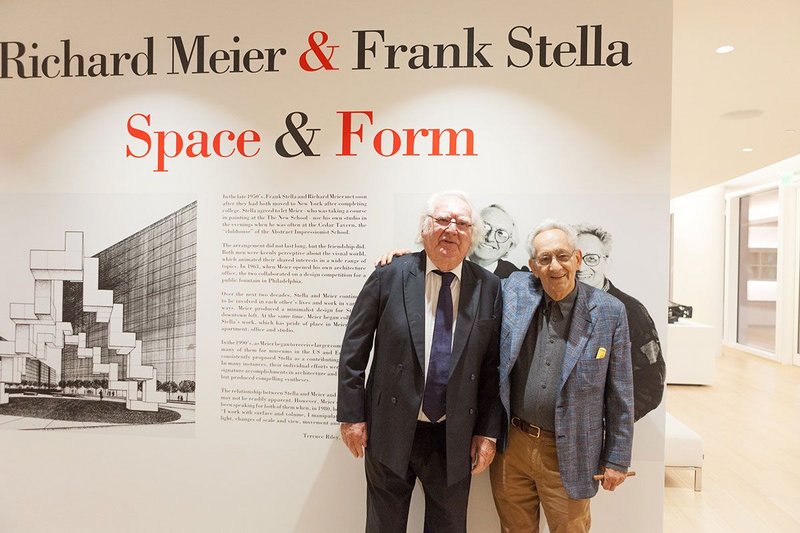 Richard Meier (left) and Frank Stella (right) at their exhibition Richard Meier & Frank Stella Space & Form, at the Surf Club in Surfside, Florida. Courtesy Richard Meier & Partners Architects.
It's nearly 60 years since architect Richard Meier met artist Frank Stella in New York. Introduced through a mutual friend, the two hit it off and went on to form a fruitful friendship and collaboration that has withstood the long trajectory of both their illustrious careers.
Stella, widely acclaimed for his abstract paintings and sculpture, lives in a loft converted by Meier, the celebrated US modernist who recently completed his first house in the UK. In turn, Meier owns a number of Stella artworks, though, not, he says, enough. And when Stella opened his current exhibition at the NSU Art Museum in Fort Lauderdale, Meier was delighted to receive a tour from Stella of the career-spanning show.
'It was unbelievable. Stupendous,' says Meier. 'His work is so phenomenal, so unique. It constantly changes with the different scales.'
Their relationship is the subject of a new exhibition at the Surf Club, which Meier recently expanded, in Surfside, Florida. This show brings together photographs, drawings, collages, sculpture, and an architectural model to chart the symbiotic relationship between the work of artist and architect.
Remembering the start of their friendship, Meier recalls how Stella offered him space to paint in his studio during the evenings after he had finished his day job at Marcel Breuer's office.
'At some point along the way I had to decide whether to be an architect or a painter. It wasn't possible to do both. I was painting for fun.'
Architect and artist frequently found ways to work together over the years, and these collaborations are documented in the exhibition. Their first joint project was a spectacular design for a fountain competition in Philadelphia in 1963. Later, as Meier was commissioned to build major buildings, he often chose Stella's work as a counterpoint to complement the rigour of his designs. The show includes photos of the two working alongside each other on many projects including the Museum of Contemporary Art in Barcelona, the Weishaupt Forum in Germany and the Jubilee Church in Rome. When Meier designed the Hypolux Bank Building in Luxembourg (1989-1993), he was instrumental in the inclusion of a monumental sculpture by Frank Stella in the adjacent plaza.
'We've done a lot of things together. We've done some competitions. And I've used some of Frank's drawings and paintings in projects,' he says.
He hopes that visitors to the show might take away with them a sense of the enduring friendship and creative collaboration that clearly means so much to them both.
'It's been an ongoing friendship over 50 years and one that I value tremendously,' he says.
---
Richard Meier and Frank Stella: Space and Form, until 4 March, Meier Gallery, Surf Club, Surfside, Florida.