Chris Matthews navigated everything from hostile locals to the difficulties of life on the road in a time of Covid-19 to photograph 300 modernist buildings for Owen Hatherley's new book. Now, some of them can be seen in a new exhibition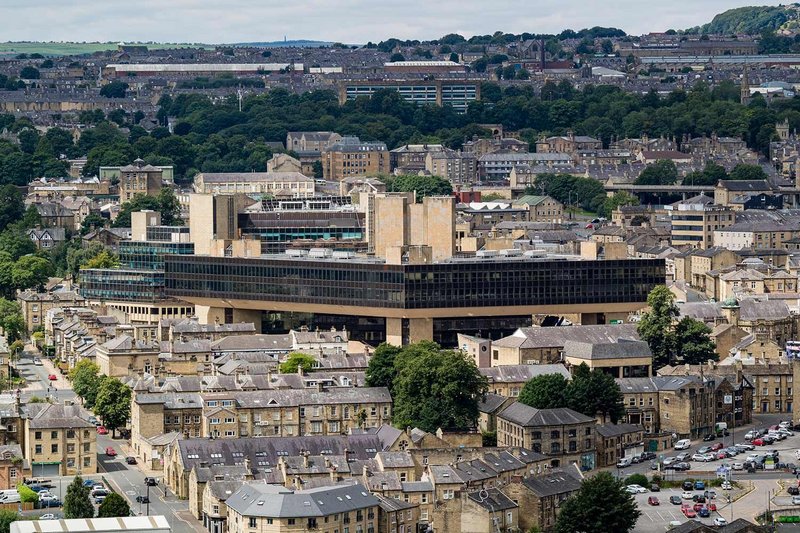 Halifax Building Society Headquarters, Halifax, designed by Building Design Partnership,1968–74.

Credit: Chris Matthews
'In retrospect, it would've been nice to have had two or three years on this,' says Chris Matthews of his mammoth commission photographing 300 modernist buildings across the UK for Owen Hatherley's new book Modern Buildings in Britain: A Gazetteer (see Hugh Pearman's review here). No such luck. With the unforeseen impact of Covid-19, which struck just a month into his project, he ended up with just eight months to capture the lot.
Around 10,000 photos later, he had achieved his mission. The results illustrate Hatherley's book, with a selection also on show in the exhibition Wide Angle: Modernist Buildings in Britain Photographed at the Gareth Gardner Gallery in Deptford.
It was quite an odyssey, navigating everything from hostile locals in 'rum locations' to the unglamorous practicalities of life on the road in a time of Covid-19.
'In the end I was sitting in my Fiat Panda for most of the time going from one supermarket toilet to another,' said Matthews, who is also a graphic designer, historian, and visiting lecturer at the University of Nottingham.
Not that he didn't enjoy the gig. To the contrary, this was a project with which Matthews had a particular affinity, as a fan of modernism and chair of the Twentieth Century Society East Midlands regional group. He has authored books on council housing (with Dan Lucas) and inter-war concrete, both focusing on his home city of Nottingham, as well as collaborating on two books with Adrian Jones of the Jones the Planner blog, which explores architecture, urban design and planning.
As a follower of Hatherley's work, he jumped at the commission, which snowballed from an initial 100 buildings. It was clear that this 'challenging' task required meticulous planning. Helped by his central location and an invaluable weather app, he plotted a series of three-to-four day trips that took in the maximum number of buildings possible with the optimum light conditions. The experimental plastic classroom in Preston, for example, required a morning shoot but without children, requiring Matthews to turn up several hours before the school day began. A summertime Newcastle trip, on the other hand, was particularly fruitful, with Matthews shooting nine buildings in one day, in contrast to just one or two a day in further flung locations.
As well as the sheer scale and Covid-19 restrictions, the other challenge was a somewhat two flavoured brief. As a gazetteer, the photos needed to be images of record of the building. But Matthews was aware that Hatherley was particularly focused on the contextual rather than the glossy – the sense of place.
'I was always very empathetic to Owen's approach to history, which was very interested in location, and place, and detail,' he says.
This is particularly clear in the 18 large-format images of the exhibition, which enable the details to be seen, from peripheral graffiti and other signs of neglect to the presence of mobility scooter or Covid-era signs. His photo of Kate Macintosh's Dawson's Heights Southwark council housing in south London nicely captures the capitalism-driven high rises of Canary Wharf in the background. In Bristol, his photo of the Proctor House flat in Redcliffe includes a glimpse of a well-known multi-coloured housing terrace in the distance.
Matthews' photographs certainly manage, says exhibition curator Gareth Gardner, to tell a broader story 'not just about modernism, but about attitudes to public space'.
While there were exceptions, so many of the buildings Matthews photographed are now in a poor state or already abandoned, such as the Coleg Harlech further education college in Harlech and the extraordinary Bernat Klein studio designed by Peter Womersley in Selkirk. Stirling's Florey Building in Oxford is also photographed in a sorry state. One – Dorman Long in Redcar – has famously already been demolished. Matthews' photos include surrounding flowering vegetation that hint, rather poignantly, at the possibilities of renewal that weren't to be. Many others are likely to suffer the same fate. Matthews is especially upset about the lack of investment in the 'really brilliant' Grimsby Library, designed by the borough architect in 1966-68.
'It was so conducive to reading and thought and very creative – there's such a quality to it. But the top two floors are shut off because of austerity cuts, and it has reduced opening hours … it's very sad.'
Neglect is everywhere. The austere Blackpool police station, with its approach of inhospitable walkways and grafittied empty billboards, is particularly grim – thankfully the pile of human excrement that Matthews encountered in the process is not in shot. Swan House in Newcastle confidently straddles a complicated road junction, but is photographed with a foreground of urban decay. One of the most hostile environments for Matthews – even in broad daylight – was the Hockley Circus underpass in Birmingham, with its distinctive William Mitchell sculptural reliefs, where he was asked if he'd scored yet that morning by one of the loitering addicts.
Perhaps Covid-19 was a factor in the sense of desolation that comes through in many images of what would normally surely be busy city locations. Matthews still managed to gain access to the Clifton Cathedral in Bristol, where each chair was individually taped off with black and yellow hazard tape – truly a sign of the times.
'You get the vibe that it wasn't a buoyant, happy mood time,' comments Matthews, who nonetheless enjoyed being out and about with 'the sun, and the light and the breeze, and the beauty of what you're photographing'.
He'd happily, he says, do it all again, despite the challenges.
There are more positive images too. GMW's famous Arts Tower at Sheffield University appears in fine fettle. In Halifax, BDP's Halifax Building Society Headquarters still looks extraordinarily daring, its linear form contrasting with the steep topography.
But the overriding feeling is of how many of the buildings photographed by Matthews are under threat, as made clear by the sudden demolition of Dorman Long. It is, says Gardner, a 'lost future happening in plain sight before our very eyes'.
Wide Angle: Modernist Buildings in Britain Photographed – Chris Matthews, April 8 – May 8 2022, Gareth Gardner Gallery, Enclave 10, 50 Resolution Way, London SE8 4AL, www.garethgarder.gallery
Modern Buildings in Britain: A Gazetteer by Owen Hatherley is published by Particular Books, 608pp, £60