Architectural Review's 1969 Manplan editorial series, focussing on people's use of architecture and gritty reportage, was radical and illuminating, and remains highly relevant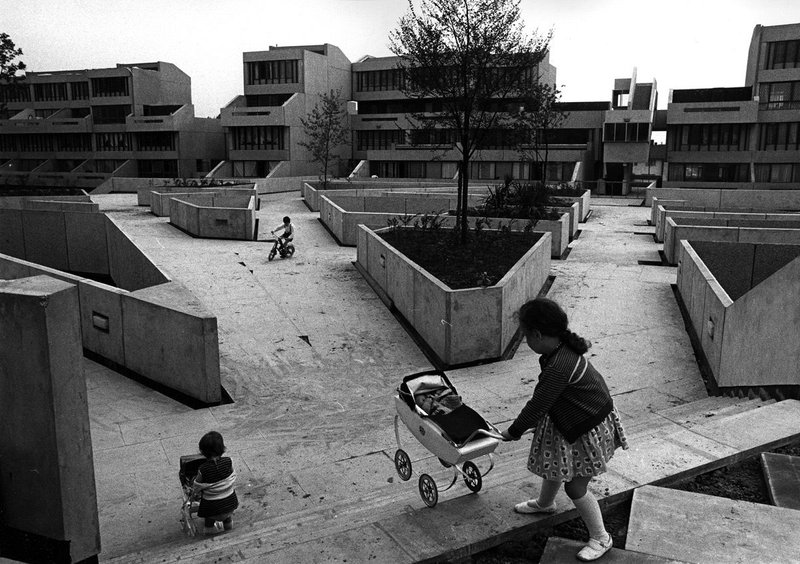 Tony Ray-Jones (photographer), low-rise linear housing, Tavy Bridge, Thamesmead, Greenwich, London. Architects: Greater London Council Department of Architecture & Civic Design.

Credit: © Architectural Press Archive / RIBA Collections
With its radical approach to architectural photography and campaigning zeal, the Manplan series by the Architecture Review in 1969-70 retains its potency more than half a century on.
Here, the buildings aren't often the heroes. Instead, the reportage style of photography captures how people experience space – children careering around the concrete playgrounds of their estates, a lonely-looking woman peering out of an old people's hostel window, or a peak-capped man walking his dog in a desolate urban landscape. And sometimes it's just about the people, whether out of work in the dole queue or en masse at an anti-apartheid demonstration.
It was 'undoubtedly hard-hitting, radical and original' according to RIBA Photographs curator Valeria Carullo, lead curator of Wide-Angle View, a new RIBA exhibition on this highly experimental endeavour, which caused controversy thanks to its uncompromising content and powerful presentation.
The eight Manplan issues (the original intention was to run 20) were a response to societal issues of the day, says Carullo, when 60s idealism was giving way to disillusion, a sense of failure, and of the need for change.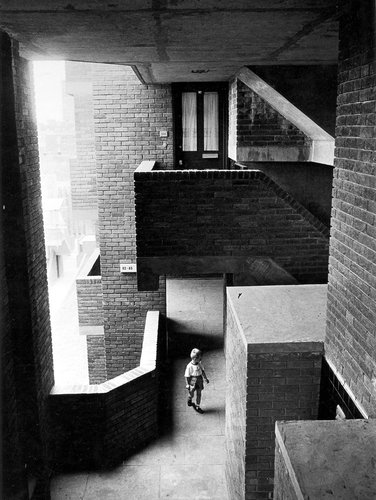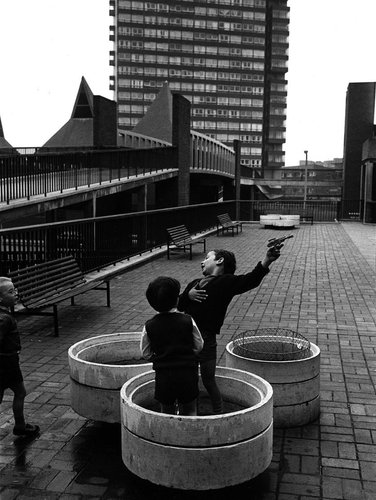 In many ways, this ambitious and extremely critical reflection on the impact of architecture and planning was in the spirit of other AR campaigning issues such as Ian Nairn's Outrage. Writing in 2014, academic and post-war architecture historian Stephen Parnell described the Manplan series as 'something of a tantrum' by the magazine's proprietor/editor Hubert de Cronin Hastings, who was dismayed at the failure of post-war modernism to make a better world.
Rather than plan purely for efficiency, explains Carullo, Manplan advocated for a more holistic approach to design and planning driven by human needs, and for architects to play their part in understanding and delivering this.
Kicking off with the bleak introductory opener Frustration, further issues tackled key sector themes such as housing, education, religion and health and welfare, which included examples of successful buildings. The aim was for later editions to cover issues such as waste, energy, and the impact of industry on the environment.
This editorial purpose coincided with a commercial agenda. In order to boost advertising revenue, the publishers needed to do something attention-grabbing that would boost circulation and in doing make the magazine more attractive to advertising. The Manplan campaign was this vehicle.
'They wanted to do something quite radical to expand the readership and attract a younger readership,' says Carullo. This editorial purpose coincided with a commercial need to boost circulation – and advertising revenue.
The presentation of the Manplan content was a complete departure from conventional architectural publishing, thanks primarily to the commissioning of street photographers such as Tony Ray-Jones, Patrick Ward and Ian Berry, who were pretty much given free rein. Ray-Jones' evocative photos of housing estates in Thamesmead, Deptford and Greenwich in south-east London are particularly memorable.
'There was this major shift from focusing on architecture to focusing on people inhabiting architecture and urban spaces,' says Carullo.
The photography was combined with a bold, punchy graphic style. This was especially the case in the first issue, described by Norman Foster – who guest edited Manplan 3 – as a 'critical questioning of the consumer society as it had emerged in the 1960s'. In Frustration, photos were presented in black and white using a matt black ink, sometimes amid large expanses of black, and with only short, caption-like text. Subsequent issues were to become less sombre and more text-heavy.
The distinctive cover design was particularly radical. Rather than showing architecture, each cover bore a different form of a head or skull – including a mask, a phrenological model of a head with a camera lens for one eye, an anatomical drawing, and a detail of a brain – emphasising the focus on the human.
High on shock-value, Manplan certainly got the required attention – but its strong message was not to all readers' tastes. A sample of contemporary responses in the accompanying publication and exhibition illustrate its 'Marmite' quality. Richard Rogers and Hugh Casson both loved it. Peter Womersley cancelled his description on the grounds that he wanted 'to read about architecture rather than overcrowded trains and buses which he knows about only too well'. A certain J Dwyer bemoaned its 'distorted, boring photographs, specious commentary and (final insult) increased price'.
The exhibition Wide-Angle View shows nearly 80 photographs as well as the publications themselves and additional archive documentation including promotional material, page designs, and readers' letters.
Commercially, the Manplan series was not a success, although circulation apparently fell less sharply than in other comparable publications of the day. As for Hastings, he retired a few years later and in 1973 was the only editor to win the RIBA Gold Medal.
What's striking, says Carullo, is that so many of the themes raised in Manplan - including inadequate housing, the post-industrial city, loneliness and poverty - remain pertinent today, so many decades on.
'They could be talking about now,' she says.
On that note, an exhibition inspired by Manplan is opening this month at the Gareth Gardner Gallery in London. In Boundary Conditions: Reframing the Pepys Estate, four photographers (Freddie Miller, Jérôme Favre, Danilo Murru and Gareth Gardner) explore contemporary life at the Deptford estate, which was photographed by Tony Ray-Jones for Manplan in 1970.
Wide-Angle View: Architecture as Social Space in the Manplan Series 1969-70, 13 September – 24 February, RIBA Architecture Gallery, 66 Portland Place, London W1B 1AD.
Wide Angle View: Architecture as social space in the Manplan series 1969-70, edited by Valeria Carullo, RIBA Publishing, PB, £25
Boundary Conditions: Reframing the Pepys Estate, Gareth Gardner Gallery, 50 Resolution Way, London SE8 4AL, 21 September – 15 October 2023