Will Wiles revels in the goriest, glorious comic-book skills of artist Kevin O'Neill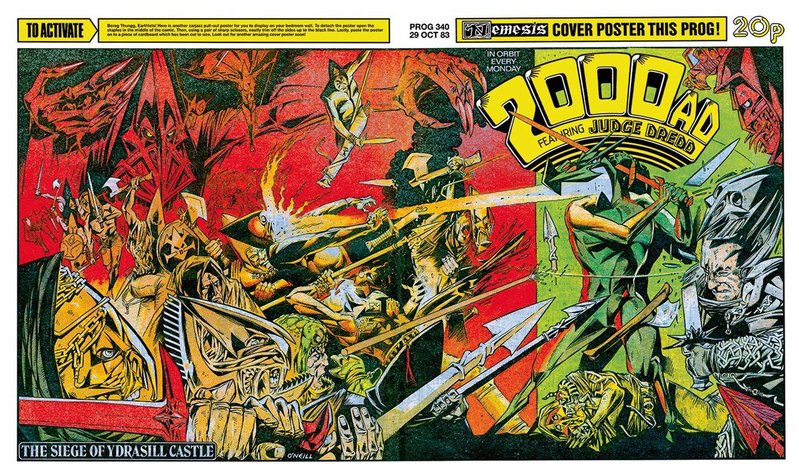 O'Neill's Nemesis the Warlock is the cover star of a 1983 issue of 2000AD.

Credit: Rebellion 2000 AD LTD
It is, I think, something approaching a national disgrace that the death of British artist Kevin O'Neill last year was not mourned more widely. But then, O'Neill was always an outsider. He was recruited by Pat Mills, founder of the British comic 2000AD, to work on the title as it launched. The pair became a creative partnership, producing profound and subversive comic art.
Words feel insufficient to describe O'Neill's style. Manic detail played a large part, well suited to arcane machinery, gothic interiors, intricate cityscapes thick with graffiti, crowds of freaks. His fondness for exaggerated visual gags, drawn from the more juvenile end of the comics world, paired well with his perverse genius for design. Mostly, though – and I say this with great admiration and fondness – O'Neill's work was grotesque. His ability to render ugliness was very, very beautiful. His costumes are like a nightmare Thierry Mugler might have after spending 48 hours trapped in a fetish store. He did some of the chunkiest, eyeballiest, goriest gore in the business. His faces were incredible: monsters and villains distorted by rage and bloodlust, and wide-eyed civilians looking on in terror and disgust. The distinctiveness of this work has no greater tribute than the fact that O'Neill's entire style was condemned by the Comics Code Authority – he was the only artist to receive this honour.
The first Mills/O'Neill co-creation was Metalzoic, a strip about giant robots which gave O'Neill a platform for his magnificent machines. They then created Nemesis the Warlock, which would become one of 2000AD's iconic stories. In Nemesis, humanity has fallen under the sway of a xenophobic theocracy, led by the dread Torquemada, and is set on purging all alien life from the galaxy; a ragtag band, led by the titular alien Warlock, fights back. O'Neill's baroque art gave splendid, horrible life to the odious, torturing religious hypocrites who were the series antagonists; and it had the most magnificent architecture and vehicles. It was also – like all Mills/O'Neill creations – very funny.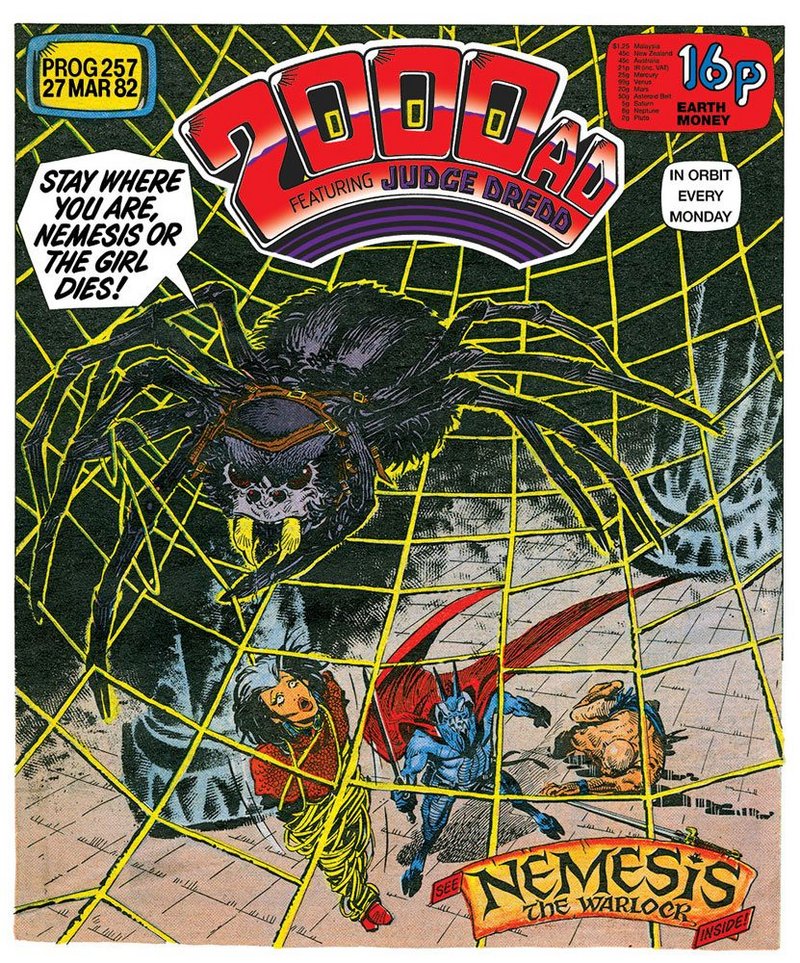 Nemesis the Warlock.

Credit: Rebellion 2000 AD LTD
The anti-heroism explored in Nemesis was brought to an extreme conclusion in Marshal Law, again created with Mills, but in the freer environment of small indie comics such as Strip and Toxic. This was a prolonged scream of rage in the face of the whole genre. Its title character is an embittered superhero policeman, who specialises in hunting down his caped brethren, with tremendous violence. Marshal Law's savage lampooning of the whole superhero pantheon was also a ripe opportunity for Mills and O'Neill to express their frustration with the comics industry.
Still, 35 years on, Marshal Law retains the capacity to shock and disgust. It must have been cathartic, as O'Neill followed it with a pure comics masterpiece: The League of Extraordinary Gentlemen, co-created with the legendary Moore. This was a rampage across the Victorian era, and 20th century – O'Neill's fanatical attention to detail and unerring pen, coupled with Moore's seemingly limitless esoteric knowledge and reading, created work of scarcely believable richness. O'Neill's fantastical skylines and structures were given their fullest possible airing in this fever-dream world – the astounding architecture of, for instance, the unfinished Channel Causeway, with its immense statuary and simmering steam-cranes, is unforgettable.
Where, but the world of comics, could such astounding draughtsmanship and fetishistic design talent thrive to this extent? But it is a naturally ephemeral world. O'Neill must have gouged his mark in the imaginations of thousands of creative professionals in this country, who would not be writing or drawing without him showing the way. But the danger is that these contributions are not given the recognition they deserve.
---
LARGER THAN LIFE
After O'Neill, Nemesis the Warlock passed through the hands of several hugely talented artists, including Bryan Talbot. Like O'Neill, Talbot would spin off his own world of fabulised Victoriana in his Luther Arkwright series, which he wrote and drew. The actual 19th century begins to look rather pallid against these cumulative visions.