Will Wiles recalls his journey to a love of architecture, and how Robert Harbison welcomed him in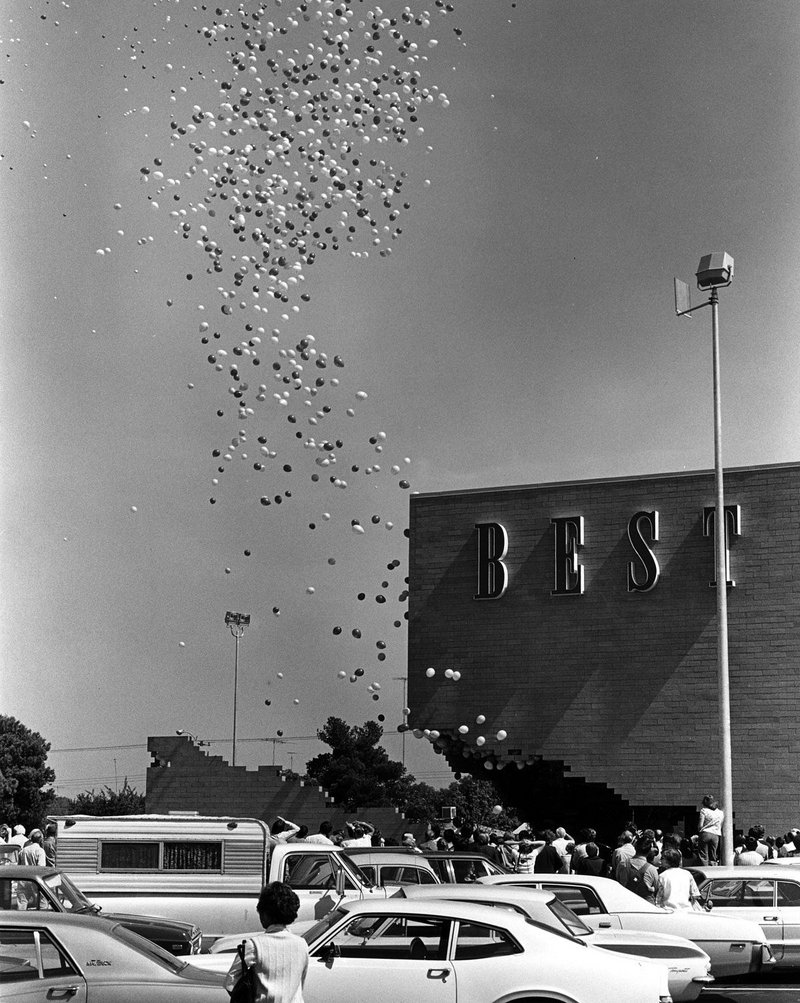 Harbison brought new encounters with architecture, including James Wines's jokey superstores for Best Products in Sacramento, California.

Credit: Architectural Press Archive / RIBA Collections
Curious the way that some books can fuse with the locations in which we first encounter them. Whole swaths of historical reading are tempered, for me, by sense-memories of the chilly glass ziggurat of James Stirling's Seeley Library in Cambridge, under the vast gloom of a Fenland winter sky. Owen Hatherley's Landscapes of Communism was among the books I read when my first child was an infant, so I read much of it aloud, soothing the baby to sleep. Consequently a lot of Eastern European modernism is strangely muddled with the tense peace of the darkened nursery.
Some places exert a strong mnemonic force. When Tom Wolfe died in 2018, I wrote in this column about his architectural polemic From Bauhaus to Our House, which I found on the shelves of the Blackwell's Art Bookshop on Broad Street in Oxford. It was there, as a teen in the early 1990s, I started to explore the architecture books, which were helpfully stocked in a discreet and comfortable corner. Being young and callow I was naturally drawn to volumes with interesting pictures, such as Colin Rowe and Fred Koetter's Collage City, and Robert Venturi, Denise Scott Brown and Steven Izenour's Learning From Las Vegas. The Wolfe aside (a slim paperback), these books were mostly too expensive for me, but one drew me back with such persistence that I eventually scraped together the money to buy it, and it is open in front of me now: The Built, the Unbuilt and the Unbuildable (1991), by Robert Harbison, who died earlier this year.
Almost every page of The Built, the Unbuilt and the Unbuildable had an intriguing picture on it, drawn from Harbison's vast hinterland of erudition. Thanks to that book, I had my first encounters with dozens of the weirder and more wonderful sights and concepts that architecture has to offer: Ledoux's Royal Salt Works, James Wines' jokey superstores for Best Products, Claes Oldenburg's monstrous monumental dropped lollies and Thames ballcocks, Tatlin's Tower. The text, when I got around to it, was also rich in treasure. It's not easy to forget Mount Rushmore described as 'this largest of garden gnomes or of billboards, planting the flag of civilization in another new spot where it does not really need to be.'
When complete and glistening [Rome] must have been as vulgar as any modern suburb or any world's fair
It was thanks to Harbison that when I sat in the Seeley library a few years later, I was able to think of Etiénne-Louis Boullée's cavernous, faintly atrocious, proposal for a Royal Library under an impossible barrel vault. In a typical dark twist, he spins this image into a nightmare glimpse of infinity, in which every book is a life 'which could lead back into itself, stretching the experience of the whole library to impossible dimensions, immobilising an imaginary reader in front of every book'.
Harbison's project was to expand and enrich the reader's concept of architecture by gathering 'the extremest instances I could find'. In this, he was continuing the work begun in his first book, Eccentric Spaces (1977), a study of how the imagination creates, uses and preserves space. An early magnum opus, Eccentric Spaces seems to summarise a whole career just as it begins: ruins, gardens, baroque palaces, private dreaming-places, the past, maps, machines, itineraries, the architecture found in novels. It is an enfilade studded with startling thoughts. 'Closing a door is the most elementary transformation of nothing to something.' Rome is probably at its best as a ruin, and when 'complete and glistening … it must have been as vulgar as any modern suburb or any world's fair.' Railway stations and machines have a common ancestor in the suit of armour: 'Operators of bulldozers and travellers from Euston have no use for suits of metal clothes.'
Harbison called Eccentric Spaces 'the record of a struggle to assimilate more and more to the realm of delight'. That was, more or less, what he did for me: to open up a prospect more pleasant than Boullée's infernal library, but no less capacious: here was a world of endless fascination, and its name, loosely, was 'architecture'. Thank you, Robert.
---
The Built, the Unbuilt, and the UnGoogleable
Rereading Harbison, as was my pleasant duty before writing this column, my fingertips brushed against a disappeared pre-internet age. Nowadays, architectural oddities circulate continuously on the web, and it's easy to become jaded. How fresh and mysterious The Unbuildable felt, and how familiar some of its menagerie has become. But I also recalled the frustration of coming across a glancing reference to, say, Friedrich Gilly, and not being able to simply pull my phone out of my pocket and look him up.