Restrictions on indoor hospitality have raised questions over what constitutes an outdoor structure, says Will Wiles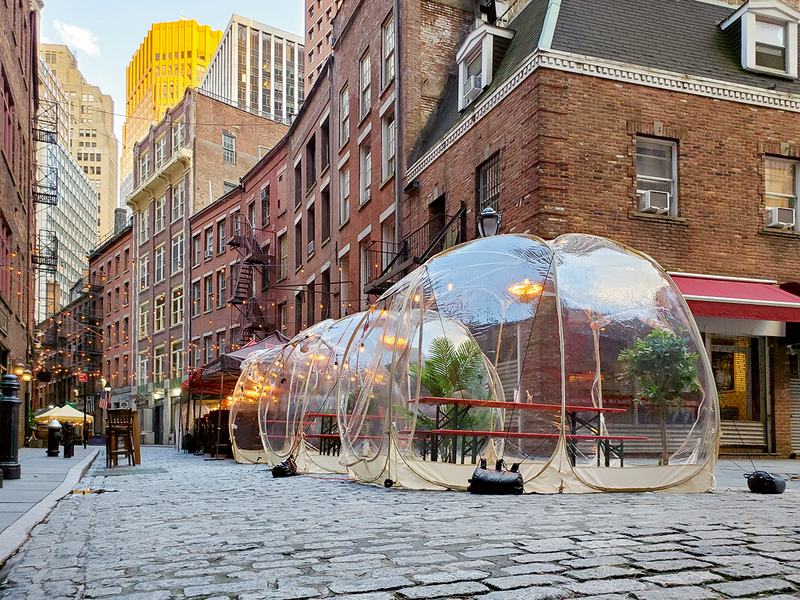 A dining pod for Covid times in Manhattan.

Credit: ISTOCK/DEBERARR
The coronavirus pandemic has prompted a worldwide architectural experiment that has yielded some interesting results. There have been long periods when only outdoor drinking and dining have been permitted. But outdoors lacks many of the amenities of the indoors. That's why we invented indoors. And now hostelries around the world – particularly those in countries with fickle climates – have been obliged to reinvent the outdoors, to try to graft on to it some of the amenable features of indoors. So dawned a golden age for the tent, the shack, the lean-to, the pod, the bothy, the gazebo, the sitooterie and the backyard buckydome.
For some, this experiment has proved costly. In April, a pub landlord in Wiltshire was told his purpose-built 'chalet', built to shelter his punters, did not comply with government guidelines and could not be used. The structure, which cost £50,000 to build, included a bar, a pizza oven and a television, with a painted Alpine sign over the door for an authentic après-ski atmosphere. This sounds a bit more elaborate than a simple back-yard shelter, and that''s where things get really experimental. When does an outdoor structure cease to be an outdoor structure and instead create a new indoors? The answer matters a great deal, both for struggling hospitality businesses and for public health. Covid-19 is an airborne disease; it is much less transmissible in the open. Proper ventilation is vital in combating it. An architectural parlour game thus took on life-or-death significance.
So the virus started to generate architecture, combining indoors and out. Or rather, it didn't; the rules did. The Wiltshire landlord wasn't responding to the virus directly; he was responding to the rules, while also pushing to maximise the comfort of his customers. As it was, he seems to have pushed too far. Though he maintained that the chalet complied, the council disagreed, stating that the measure of an outdoor structure was that at least 50 per cent of its walls had to be open when it was in use. So there we have it: an official definition of what's 'indoors' and what's 'outdoors'. Really, this is a definition of where a building begins, one to set alongside Laugier's 'primitive hut' in every architectural syllabus.
Or rather, another definition, among very many. Rules shape buildings but rules also create buildings. In his wonderful book A Burglar's Guide to the City (2016), architecture writer Geoff Manaugh uses criminality to get into the very essence of architecture. The crime of burglary necessitates a building – no building, no burglary. So the case law around burglary spends a lot of time considering what constitutes a building and comes up with curious answers: eg a hole dug into a hillside, as decided in a 1937 case. 'Because of burglary law,' Manaugh writes, 'architecture is suddenly everywhere. We are surrounded by invisible buildings.'
And now the outdoors is everywhere, even indoors. To comply with the official guidance, and to reassure customers, premises will put everything into testing the boundary between the two. But the shift to ventilation as key to virus mitigation looks like a positive development. Many of the early bits of speculative architecture thrown up by the pandemic worked on maximising isolation. For instance, there were proposals for hygienic hotels that involved zero human contact from check-in to check-out. It gestured to a world of cells, bubbles and barriers, and it wasn't a very happy prospect.
This governed some of the outdoor structures as well, like those geodesic tents outside some of the classier restaurants, isolating tables from one another. We can now see that this wasn't necessarily the best approach and some of the barriers can start coming down. It indicates that architectural solutions can be more evanescent in nature, melting away boundaries between domains, striving towards openness and free circulation. Or at least doing away with ugly partitions in the pub garden.
Running the rule
Rules shape architecture – and cities, too. Everyone thinks of the 1916 ordinance in New York that established the distinctive stepped look of its pre-war skyscrapers. This forms the basis of another fascinating book, Alex Lehnerer's
Grand Urban Rules
(2009), which asks whether cities can have great rules to go alongside great plans and great buildings – an effort to redefine regulation in terms of opportunity rather than hindrance.