Ghouls, ghosts and gothic: where does the horror story start – with the building or the ghost? Will Wiles probes architecture's relationship with the supernatural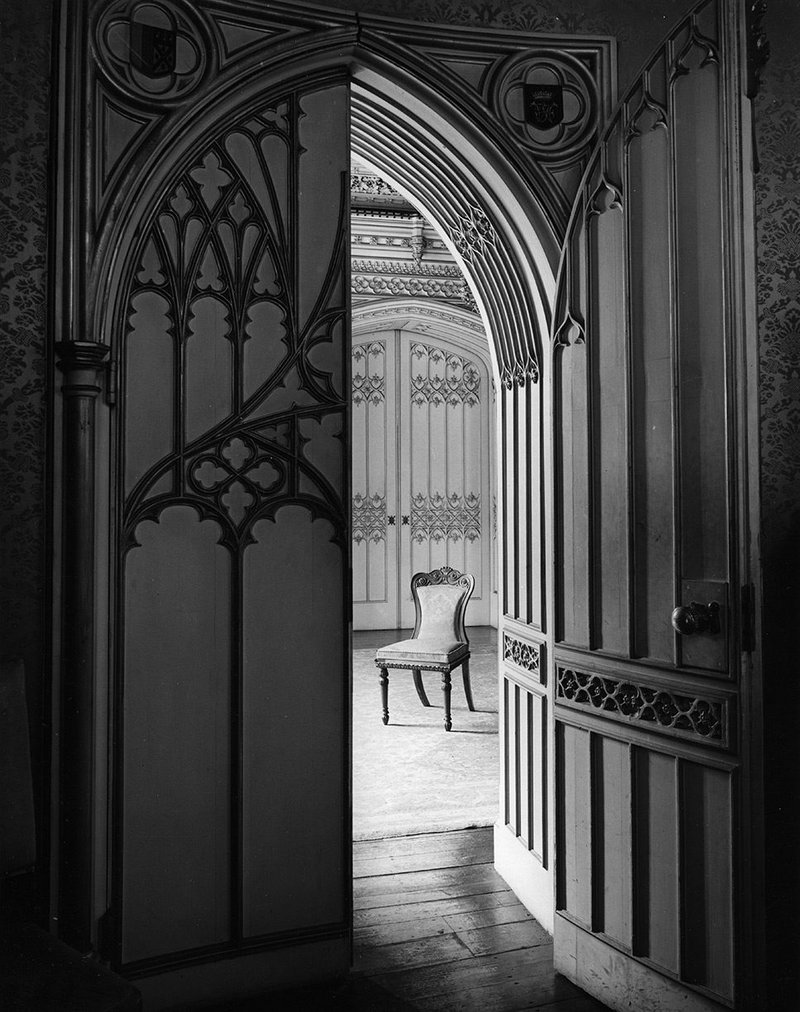 Gothic style, such as Walpole's Strawberry Hill, bound the ghost to architecture.

Credit: Edwin Smith / RIBA Collections
When the death of novelist Hilary Mantel was announced in September, people mourned online by sharing favourite lines from her books. She was a consummate writer of both fiction and non-fiction, probably the best in the country, so there were a lot of favourite lines to choose from. But one cropped up quite often, from a 2003 essay, which later became the basis for Mantel's beautiful memoir, Giving up the Ghost (2005): 'When you turn and look back down the years, you glimpse the ghosts of other lives you might have led; all houses are haunted.'
Those are metaphorical ghosts, of course, but it's the value of the ghost as metaphor that makes the paranormal visitor such a persistent one. In The Ghost: A Cultural History (2017), Susan Owens presents Horace Walpole's invention of the Gothic ghost story in The Castle of Otranto as 'a new, highly charged way of looking at the world'. This new Gothic vision was a fusion of architecture, antiquity, horror and the supernatural. As Owens explores, enthusiasm for the Gothic encouraged tourism as well as literature, as enthusiasts sought out appropriately gloomy ruins and hunted haunted houses. Ann Radcliffe, author of The Mysteries of Udolpho, also wrote a travel guide.
The Gothic bound the ghost to architecture. So, could the literature of architecture be used to tell ghost stories? On the basis of an online recommendation, I recently picked up a copy of Municipal Gothic by Ray Newman, a collection of 13 modern ghost stories. Modern ghost stories are nothing new – ghosts are naturally time travellers, equally uneasy in any era. What Newman brings to the table is a dry wit, a sense of 20th-century English drabness nicely captured by that word 'municipal', and some entertaining formal experiments.
The most interesting example of the latter is Modern Buildings in Wessex – a ghost story told in the form of an architectural gazetteer. The format is familiar from Pevsner, Nairn or Hatherley: a series of pocket descriptions of buildings, compiled in the 1960s by an architectural critic. These start out conventional enough, in a chatty Nairn-ish style: 'These are humble buildings made grand only through the ingenious use of modern materials … Try telling that to the lads smoking behind the cricket pavilion, mind you.' But the writer mixes in visits to a series of buildings designed by a neglected Continental modernist, Hälmar Pölzig, and a darker thread is pulled out.
Pölzig had some very curious ideas, not least that his nine buildings in Wessex should be visited sequentially and that 'a narrative is thus revealed'. The writer obliges, starting out interested in Pölzig's originality, but steadily unnerved by what he finds. A rooftop sculpture garden on a housing block resembles looming monastic figures, and creates eerie pockets of silence or deafening sound; a build for the ministry of works has a baffling, deadening layout; an art college creates a permanent vortex of wind and its students create works that are 'all shadow, staring eyes and alien forms'.
To say more would be to say too much, and it's worth enjoying in full. What really works is the way that the writer's increasing disquiet spills over into his descriptions of the more innocent creations of the British Rail and county council architects' departments. Even amid spruce Scandinavian utilitarianism or sunny Festival style, the brooding Hungarian stalks him.
As a formal gambit, the story works brilliantly – I wish I'd had the idea. It's a reminder of one of the curious pleasures of the gazetteer, when we see the author glimpsed in reflection; a reminder too of the way Ian Nairn's demons sometimes stained the edges of his pages. All houses – all buildings – really are haunted, because we're the ones doing the haunting. We bring our own ghosts with us, just as Mantel wrote.
---
PECKHAM ORDER
I liked Newman's collection so much I was happy to write an endorsement for the cover – a 'blurb' in the horrible publishing term. Another book it has been my recent privilege to blurb also has an architectural theme: The Peckham Experiment by Guy Ware, which is published on 15 November. It's a vivid stream-of-consciousness romp through 20th century London, centred on dodgy goings-on in a London council housing department and some shoddy system building.