Gumuchdjian restores Wimbledon House as home for Richard Rogers Fellowship at Harvard GSD
'It's still a bit wonky,' says Philip Gumuchdjian approvingly of the slightly wavy ceiling of Wimbledon House in London, the home Richard Rogers designed for his parents in 1968.
Gumuchdjian is delighted that after completing a complex, two year restoration of the building, the patina that had evolved over half a century has been retained.
'We replaced three quarters of the envelope but it needed to end up feeling as if it's an old building,' he says, keen to hold on to the poetic elements of wear and tear that have a history and character integral to the spirit of the house. This includes, for example, retaining the rather mottled polyurethane floor that had originally been a pristine white.
Gumuchdjian, who has known and worked with Rogers for many years, was trusted with the restoration of the grade II * listed house following Rogers' decision to gift it to Harvard University to become a research centre for its Graduate School of Design (GSD).
At the launch recently, the house looked resplendent even in the torrential rain. Restored to its original, arrestingly, bright yellow, green and orange interior colour scheme, the modest house is striking for its feeling of open-ness and harmony with its courtyard and garden setting. Most of the guests however would have had no idea how extensive the work had been to get it to this state. Rather than a mere paint job and tidy up, this was a radical remaking with difficult decisions to be taken at every stage over what should be retained, and what should be replaced. And with joint clients of Rogers himself and Harvard GSD dean Moshen Mostafavi, the architect knew it had to strike just the right balance between protecting the house's original character and giving the new owner a building it could rely on and use as it wished.
The radically simple, lightweight house was a deeply personal project for Rogers, and was designed after his partnership with Norman Foster and before collaboration with Renzo Piano. Importantly, says Gumuchdjian, this was an experimental prototype of the sort that no normal client would have countenanced.
'The only people he could have proposed it to were his parents,' said Gumuchdjian, adding that the house sits close to Reliance Controls (1967, with Foster) and Spender House (1968) in Rogers' overall oeuvre.
'It has a directness and simplicity and it captures Richard's diagrammatic view of architecture,' says Gumuchdjian.
Speaking by phone at the launch, Rogers himself referred to the house as a 'very simple container' that gave flexibility, adaptability and transparency as well demonstrating a legibility of construction.
The house is actually not one but two structures with a lodge – which originally contained a car port – to the front. The main house is to the rear, and was created with a series of five 13m portal steel frames at 3.4m centres and an envelope of full height glazing and 60mm thick cladding panels. Apart from the roof-lit bathroom pod there was only one fixed interior wall – the rest were sliding panels. Along with the open-plan kitchen, this permitted flexibility of use while the sliding glass doors allowed a blurring of inside and out. Radically, the heating system was integrated into the ceiling structure, which sat below the main roof structure.
Half a century of use had taken quite a toll on the building.
'Everything about it was worn, which was to be expected,' says Gumuchdjian.
Not only were the asbestos-filled cladding panels failing, the roof needed attention and investigation of a sagging ceiling panel revealed extensive corrosion of the extremities of the ceiling structure, leading to the hasty deployment of props. The restoration also included a much needed rationalization of the accretion of security equipment and cabling.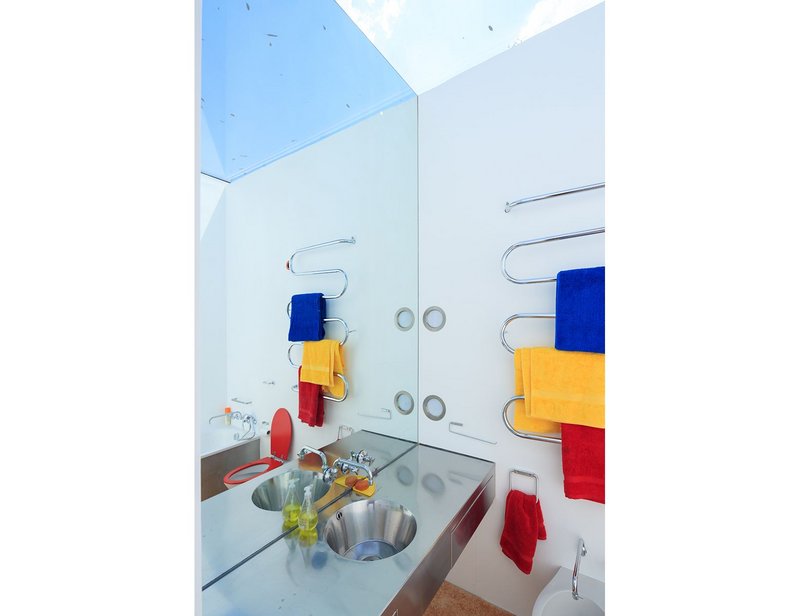 Gumuchdjian had no shortage of expert help, with Matthew Wells at Techniker, Atelier 10/Patrick Bellew and Aecom, Northern Ireland among those helping to steer a path forward. He was clear that it was entirely within the philosophy of the building to renew it using modern materials.
'What was important was the idea of the building – the concept of the envelope, the flexibility of space – and not so much the fabric. This supported the decision to use new materials to support the visionary concept,' he said.
The pvc-coated, insulated aluminium cladding panels clearly had to be replaced. In fact, they had been replaced twice before, once just a couple of years after completion. Finding a manufacturer willing to take the job on was a challenge, since the 36 panels were of differing sizes with varying apertures for services, and needed structural strength and a one hour fire separation. At one point they were going to be made by a caravan manufacturer but were eventually produced by Aluprof, which made the bespoke insulated aluminium panels with a powder-coated textured finish.
Having repaired the ceiling's steel structure, the practice was able to refurbish and retain the ceiling panels, reforming the original lighting holes. The roof was reinsulated using Kingspan Optimo insulation. Original furniture including pieces by Ernesto Rogers were retained, with additional pieces supplied by Aram. A garden studio that had been added in more recent times was removed and the garden re-landscaped by Todd Longstaffe-Gowan, who described the house as a 'total work of art' with the building, gardens and interiors conceived in concert.
In its new role as GSD Research Centre, the house will host three month residencies for architectural and urban research, thereby perpetuating the spirit of its original experimental agenda. They will live in the refurbished lodge, with access to further study space in the main house. The latter also has an office for Harvard staff and a guest bedroom, with the main former living space used for events and functions. The first two residencies have already taken place, with feedback suggesting the space was almost monastic in terms of enabling study and contemplation.
The building looks to be in good hands with its future secured.
For Gumuchdjian, it's been an inspiring and highly collaborative experience.
'Working for a really cultured client in architecture really rekindles one's faith in the industry,' he concludes.