From ancient teahouses to modern manga, this exhibition illuminates the cultural role of windows in Japan as they control the admission of light, shadow and air into a building, and open its soul to view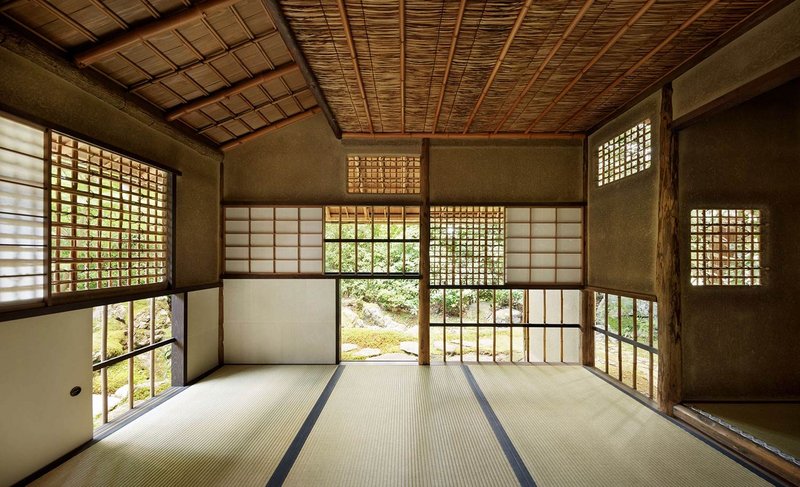 Yōsuitei, Kyoto, built during the Kan'ei era (1624-1644) of early Edo period (1603-1868), Teahouse for Gotō Kanbei

Credit: ©2019 Takumi Ota Photography, From Windowology: New Architectural Views at Japan House, London
Is the window 'the single most fascinating component of architecture'? That's the contention of Windowology: New Architectural Views from Japan, a tantalising exhibition on the history and cultural significance of windows, covering their manifestation in everything from traditional teahouses to manga.
Located at the Japan House cultural centre in London, the exhibition is curated by architectural critic Igarashi Taro, alongside the Tokyo-based Window Research Institute. The aim was to raise awareness of the particular features and possibilities of windows in Japanese culture to a general, as well as an architectural, audience. They've certainly held a long fascination for Taro, who has been working on the Windowology research project for 15 years. For him, windows present a multiple attraction for their role between inside and outside, as the place 'where light, wind, heat (and sometimes people!)' come in and out, and as a focal point for various human behaviours and communications. Not only are they important elements of the design of the facade, they also they serve, he says, to show the character of a building's interior to the outside world. In doing so, the exhibition suggests, windows can be thought of 'as windows to the souls of buildings'. They are also, we learn, cultural products that 'are tied to the peculiarities of their local contexts'.
Anyone who's ever dipped into Junichiro Tanizaki's famous aesthetics essay In Praise of Shadows will have got a sense of a deeper cultural appreciation of the nuances of light and shadow in Japan than seems customary in the West. This exhibition sets out the very different approach to windows in traditional Japanese architecture. Rather than static elements, they form hashirama sōchi – devices between structural columns consisting of sliding screens, partitions and shutters of varying design, translucency, framing and layering. These include the shoji sliding screens of translucent panels, and fusama opaque partitions.
'Japanese architecture before the modernism movement did not have many windows of the hole-in-the-wall type, but rather fitted shoji, fusuma and shutters (amado) as movable partitions in a post-and-beam framework structure,' says Taro.
O House, Tokyo, designed by Hideyuki Nakayama Architecture

Credit: © Jeremie Souteyrat. From Windowology: New Architectural Views, at Japan House, London.
The exhibition narrative is embellished by a series of wall quotes from architects and thinkers emphasising, variously, the poetic and kinetic nature of window in Japanese culture: 'Shoji can be thought of as walls that let light pass through them, and by being moveable, they enable openings to be transformed in different ways,' (Koyama Hisao).
Two of the most eloquent exhibits focus on traditional teahouses, which developed a particularly diverse array of window designs.
The tranquil film Transition of Kikugetsutei is a detailed look at a day in the life of Kikugetsutei, a teahouse in the 18th century Ritsurin Garden in Takamatsu. We watch as the teahouse is opened up in the morning, and later closed at night in a finely honed ritual of considerable time and effort. This captures both the changing quality of light throughout the day and night and the dynamism of the screens in motion, including a nifty corner turning detail which allows partitions to be moved around different sides of the building.
This is a large structure in contrast to the tiny 17th century Yosuitei teahouse in Kyoto. Despite its diminutive size, this contains 13 different window openings in one room, all designed to enhance the tea-drinking experience, whether through moderation of light or breeze. This is represented in the show as a full-scale model that visitors can enter. The installation was conceived as a large-scale version of a okushi-ezu, a three-dimensional architectural plan created in washi paper. Carpenters and tea-masters traditionally used these models in the planning and construction of a teahouse.
Windowology dips briefly into many themes. There's a quick look at the windows as a literary device in storytelling, perhaps to indicate separation or the entrance to another world, and as an element in manga comic strips. Other displays look at the role of windows in sustainable design and the practical role that workshop windows have played in the production of Japanese crafts. An installation by Tsuda Michiko explores the relationship between Japan House and adjacent streets.
The exhibition takes in contemporary as well as traditional Japanese architecture. An array of photographs by Jeremie Souteyrat shows extraordinary examples of homes in dense city centre locations, their window composition carefully considered in relation to neighbours and contexts. A few, such as Sou Fujimoto's House NA in Tokyo, take a theatrically transparent approach – and it would have been great to know what it's like for those who live in such experimental homes. Windowology is an enjoyable and stimulating show of what is undoubtedly an intriguing subject. I'd have welcomed, however, more narrative and context than is perhaps possible in a one-gallery exhibition in order to form a deeper understanding of the special character of Japanese windows, and why they developed the way they did. Fortunately, help is at hand. For those wanting to delve further, there is a very nice set of accompanying booklets to the show outlining the Window Research Institute's further research into topics such as window ethnology, dialectology, linguistics and behaviorology. There are also plans for more publications and research, including, Taro hopes, an encyclopedia of windowology.
---
Windowology: New Architectural Views from Japan, until 10 April 2022, Japan House, 101-111 Kensington High St, London W8 5SA