Marcel Breuer's design for the Paris UNESCO building under formidable discussion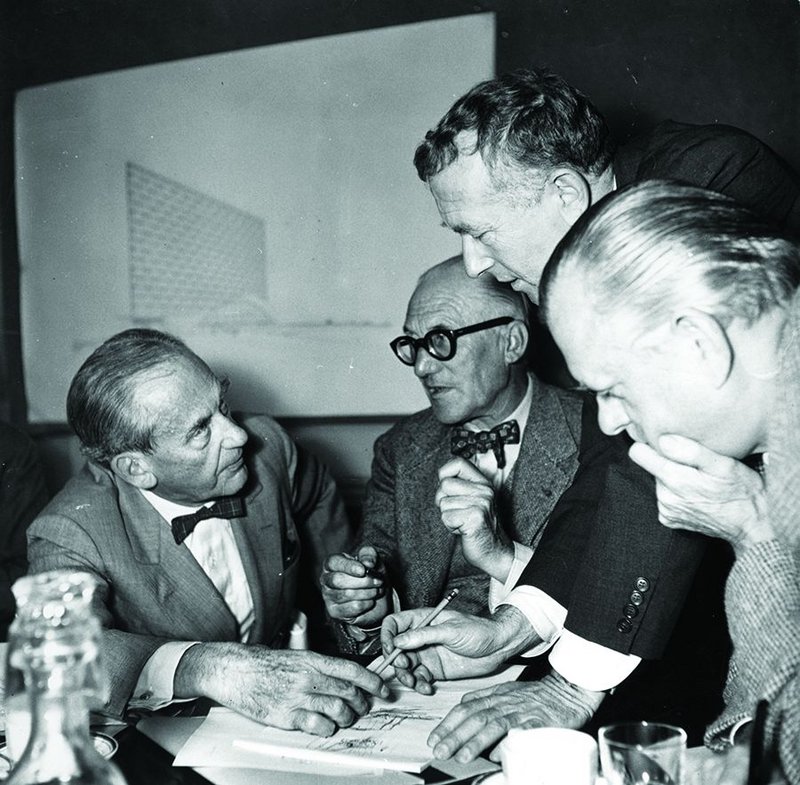 In this image from 1952 Marcel Breuer, holding the pencil, discusses his project for the UNESCO building in Paris with three members of the International Panel of Advisers: Walter Gropius, Le Corbusier and Sven Markelius. Gropius, as head of the panel (which also included Lucio Costa, Eero Saarinen and Ernesto Nathan Rogers), had attempted to have Le Corbusier appointed as principal architect of the building but was ignored by the UNESCO committee.

The Headquarters buildings were ultimately the result of an international collaboration between Breuer (Hungarian by birth, later a US citizen), Italian engineer and architect Pier Luigi Nervi and French architect Bernard Zehrfuss.

It was Breuer's first major project in Europe after moving to the US in the early 1940s and gave his practice – which had previously been essentially residential – the opportunity to expand into institutional buildings. Artists such as Pablo Picasso, Joan Miró, Henry Moore, Jean Arp and Alexander Calder were commissioned to contribute works to the Y-shaped Secretariat, inaugurated in 1958, and the other three that completed the Headquarters site in Place de Fontenoy. Japanese landscape architect Isamu Noguchi designed the garden.
---
More images at ribapix.com