Zooey Braun's verdant view of Werner Sobek's glass cube House R128 in Stuttgart plays on the glazing's reflective rather than transparent qualities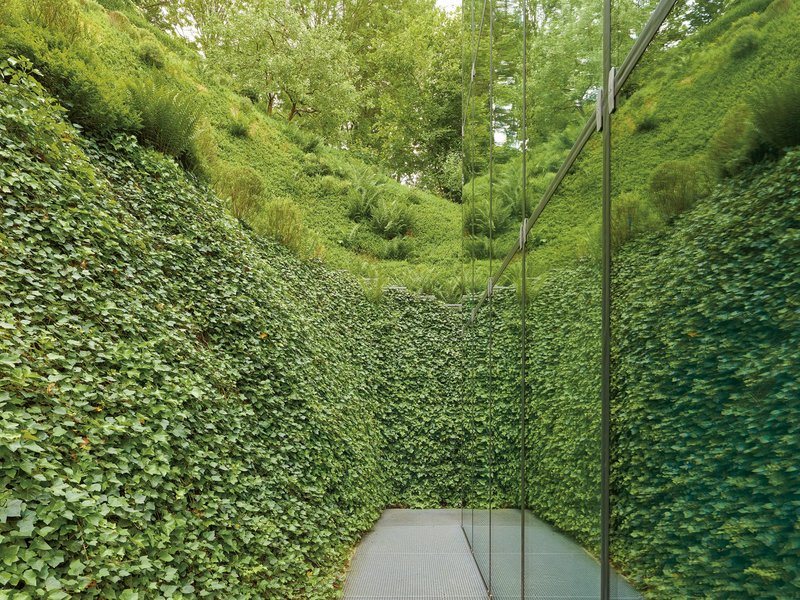 House R128, Stuttgart.

Credit: Zooey Braun
Designed in 1999 and built in 2000, Werner Sobek's House R128 in Stuttgart is a case study house that embodies the sustainable philosophy of its architect. Home to Sobek and his partner, the 'R' of 'R128' stands for Römerstrasse, the long road that winds up from the basin that the city sits in. The '128' denotes its position at the top of the hillside, commanding a dramatic view over Stuttgart; the Teutonic equivalent of Pierre Koenig's 1960 Stahl House.
House R128 is as uncompromising now as Koenig's Case Study House 22 was then. Built on a steep plot of land, the four storey, cubic, 0.4 U-value, fully glazed modular home was designed as fully recyclable, with zero heat energy and zero emissions in operation. With its plug-in or screw connections, it was assembled in weeks and can be disassembled as quickly. Temperature shifts are balanced by a thermal energy store and its electricity is generated by solar cells, with every item in the house computer ­controlled.
It would have been a simple journey for photographer Zooey Braun to have made it up to the bucolic site; living as he does at the 'downtown', city end of the same street. On the day of the shoot, the weather wasn't perfect, in fact it looked like rain; and Braun, disheartened at the dull of the day, was considering calling the whole thing off. But at the building's foot, below the machined access bridge ushering you to the upper reception level, something caught his eye.
Even in the shadowless light, the nearby bank of fronds and ivy, damp and glistening, was looking particularly verdant and beautiful and the lower level glazing, more reflective than transparent, served to dissolve the building altogether.
'It doesn't explain how the house looks,' he tells me of the picture, 'but it does show its nature, exposed on all sides to the beautiful greenery.' 'Wouldn't you want to live there?' I ask, exposing my own green-eyed monster. But he says no without hesitation. 'I think I prefer my 1930s flat.'