Hear about how digital technologies can best be used to transform working practices, streamline project delivery and drive efficient teamwork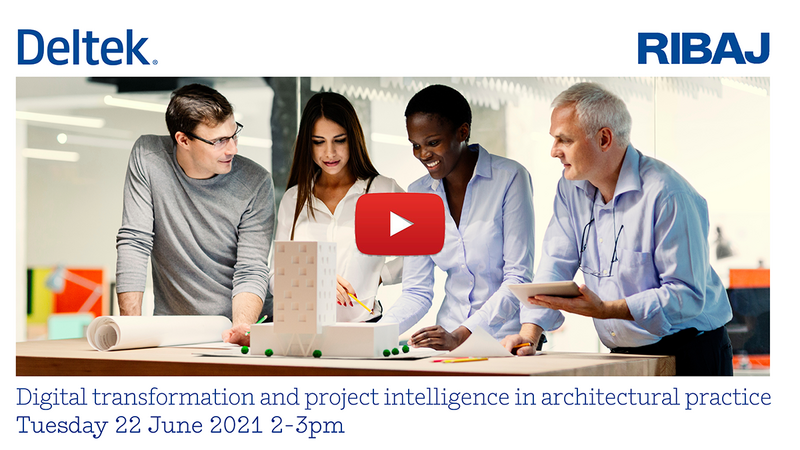 Watch video here
In the last year, adoption of digital has taken a quantum leap. Businesses worldwide are investing heavily in digital technologies and transformation of their processes. Without the same acceleration in architecture, though, there is a real danger the profession will lag and lose ground.
At 'Digital Transformation and Project Intelligence in Architecture', a RIBAJ webinar in association with Deltek, three speakers reflected on how a data-driven digital transformation, centred on project intelligence, is critical to architecture's future success.
The speakers were Adrian Malleson, RIBA's head of economic research and analysis; Megan Miller, director of product marketing at Deltek; and Alistair Kell, BDP's principal and chief information officer.
For architects, Covid has been a rollercoaster ride. Since the first lockdown in March 2020, practices have gone from pausing and cancelling projects and furloughing staff to focusing on managing growth and recruiting staff.
But despite the optimism, it remains a mixed picture. Practices say fees and project costs have never been under greater pressure. In the UK, this is exacerbated by increased materials costs and shortages.
Although these issues need digital solutions, practices have been slow to respond. While architects often embrace digital design software, there is less advanced use of data-driven processes for project intelligence – tracking project costs, risks, schedules and workflow for financial management and business performance.
Scanning the horizon
Adrian Malleson, RIBA
Malleson kicked off with an overview of the economy, construction industry and architecture market drawn from recent data. As he stated: 'We can only have insight into what's going on by looking at the data behind it.'
He highlighted the Bank of England's prediction of a buoyant economy, which is anticipated to reach pre-pandemic levels by the third quarter of 2021 and return to year-on-year growth thereafter. Already, construction 'output per month [is] what it was, or thereabouts, before the pandemic'.
This upward surge is in strong contrast to the closing down of the economy in spring 2020 'when the decline of construction by 12.5% in 2020 effectively knocked off four or five years of previous growth'.
The combined result of the recovery of the economy, construction industry and architecture market is epitomised by the RIBA Future Trends Survey, which gave a positive workload index score of +30 in May 2021 – the highest since 2016. It 'speaks to a strong market that architects are well placed to take advantage of now', he said.
Malleson presented this promising view with clear caveats, however. Whereas the housing sector is booming with a workload balance of 45+ 'the commercial, community and public sectors are much more subdued – a little more fragile'. Growth is being driven by affluent homeowner, who have saved money during the pandemic and are refurbishing their homes to be better suited to online working.
The significance of other sectors' more subdued performance was underscored by the RIBA Benchmarking survey that showed that in terms of revenue housing only made up 28% of income of RIBA Chartered Practices in 2019. With one-off houses and extensions becoming less important as practices grow in size, large practices and medium-size practices are focused on mixed-use, commercial, healthcare and education sectors. It is yet to be seen what impact the slower recovery of these sectors will have on larger practices, with the majority based in London (67% of practice revenue came from London in 2019). Malleson indicated that early anecdotal evidence suggests a different less London-centric future as individual architects and practices move out of the capital drawn by a more attractive and affordable lifestyle.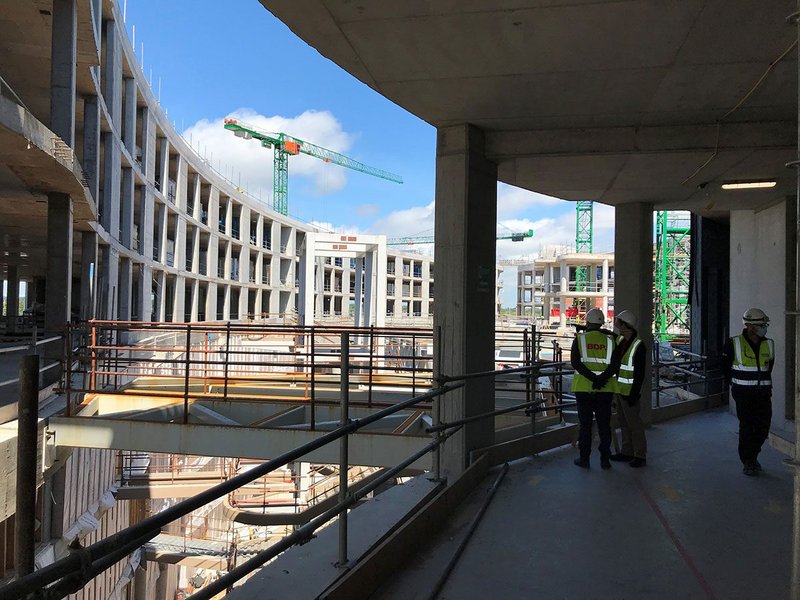 The National Children's Hospital of Ireland in Dublin by BDP. The world-class hospital with associated research and innovation centres exemplifiesz the need for project delivery data systems.

Credit: BDP
Deltek Clarity industry report highlights
Megan Miller, Deltek
In her summary of the findings of the latest Deltek Clarity report, Miller revealed a picture of an industry that is only just embarking on digital transformation. She tellingly divulged that out of the 600 architecture and engineering firms surveyed: 'Most businesses indicated they are mostly or somewhat reliant on manual data in spreadsheets.'
Most architectural firms (54%) are at the exploratory or nascent phase of digital transformation, with a mere 19% at the mature or advanced end of the spectrum. There has been a marked increase, though, during the last year in the number of practices taking important first steps as the lessons of the pandemic have led businesses 'to expediate and move more quickly'.
Top technology initiatives confirm that practices are still in the early stages of adoption, focusing on creating a strategic plan for implementing technology, developing budgets, identifying business partners and hiring or reskilling staff.
The poor performance of projects in the UK – with only 36% on or under budget and 32% on or ahead of schedule – 'suggests that business processes might be getting in the way of successfully managing projects'. The major challenges are collaboration and communication and accurate cost and timeline forecasting.
Miller emphasised strong inter-dependencies between project and business management, where architectural practices are seeking to streamline billing processes, focus on business process improvement, manage growth better and implement new financial systems.
The current post-Covid onus on resetting and improvement provides the perfect 'chance to evaluate where you are, where you want to be and use the opportunity to have meaningful conversations across the business. The digitalisation and automation of processes should allow architects to focus on what they do best.'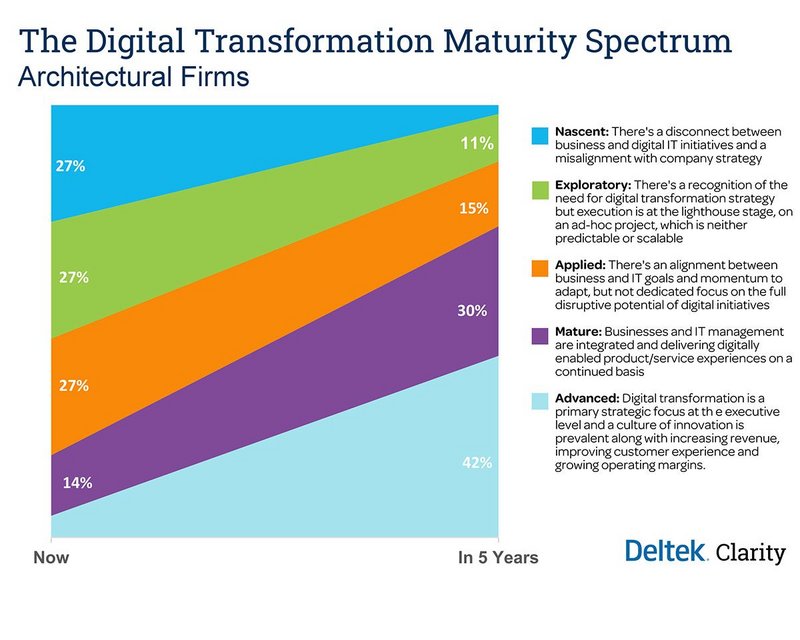 The digital transformation maturity spectrum.

Credit: Deltek
Data driven futures: an architect's view
Alastair Kell, BDP
In his presentation, Kell highlighted how BDP is using its digital systems to go beyond financial management by improving project and business efficiencies. A digitally mature business, BDP has used Deltek for five years to provide core functionality. Individual timesheets are fed directly into the system by its 1250 employees across the world from either work computers or mobile phones, enabling the accurate resourcing and financial monitoring of projects. The use of data is being tailored to BDP's internal processes, such as the live 'Decision to Bid' documentation, which requires appropriate approvals before projects can proceed.
User-friendly graphic representations of data views are also being created to visualise project forecasting and financial checks for month-end figures and for the creation of a planning health dashboard, which identifies key issues with project resource plans across projects company-wide.
Progressing further, BDP's information management strategy is being employed to embed the practice's commitment to the government's core priorities outlined in the Construction Playbook – health and safety and wellbeing, building safety and Build Back Greener – within their project processes. This is: 'All about data for smarter more determined outcomes.'
Linking multiple databases to obtain additional metrics, quality assurance compliance is being used to identify a number of key processes that each project has to run through. The four key metrics are applied to provide a measure of confidence for auditing: business management, design process, environmental, safety. They reflect BDP's commitment to determining outcomes through data, connecting them across the global practice from a strategic to a project level.
A digitally literate future
One questions posed during the closing Q&A was 'what advice would you give a student wanting to build their digital literacy?'.
'Coding, generative design and understanding the difference between a spreadsheet and a native database would be invaluable to anyone coming into the industry,' responded Kell. 'Despite the drive for BIM adoption over the last 10 years, we are only now starting to understand the value of the data within the model.'
---
This webinar was produced in association with Deltek