If BIM is to help finished buildings work better as well as build them, it needs to be less complex – with improved data systems and standards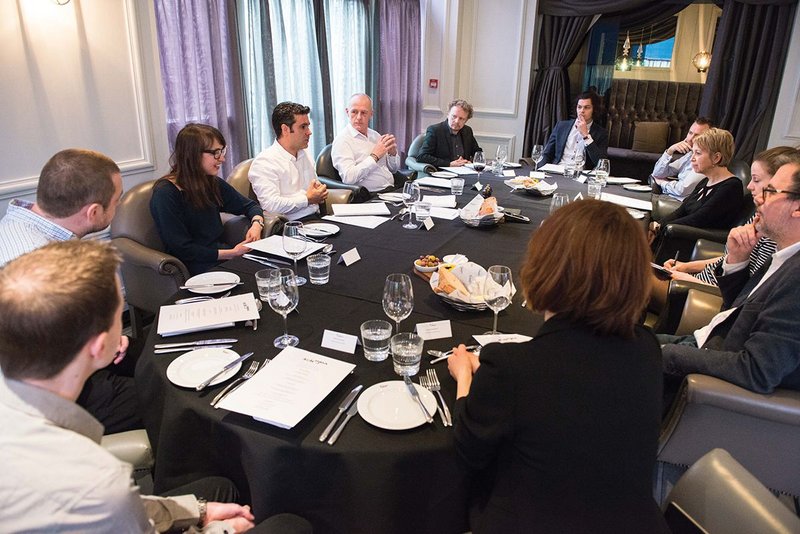 Clockwise from bottom left) Anthony Campbell, Joe Stott, Natalia Maximova, Dave Moyes, Graham Roche, Chris Holden, Elliott Crossley, Dave Woodcock, Sarah Davidson, Isabelle Priest (reporter), Marcel Ridyard and Joanna Chomeniuk.

Credit: Damien Wooten
If you do any reading about bridging the gap between operations and client perspectives, you'll find most research points to it being the responsibility of facilities management rather than architecture. For designers and architects, this poses the question of what they can do better about co-ordination, what they can do worse, and whether they can do anything in terms of built fabrics and approaches towards smart buildings.
For its second roundtable on the future of technology in architecture AluK asked Dave Moyes of SimpsonHaugh to chair a discussion in Manchester on 'BIM and bridging the gap between operation and design'.
What is BIM?
Such is the pace of change in technology in the sector, as well as the breadth, that no discussion on BIM can start without a review of its current position. And it is clear that there is an array of views, depending on professional perspective. At its root though, behind all its buzzwords and intricacies, participations agreed that BIM is about teamwork and consistency.
Project technology manager at BDP Elliott Crossley argued that BIM can be summarised at high level as digital tools to allow partners to 'communicate and collaborate more efficiently and effectively' – something that Joe Stott, BIM manager at AHR Architects, said is about reducing waste in the industry.
However Gleeds director and quantity surveyor Sarah Davidson focused on BIM as 'a process-based approach to approximately generate and share live data throughout design and construction, and into operation. 'To me, the processes are important because historically we haven't spoken well together within teams.
No one knows what, for example, the client is doing, so BIM puts a process in place that forces consideration of other parties and raises questions that need addressing. In some ways it creates a very robust briefing process.'
Natalia Maximova, associate at Sheppard Robson, pointed out that while these may be BIM's intentions, the way the models are produced internally by different design disciplines can be slightly divorced from this: 'Someone develops the concept and then another person does it on the machine.' Manchester City Council planner Dave Woodcock also pointed out that early collaboration can often be difficult: 'Sometimes a facilities management team to come to meetings doesn't even exist yet.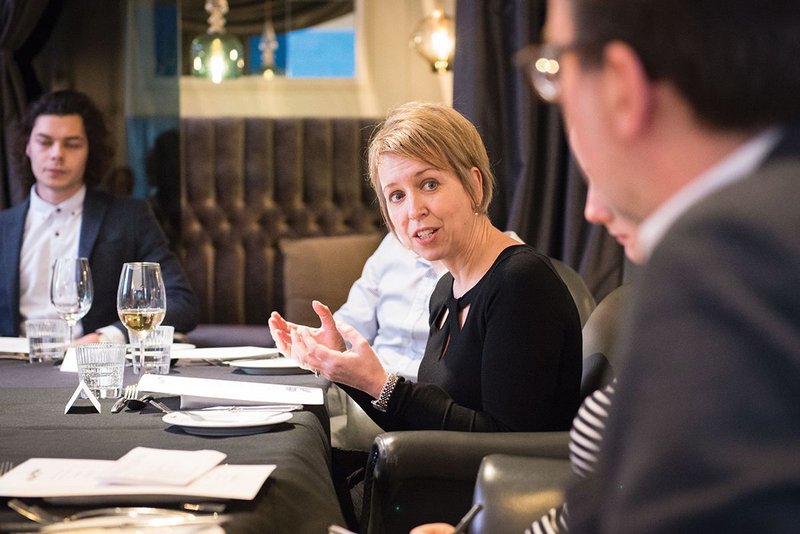 Sarah Davidson, head of research and development, Gleeds

Credit: Damien Wooten
What does BIM need to do?
At the centre of the discussion around BIM was a long-term cultural shift changing the way buildings are produced. 'Advances in technology are changing the skill sets of the workforce and that will knock on to quantity surveyors and others,' explained Moyes. 'Architectural technicians and structural technicians are dying breeds. M&E contractors generally don't appoint technicians, engineers do design and drawing.'
However, there was wide agreement among participants that BIM is in danger of becoming over-complicated: 'a niche techy subject' that 'shouldn't even be a thing'. Stott explained: 'I don't like putting the word BIM on execution plans, I'd rather write "project execution plan". A personal gripe of mine is that the language and acronyms that have emerged around BIM have encoded everything so it becomes an elite sport.'
'That's why BIM struggles for traction – it drags people out from their normal scope so that they need to figure out from the start of the project what they want from an asset when they probably don't know,' agreed Crossley.
Overall it was felt it was the producers' responsibility to regulate the amount of data contained in any BIM process, but that it is still too early to know what the right level of information is. 'BIM is at risk of having too much detail,' said Woodcock. 'It's like going back to original operation and maintenance manuals, when building owners received boxes and boxes of information but never opened them because there was too much stuff.'
Occasionally, however, clients turn up with specific requests. Chris Holden, at Alan Camp Architects, was asked by a housing association client for basic spatial information about a building including occupancy and floor area. He responded by giving them simple models. The technical solution, however, required trying various file formats to find the one that worked with their system. 'There is no easy route through this at the moment,' said Holden. 'There are no well-developed facilities management platforms or GIS systems for architectural use. People are still developing the tools and processes to get from A to B.' Although as Davidson pointed out: 'The idea of delivering a project with common data environments and handing it over on a disk is bizarre. It makes sense that it's managed on behalf of the client for the operation.'
But participants hoped BIM would help to create more dialogue between the building process and use in operation, with Soft Landings key to the continued analysis of building performance after completion, and feeding back information to influence future projects. Although, as Marcel Ridyard of AFL Architects countered: 'Where you do your design is not what matters. BIM is about process not software. Nobody ever talks about PIM but it is actually the whole thing – from where you put your letters or find your emails to marketing. Each job should have the same folder structure and the idea is that if you give everything in the BIM folder back to the client they could theoretically build it.'
Keeping up with changes
The problem is that changes to BIM and technology are so rapid it is impossible to keep apace. What information do end users need? There are different answers to this, and big contrasts in the quality of data depending on whether the end user is an owner-occupier, tenant or buyer. 'When you have a project that lasts three/four years,' explained Davidson, 'you don't really know what will happen, what will change in technology, what you'll want data for... but you know that an owner-occupier has obligations to comply with regulation. You may as well collect data around those various systems, at least.'
On top of this are the continuous changes in standards and classification systems. Participants varied on their approach to classification; some companies opt for their own, some employ industry recommended classifications and others use them all to cover all the bases.
Holden explained: 'The governing bodies haven't come to many conclusions on classification and until they do there isn't much we can do.' The problems emerge when classification systems preferred by the different industries involved in a project clash; for example quantity surveyors are told to use RM 1, 2 and 3, which doesn't necessarily suit design. Many in the discussion agreed with the chair that the government should improve data standards before moving onto BIM Level 3.
Must we still draw buildings?
There are situations now where architects no longer need to produce 2D drawings to support their work; instead model and data spreadsheets can generate the information needed to build. Yet the panel agreed that the good practice involved in producing a seamless process is seen as a cost overhead – and helps navigate split systems.
The carrot is of course the draw of success and further commissions, but it might need more stick to get all parties involved. Nevertheless, the overriding message from the event was a demand for more accuracy and simplicity in BIM – whether to ensure the final building information is readable by engineers, architects and caretakers alike, or made to fit manufacturers' content plug-ins. And there's not much sign of any desire to abandon drawings yet.
AluK and RIBAJ will continue this discussion at AluK's new London showroom (Worship St, EC2A 2AB) on 9 June from 18:00. To participate go to ribaj.com/aluksemina
---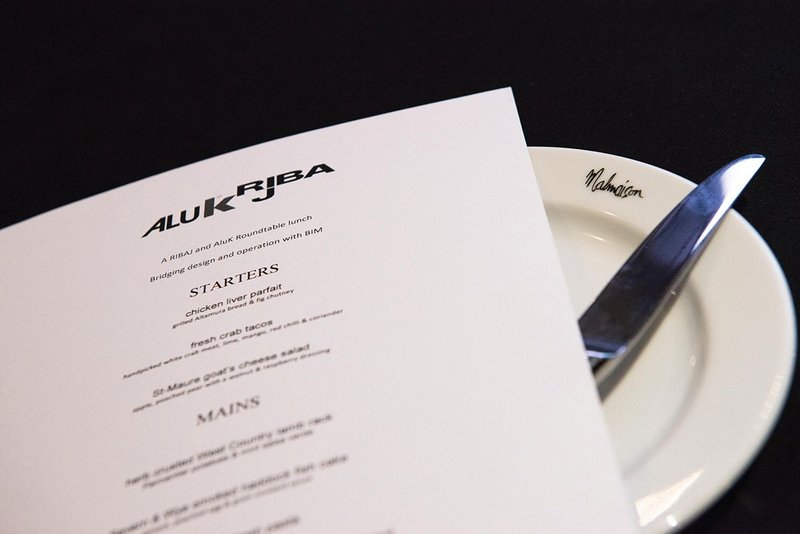 Who was there
Dave Moyes, (chair) information management partner, SimpsonHaugh
Part of a practice using Bentley, Revit, Grasshopper and Rhino, and involved in schemes across various levels up to complex parametric design, Moyes feels that clients are still very 'green', with much onus on the architect as lead consultants to navigate them through.
Graham Roche, national manager, AluK
Aluminium systems house AluK was originally focused on the residential/trade market before growing into public sector and major projects. It got involved in BIM three years ago, now has a BIM CPD and is looking at the BIM content it creates to see how the company can make it more usable in the industry.
Chris Holden, architect, Alan Camp Architects
As a medium-sized practice doing medium-large residential schemes, the company uses Revit in house for all working drawings and planning. Holden is BIM project lead and has spent time working in BRE's training department. He keeps an eye on research in the field.
Elliott Crossley, project technology manager, BDP
All the UK offices of this multidisciplinary practice are BIM certified. Crossley has spent the last few years working on a large lab project in Cambridge, across all the trades, architecture and engineering.
Dave Woodcock, capital programmes property department, Manchester City Council
Woodcock was brought into research team for Manchester Central Library to oversee BIM management and see if models and information from it could help day-to-day operations. He now works on the property management system to understand building information and how BIM can tie into that.
Sarah Davidson, head of research and development, Gleeds
A quantity surveyor by training, Davidson has been focusing on data/data modelling for past eight or nine years working closely with RICS for developing standards and benchmarking. The focus is on how the business can better interface between design and facilities management.
Marcel Ridyard, senior associate, AFL Architects
The practice operates on projects at BIM level 2, but Ridyard is cautious because he feels everyone is still learning what that means. The company is advising the NHS for many of the frameworks it is on as well as working on Hull Venue, full BIM level 2.
Joanna Chomeniuk, framework lead, North-West Construction Hub
The Hub is the procurement vehicle for the public sector and at present is working with 17 public sector clients. Chomeniuk is intrigued by what the client would do with the information from a BIM model.
Anthony Campbell, architect, SimpsonHaugh
Campbell is BIM lead on the practice's Battersea Power Station phase 1 project – a large residential building that is its first full project done using Revit and BIM. Over the last three years, it has weathered many challenges in setting it up, but is now looking to develop BIM on future projects.
Joe Stott, BIM manager, AHR Architects
Stott been with the practice, formerly Aedas, for 10 years as project architect. He was involved in the pilot project for Revit in 2007 before rolling it out across all UK offices in 2008. Very experienced in delivering architectural projects in Revit, Stott is interested in how it can be scaled down for refurbishment schemes.
Natalia Maximova, associate, Sheppard Robson
One of the largest practices in the country, Sheppard Robson is trying to explore the environmental aspect of design through BIM. It trains staff with a view to making it a routine. The same applies for Soft Landings. In the future, the practice wants to offer BIM as a standard to all its clients.
---