The industry was aligning a fire protection programme to the RIBA Plan of Work well before the Grenfell disaster struck. A RIBAJ technical seminar highlighted some of the priorities that need addressing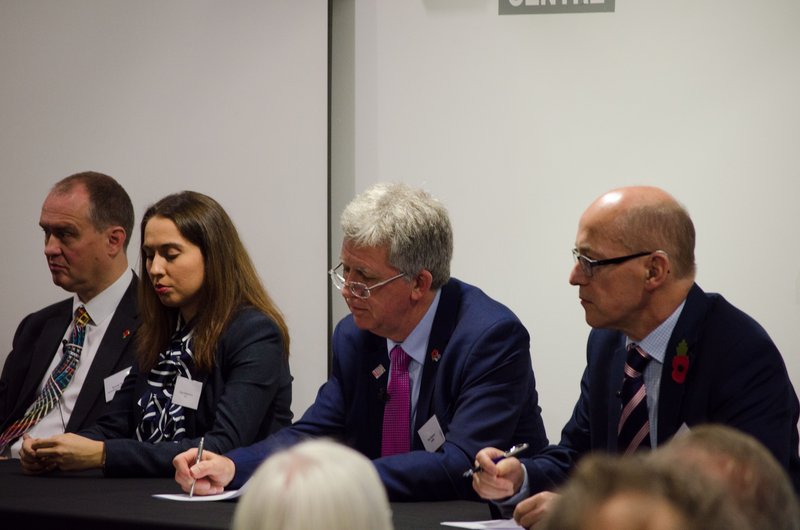 Design, regulation, procurement, construction and handover: the delivery of a building that is safe to live, work and play in relies on all this and more. We take the processes and the products for granted until something goes wrong, as happened so catastrophically at Grenfell Tower.
When a fire like Grenfell occurs, there is inevitably a desire to want a ready answer, but as Wilf Butcher, former chief executive of the Association for Specialist Fire Protection (ASFP) points out, 'a major fire never occurs for one reason. It is always the result of a combination of factors.'
Butcher was speaking in November at Hilti's CPD seminar, Firestop – raising regulations to meet reality, organised with RIBAJ, which gave an update on one emerging tool that could help the industry address some of the many barriers to delivering effective fire protection. The Fire Protection Plan of Work, which is being developed by a number of industry stakeholders, is intended to prioritise fire protection throughout the project design and delivery process, by aligning with the RIBA Plan of Work stages.
The need for this initiative was recognised a year ago and work to develop the plan was in progress before Grenfell added urgency. Seminar speakers outlined some of the challenges the industry has faced, many of which have been brought into sharp focus by the latest tragedy. 'We work in a disjointed industry where different parties work on different stages of a project,' said Andy Jobling, technical manager with Levitt Bernstein. 'When you start looking at the regulations, you find hole after hole,' added Arnold Tarling, associate director of Hindwoods Chartered Surveyors. Members of the audience also voiced their own concerns, which included uncertainties over ultimate responsibility for design in a process where numerous players have influence and the thorny issue of site inspection.
The plan of work can't address every concern, but the non-statutory strategic document does aim to provide a clear fire risk identification, evaluation, reduction and communication process. It is designed to bring clarity to the roles and responsibilities of all stakeholders and notably highlights areas where architects should be looking to specialist fire engineers and system manufacturers for advice, explained Paul Bussey, senior technical consultant at AHMM, and one of the key players behind this initiative. 'We need to clarify who is doing what, and at the same time build cohesion and collaboration,' he added.
At early specification stage, it advocates the use of a simple system of icons alongside specification details to clearly flag up messages and intentions. For example, a fire extinguisher icon could accompany examples of temporary good practice, such as provision of fire protection during the refurbishment process. 'We could use symbols to indicate that a change should only be made by the contractor at their peril,' said Bussey.
At workstages 4 and 5, the plan aims to minimise complexity and clashes and to tackle the problems caused by the presence of different trades. 'It's important that everyone knows what good looks like,' emphasised Olga Katsanova, head of technical marketing, services and software at Hilti. By defining a set of project-specific firestop applications, it is possible to show installers what they are expected to deliver. It is estimated that around 90% of those applications could be based on standard details, with perhaps 10% being more bespoke and needing expert guidance and input.
Technical specifications should be accompanied by construction drawings, approvals, building schedules and as-built installation records. Technology provides ready routes to confirming installation quality, Katsanova said, adding, 'You could check firestop penetrations, products used and [use] a photo of the installation using cloud based software solutions, for example, Hilti's Firestop Documentation Manager CFS-DM software.'
Third party certification of installers is written into stages 6-7 of the work plan and is advocated by ASFP, says Niall Rowan, the association's chief executive. That's largely because, added Rowan, 'It creates a level playing field for installers – and is encouraged by all fire protection trade associations.'
Regulation 38 of the building regulations already requires fire safety information to be supplied to the client's 'responsible person' on completion of construction. But the regulation has little prominence, with Rowan describing it as 'the best kept secret in fire safety.' The work plan promotes retention of key information for use in future maintenance and refurbishment. 'There is clearly also a role for BIM to check that what's specified goes through the process,' adds his predecessor, Butcher.
The kind of good practice that this approach could foster is already being demonstrated on elite projects such as the new Midland Metropolitan Hospital, in Smethwick, which is being delivered by Carillion. The 670-bed acute hospital is designed for space and efficiency of clinical layout, but that in turn presents challenges for firestopping. The use of full 4D BIM, early working with Hilti, rigorous processes including benchmarking, and a full record of firestop penetrations are among the factors helping the project to deliver not only for occupant safety, but also because it makes business sense. 'In hospitals rooms can become unavailable if things aren't correct,' pointed out Haydn Jones, senior project manager at Carillion.
Such approaches are, however, still far from the norm, and education across the industry remains a priority. 'Many other countries have taken education to heart,' said Dr Paul Langford, global head of Hilti's fire protection business unit, 'But here people are often not aware of the risk in their buildings.' That's a situation that needs to change, before further lives are lost.
---