Huge changes are coming to the industry, said Jane Duncan, chairing a virtual round table discussion covering competence, insurance and procurement. The first of four articles places these key themes in context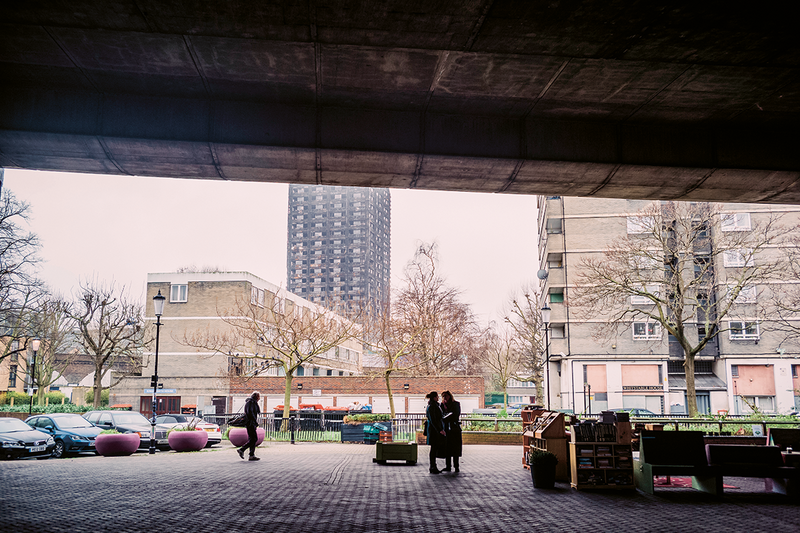 Three and a half years on from the Grenfell fire and with an inquiry ongoing, questions are still being asked of the industry on the future of fire safety.

Credit: Isabelle Priest
'We have a juggernaut of changes coming towards us,' says Jane Duncan, chair of the RIBA expert advisory group on fire safety, summing up the policies emerging from the government's response to the Grenfell Tower fire. The juggernaut must be steered steadily along its route to bring about the significant shift in safety practice and construction industry culture envisaged by Judith Hackitt's report, Building a Safer Future.
As well as reviewing building regulations, the response centres on the new Building Safety Bill, which, asserts housing secretary Robert Jenrick, promises 'the biggest change in building safety for a generation'. This draft legislation, published in July, picks up all 53 Hackitt recommendations, setting the parameters for construction industry reform. But it is predominantly a framework bill, so much of the fine detail of its safety regime has yet to be fully defined and delivered through secondary legislation.
That leaves uncertainty clouding many aspects of the planned regime, as the Ministry of Housing, Communities and Local Government (MHCLG) select committee recognised in its November report, Pre-legislative scrutiny of the Building Safety Bill. This proposes 40 recommendations plus 12 main changes to the bill, with chair Clive Betts saying, 'Key definitions remain unclear and responsibilities ill-defined.'The draft legislation circulated for consultation last year had many positives, Duncan said. 'It did seem to be responding very closely to [the Hackitt report point] that we need to have responsibilities for those who design, build or manage buildings, a much better, stronger voice for residents and greater oversight by regulators and proper enforcement'.
But the RIBA has nonetheless highlighted a number of areas of concern. It has called for the safety regime to apply not only to residential buildings over 18m in height, but also to similarly vulnerable buildings where people sleep, such as care homes and hospitals. Like the MHCLG committee, the RIBA has stressed the need for more detail, with Duncan saying, 'If you're going to reduce the risk and keep people safe, the bill has to give clarity on duties for those involved in constructing buildings and I'm not sure we're anywhere near there yet.' That need for clarity applies to dutyholders, the individuals and organisations assigned statutory responsibility for the safety of high risk residential buildings through their life cycle. They will have to share information with a new building safety regulator and will provide the 'golden thread' of information through the design and construction phases of the building.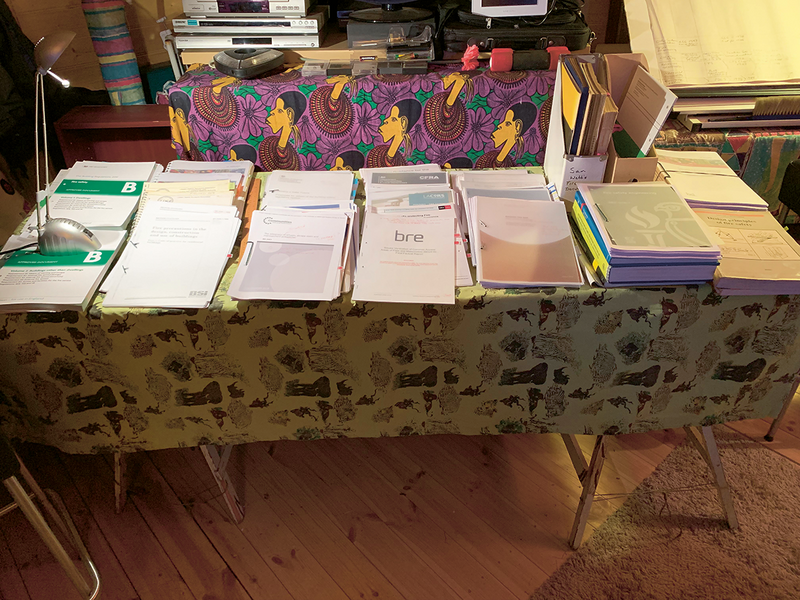 AHMM's Paul Bussey displays the ADB and mass of other fire related codes, BS and HRRB guidance that front-line architects must refer to.

Credit: Paul Bussey
'We need equal emphasis of responsibility on all dutyholders because safety needs to be embedded through the project,' said Duncan.
The proposed regime also has potential to raise some thorny issues on insurance and competence, with Duncan explaining, 'At the coalface we're already struggling with getting professional indemnity insurance, and now we've got potentially very onerous duties as a dutyholder, so the question is whether the policies are adequate for these exposures. And who is going to be competent to take these new roles, are there enough people who can do it and are they going to obtain insurance to do it?'.
Duncan was speaking at a virtual round table discussion in November, hosted by the RIBA and RIBA Journal in association with Hilti, that explored the implications, limitations and opportunities of the bill. While calling on the government to play its part with the draft legislation, participants acknowledged that change must come from all quarters of construction and development. 'We have to sit here together, as a profession and an industry, and question our assumption that everything is built 100% properly and that everything is working and will continue to be maintained so that it is,' Duncan said.
Professor John Cole, fellow RIBA expert advisory group member and chair of the City of Edinburgh Council-initiated inquiry into failings in the construction of the city's schools, was more forceful. 'We have to seriously look at the culture of the industry. We have a dysfunctional industry in many ways.' One way of driving change put forward in the bill is tough sanctions for breaching building regulations, which could include prison sentences of up to two years and unlimited fines. Lynsey Seal, principal firefighter with the London Fire Brigade supported the idea, arguing, 'Punishment may have a place in forcing culture change'.
But Neil Farrance, partner at Formation Architects, voiced concerns. 'Deterrents and punishments alone won't automatically bring about change. Change will come back to competence and collaboration. Currently there is inherent distrust in the industry, and there are conflicts of interests between some of the key players.' The need for positive collaboration was echoed by others, Teri Okoro, director of TOCA, arguing, 'We have to collaborate. We need to be aware of the ways we can get change to come about'. Dylan Roberts, director of health, safety and wellbeing at Skanska, gave one example, saying, 'If we want to change the culture we also need to look at who is doing things right and what they are doing. We need to put them up as examplars of best practice.'
The RIBA has already led by example, working in a global collaboration to develop International Fire Safety Standards – launched last month and endorsed by the United Nations. Rebooting Construction in the UK also provides a forum for collaboration, bringing together 19 participants spanning architecture, construction, property development, legal, insurance and the fire services. 'It's important to share issues as we see them and don't become siloed,' said Will Freeman, design director of Wates Construction and non-executive board member of the Architects Registration Board.
Such dialogue could both promote collaboration and influence the course of the policy juggernaut. 'There is still an opportunity for us to put points to the government if they haven't got it right – and frankly they didn't get it quite right in the draft they've produced so far,' said Gillian Birkby, consultant in the real estate department at law firm Fladgate. 'It is really important that the legislation aligns with what the industry does and how it operates.'
---
Attendees
Jane Duncan, chair
Jane Duncan Architects and chair of the RIBA Expert Advisory Group
Paul Langford
Director of Hilti's Fire Protection Business Unit, Hilti
Paul Bussey
AHMM and a member of RIBA's Regulation and Standards Group
Neil Farrance
Partner, Formation Architects
Will Freeman Non-exec board member, ARB, design director Wates
Jane Simpson Founder & director and adviser at the Design Council
Dr Teri Okoro Chartered architect and director, TOCA and access consultant
Al Beevers
Head of health & safety, Argent
Professor John Cole RIBA Expert Advisory Group on Fire Safety, RIBA
Nick Coombe Enforcement lead officer, Chief Fire Officers Association (CFOA)
Gillian Birkby Consultant, real estate, Fladgate
Mathew Needham-Laing Partner, Construction at Katten
Gary Neal Head of fire, operational efficiency, Skanska
Dylan Roberts Director, health & safety, Skanska
Clive Johnson
Head of H&S, CDM & fire, Derwent
Andrew Gausden Fire safety and design officer, East Sussex Fire Brigade
Matthew Greene
Senior underwriter, Manchester Underwriting Management
Jenny Carter-Vaughan Managing director, Affinity Select Insurance Services
Lynsey Seal Principal fire engineer at London Fire Brigade, Women in the Fire Service (WFS)
RIBAJ and Hilti thanks the above attendees for their time and input. Their detailed discussions on competence, insurance and procurement from this event will appear in the February, March and April 2021 issues.