Firestopping of service penetrations is a crucial but often overlooked part of passive fire protection. RIBAJ assembled a panel of experts to discuss and promote best practice.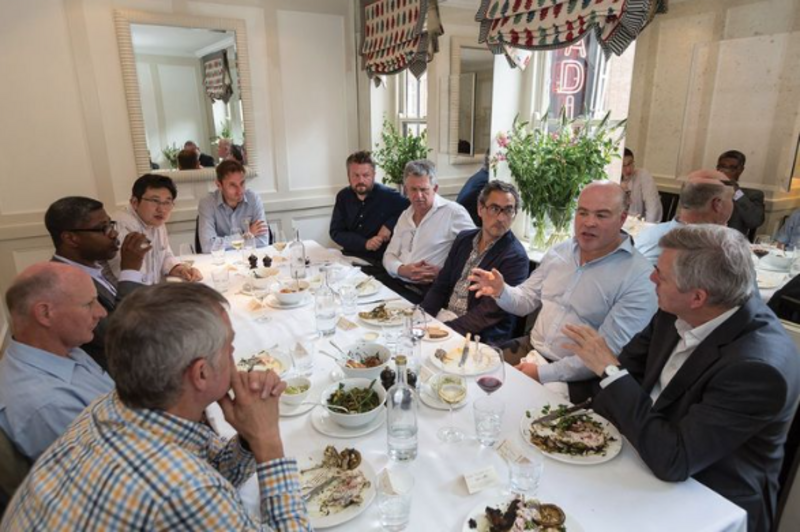 Round the table at London's Quo Vadis restaurant: From left foreground, Dale Sinclair, Paul Longford, Ken Faulkner, Kevin Yin; from right forground, Peter Caplehorn, Steven Morgan, Jan-Carlos Kucharek, Paul Bussey, Stephen Cousins, Matt Wells.
A building's fire-rating is severely compromised when its fire compartments are breached by building services, such as pipes, cables and conduits, increasing the risk that fire, smoke and toxic fumes will spread through spaces in walls, floors and partitions.
So installing robust and effective seals around those penetrations is vital to meet fire regulations, but on many projects is still overlooked or poorly thought out and executed. In extreme cases this can lead to tragedy, such as the fire that engulfed Lakanal House tower block in Camberwell, London, in 2009, where fire-stopping compromised during renovation work was blamed for the spread of a blaze that killed six residents.
RIBA Journal recently organised a roundtable debate, pulling together some of the industry's leading experts, to explore the key issues, such as who should take responsibility for firestop specification, the relative merits of the BSI and European Technical Assessment (ETA) standards for firestop materials testing, and best practice for design and installation.
Too little too late
Paul Bussey, associate at Scott Brownrigg, launched the debate, observing that good quality firestopping is rare on UK projects because architects do not have the time to wade through the 'huge tomes' of technical documentation and installation is often left to the end of construction when no one is actively checking or supervising the process.
'Building control officers don't look for it these days, architects don't supervise on sites any more, and clerks of works are only employed on some projects. That means checking often gets left to the sub-contractor's self-assessment and we know how varied that can be,' he said.
Many attendees agreed that increasing fragmentation in the industry – related to changes to contracts, the relative skill levels of consultants and contractors, and the complexity of firestopping systems and products – has reduced clarity on the rules and industry roles for firestopping.
Dale Sinclair, director of technical practice at Aecom, said part of the problem has been the gradual dissolving of the architect's role as single point of responsibility on a project. 'Twenty years ago the architect made sure fire compartmentation was considered from the start, they specified the materials prescriptively, not descriptively, and supervised on site. Much of their design work has been devolved to fire engineers; and contractor-led design, and descriptive specification, has added another layer of issues.'
Ken Faulkner, director at Kohn Pedersen Fox Associates, added: 'On a design and build, where the main contractor is often squeezing costs, fire protection can suffer, especially as it is concealed from view. Conversely, on a large project, where a construction management firm is running the show and the client is the end user, large sums of money can be spent on the firestopping package.'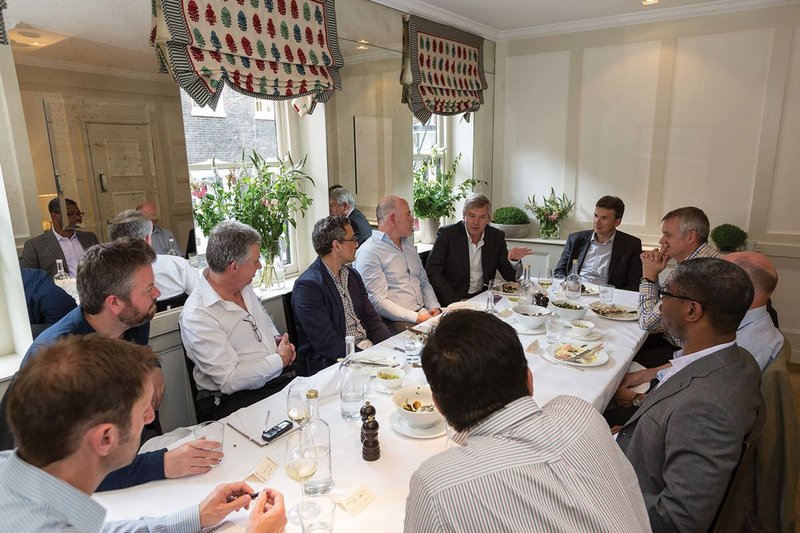 End of table, Markus Schneider.
Upfront guidance
To help avoid a situation where the lowest level of contract on the job site is trying to solve what should be a key part of the project, Paul Langford, head of business unit – chemicals at Hilti, argued that architects should provide more upfront guidance on good practice for firestop installation.
'Why not put together a performance specification and a set of typical drawings of service penetrations to establish a level of quality that can be passed down the supply chain?' he asked. 'It has already been shown that about 80% of firestopping applications conform to a standard arrangement.'
Voicing his support for this approach, Steven Morgan, associate at Hoare Lea, said that in his 25-year career of providing fire safety advice to design professionals, he has seen only one proper firestopping detail schedule for a project. The concept also harks back to site use of physical quality control samples during the early days of design and build.
Producing standard firestop details, with set arrangements of cables, copper and plastic piping etc, supports a systems-based approach to firestop specification more commonly seen in the US, where approved products for almost any form of penetration are simply selected from a catalogue. This is vastly different from the UK contractor-led approach of putting together an installed performance or descriptive specification.
The systems route is also upheld by the ETA standard for fire testing materials which, unlike British Standard 476-20:1987, has a range of tests for different firestop configurations, all compliant with EN requirements.
This could create much greater clarity on what has been tested versus what projects are trying to firestop, said Langford: 'The ETA creates a framework for firestopping, so that, provided a set range of parameters have been tested, the product is deemed suitable for a set range of applications. Testing under BS 476-20 doesn't cover a specific configuration, so design practitioners have to translate the data to apply it.'
Markus Schneider, from the European Association for Passive Fire Protection, and code and approvals manager at Hilti, said an ETA can form the basis for a product's CE Mark and is backed up by a declaration of performance that must state clearly what applications are covered by the tests carried out. It can also take into account the impacts of other factors on firestopping performance, such as acoustics, smoke, and/or building movement.
Maintenance
The debate moved on to remedial works, and how to ensure that existing firestopping is properly preserved and maintained. Morgan said: 'I've had some "interesting" experiences checking remedial works for firestopping defects that haven't been completed satisfactorily, often because contractors have had to retrofit firestops in a live building.'
Kevin Yin, associate for facade engineering at BuroHappold Engineering, said a proactive approach, applied to some other building systems, would be for the manufacturer to inspect and certify the firestopping, then provide a warranty covering the product and the subcontractor's installation. 'The architect's specification could state that the firestop system must be covered for 20 years,' he said.
BIM
There was a consensus that many of the specification, installation and maintenance issues highlighted could soon be addressed by the widespread use of BIM.
Peter Caplehorn, deputy chair of the Building Regulations Advisory Committee and architect, commented: 'Firestop systems could be clearly identified digitally in BIM, including product performance details and confirmation that the planned installation meets the relevant standards and regulations. The software could have a mechanism for on-site feedback, to confirm that what has been constructed is in accordance with the model.'
As long as the software is rules-based, it should be possible to simply plug a firestopping module into Solibri and Navisworks and validate against it, said Sinclair, so that augmented reality software can add a new dimension to on site work. 'Using real time as-built models, the contractor could highlight where there should be a hole in a partition, versus where it actually is, creating a new level of accuracy and accountability for firestopping on projects,' he concluded.
---