Being disturbed by the sound of the people next door's plumbing – or your own – is more than annoying: it can have damaging psychological effects. A Geberit/RIBAJ roundtable highlighted the problems and solutions to keeping services unheard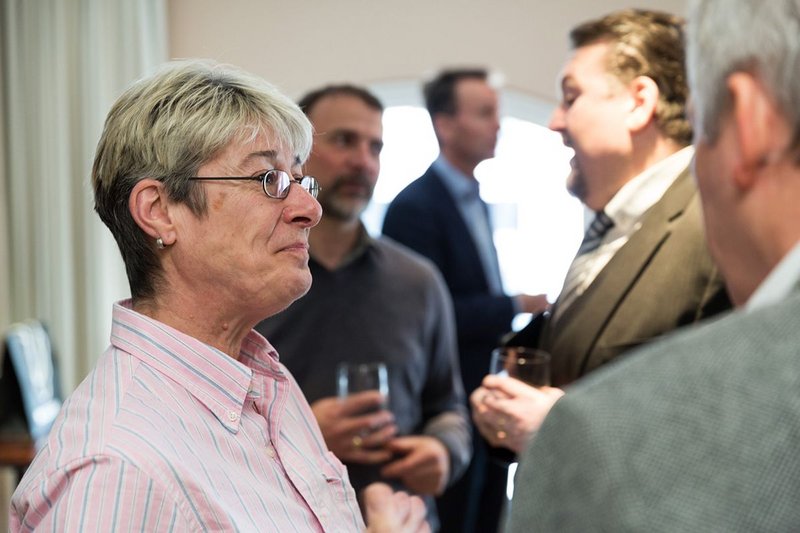 The sounds of a toilet flush may not excite, but the noise made by sanitary plumbing certainly has the power ruin people's experience of spaces and even quality of life. Incorrectly or inappropriately installed pipework can generate unacceptable levels of noise that will lead to complaints and expensive fixes. And in hotels, a noisy system can ruin a stay – which can damage bookings and seriously affect the bottom line.
Indeed, all the industry experts at the RIBA Journal roundtable discussion on the matter had an anecdote involving a noisy toilet. And it's not just at home; even at work, noisy loos should be a matter for concern.
Too often though, problems can be felt in the dearth of guidance for noisy sanitation. There are psychological dangers too.
The roundtable was unanimous that increasingly high expectations, particularly in the luxury residential and hotel sectors, leave little tolerance for toilet-related acoustic noise. Stephen Stringer, partner at acoustic consultant Sandy Brown, summed up the problem: 'The fundamental issue with flow noise is audibility. The moment you can hear it there is a potential nuisance issue, particularly at the high end, where the expectation is to hear nothing from
the neighbours – least of all their toilets.'
Are buildings getting too quiet?
In recent years acoustic improvements in high performing facade systems, which greatly reduce external noise penetrating a building, have diminished neighbour noise. Stringer says background noise levels in modern apartments are typically as low as those required in a sound studio, reaching
just 25dBA to 20dBA.
He added: 'There are constant drivers, especially from a sustainability point of view, that make buildings just too quiet. The issue with that is that you hear far more noise from inside the building.' This reduction in the level of background noise can make plumbing systems more audible, a scenario of which Lynne Clapham, Geberit specification manager for London, had a personal example. 'I live in a flat, and about 18 months ago I had double glazing installed,' she said. 'Since then, I can hear my neighbour above a lot more.'
Despite consensus that awareness of internal nuisance noise is growing, the disconnect between the parties involved in the commissioning, design and construction of these buildings means that plumbing-specific acoustics are often overlooked. Peter Caplehorn, deputy chief executive of the Construction Products Association, was quick to point to value engineering as the point at which issues appear. 'We come back to that old favourite procurement,' he stated. 'Designers want to achieve one thing, which is fine at drawing board stage. But when we get into specification, particularly on a design and build job, the procurement team changes everything and we don't get what we want on site. This is a huge problem, especially at the high end.'
Marketing driving design
Although many around the table nodded at this, all agreed that client demands for complete flexibility of layout are the root cause of many problems. Developers, under the guidance of their sales and marketing teams, often relocate bathrooms within a development based on buyer preferences, without understanding the impact it will have on overall acoustic performance.
'A fundamental issue is space planning; obviously you have to co-ordinate the riser locations,' said Stringer. 'One of the big issues in high-rise developments is transitions. It's problematic to change stack locations from one floor to another, and the transition becomes an acoustic pinch point.' Sweco's David Haynes agreed, pointing out that space for additional transitions is limited. 'There's always a lack of space in that ceiling void,' he said. '[This means] it's very difficult to change that layout once you've started.'
With marketing teams often driving the layout of high-end residential developments, the final arrangement of riser locations can end up diversifying from acoustic best practice. Caplehorn talked the group through a case where internal layout changes led to an extremely complex riser: 'I worked on an arrangement where we had eight floors and the whole layout changed completely on every floor,' he said. 'I left before the building was complete but I'm in no doubt that in use it is a nightmare. I said that the design was complete lunacy and they responded: This is what the marketing department wants.'
Alun Bevans, senior public health engineer at Arup, agreed, emphasising best practice on riser design. 'Legislation says things shouldn't get to that stage [of complexity] because building control says stacks should be installed vertically,' he noted. 'It's all about making sure bathrooms are on top of each other from the very beginning… but clients simply won't have it.'
In situations where stacks are aligned, as is common practice for projects designed by HTA, matters seem to be less problematic, as Tim Crowther, partner and head of technical design explained. 'The simple approach has always worked for us. We concentrate on the basics, make sure we get the stacks to line up, and use simple details. I've been at HTA for 31 years and this type of noise has never been reported as an issue. That doesn't mean that people aren't experiencing it, but we've never received a call back. Although as we're moving towards greater expectations of how people want to be involved in the design of their homes, maybe we will.'
Acoustics low on list of priorities
'At the end of the day, the developer builder wants the maximum number of apartments to make maximum profit,' said Geberit's Clapham, summing up feelings in the room.
Caplehorn confirmed that for commercial developments, acoustics is quite low on the agenda. He pointed out that as far as drainage and plumbing goes, clients care about practicality. They want to know does it work, does it leak? They don't care if it makes noise.
Stringer went further, saying acoustics weren't even in the top 10 priorities raised in a marketing meeting for a development that he sat in on recently. 'The number one thing was the view,' he said. 'Acoustics were number 13 or 14 on the list. They assume it is dealt with. [They think] it doesn't matter what you throw at a design team, whether you give them narrow ceiling voids, or transitions everywhere, they will solve it. It's just an engineering solution. The problem is, you get to a point where you can't physically solve it. You just don't have enough space.'
The importance of honesty
Myles Taylor, director at architect Squire & Partners, believes it's extremely important to be honest with the client and explain the impact of changes. 'The pain is reassessing and telling the client, "We're really sorry, but your wall build-ups are going to be bigger than expected",' he says. 'We have to explain the impacts to the marketing teams or those not au fait with the build-ups. The key elements, along with what you can see on the wall, are what you can and can't hear. The bits behind the walls are also paramount.'
Caplehorn agreed: 'With design teams, there is a maxim that if you're going to be successful then bad news has to travel fast. Do not leave it until the last minute and hope that magically they are not going to notice, because they will, and this really sours the relationship.' Taylor concluded that architects' designs have to be robust enough to allow for reasonable changes, so that there are no surprises later in the process.
Time for acoustic regulation?
The debate turned to regulations. At present BRE is not looking at sanitary noise, reported Gary Timmins, head of acoustics at BRE. He explained that the regulations are focused on minimum standards: 'The overarching protection element from the building regulations is quite different to the high end. There you are not looking at basic protection but at higher build quality – rather than just trying to get it to a base level.'
Caplehorn wasn't optimistic that we will see any new regulations implemented. 'To get change in this area will be really hard, because we have an administration that wants less regulation, not more. They won't regulate if something isn't life and death. So we have to look to industry standards.'
However, participants at the roundtable felt overwhelmingly that more guidance would help the industry optimise building acoustics and develop best practice. Stringer noted: 'Nothing actually covers how much noise is acceptable. This is a key driver: you often find systems will follow on and products will be developed if you have a legal system in place that demands compliance.'
---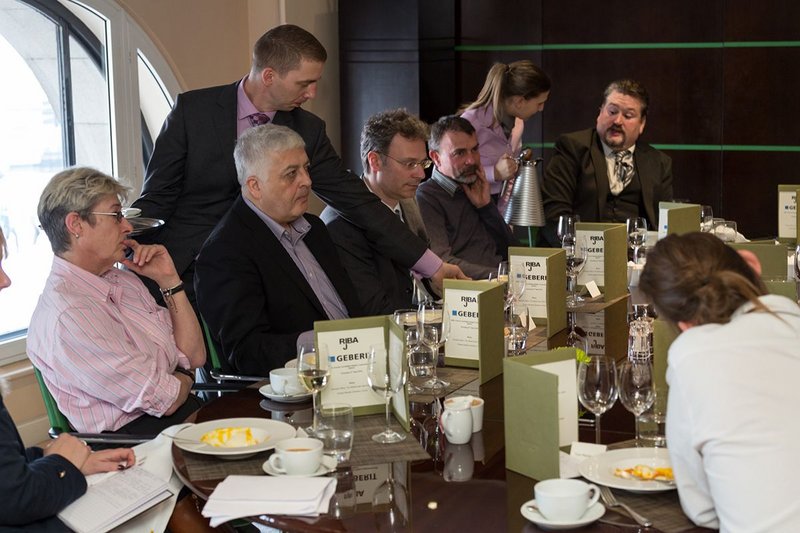 ATTENDEES
Alun Bevans, senior public health engineer, Arup
Peter Caplehorn, deputy chief executive and policy director, Construction Products Association
Lynne Clapham, Geberit specification manager – London
Tim Crowther, partner, HTA Design
David Haynes, senior public health engineer, Sweco
Jan-Carlos Kucharek, senior editor, RIBA Journal
Stephen Stringer, partner, Sandy Brown Acoustic Consultants
Myles Taylor, director, Squire & Partners
Gary Timmins, head of acoustics, BRE
Dr Oliver Wolff, Geberit head of building physics
---
Fundamentals
Geberit offers some general rules of thumb for the design of sanitary installations and pipe runs to help ensure acceptable acoustic levels in use:
Define protected rooms Quiet rooms ideally not located adjacent to a wall with sanitary installations/drainage or below a bathroom.
Install a modern pre-wall Building bathrooms using pre-walls sets the foundation for state-of-the-art acoustic insulation.
Don't touch the building fabric Sound-absorbing materials in the right places stop vibrations from propagating throughout the building.
Specify silent products Geberit drainage pipes and installation systems are engineered to optimise sound absorption. In general, use high acoustic performance dB20 waste water pipes.
Use concealed cisterns with Duofix wall-hung frame and wall hung toilets and specify full height Duofix metal studs as part of the system.
Ask your Geberit expert We're pleased to share our know-how with you. Geberit has a wide range of innovative products available to the plumbing industry and recognises that architects need confidence in the products they use.
In addition to training on Geberit products we also offer training on sustainability and four RIBA approved CPD courses for architects. To book a CPD, contact your area technical sales manager.
Geberit acoustics brochure: http://bit.ly/1Tld0M6
---