Bringing together the Interclima + Elec, Idéobain and Batimat trade shows, Le Mondial du Bâtiment in Paris promises the latest construction materials and solutions for today and tomorrow's building
Taking place from 6-10 November in Paris, Le Mondial du Bâtiment is the unmissable event for the building industry. Bringing together Interclima + Elec, Idéobain and Batimat, it presents all of the construction materials and solutions for today and tomorrow's building, along with showcasing the latest innovations, and facilitating exchanges and networking between worldwide construction professionals.
Dedicated to decision-makers and installers, Interclima + Elec will unveil solutions in energy efficiency, renewable energies, thermal comfort and smart solutions for residential and commercial buildings. Idéobain will showcase solutions and innovations for planning or renovating bathroom spaces while Batimat is the building industry's leading international trade show, where the sector's decision makers and project managers come together to meet new and future partners, as well as seek solutions for current and future buildings. An excess of 1,200 exhibitors will be there including Saint-Gobain, Velux, Henkel, Reymaers, Peri, Wurth, Dieci, Wacker Neuson, Bentley Systems, Gruau, Mercedes Benz and Toyota, to name a few.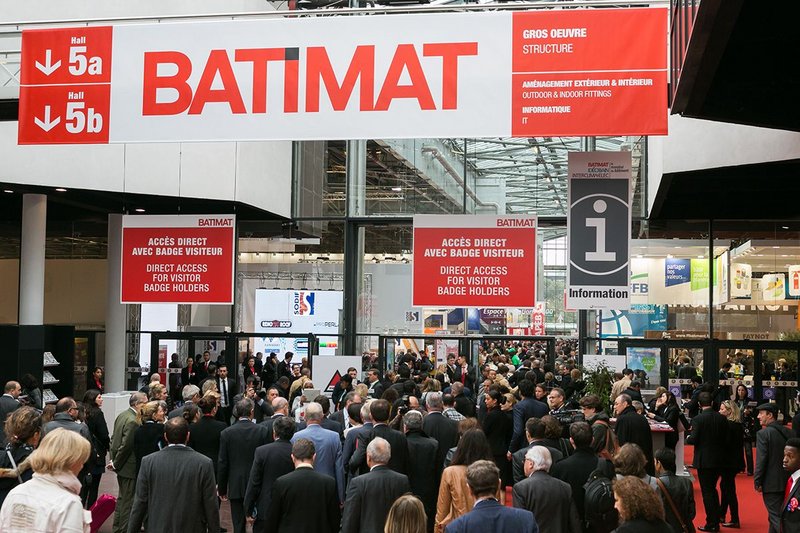 Le Mondial du Bâtiment brings together Batimat, Interclima + Elec and Idéobain, and will take place 6-10 November in Paris.
The solutions hubs: A major new feature for 2017
Located at the entrance of the halls, four areas will be dedicated to showcasing a selection of products that, once combined, offer complete solutions for all architects, contractors, project managers, engineers and the wider building industry.
Interclima + ElecHB Hub (Hall 2) will be offering technical solutions to reduce energy consumption for the E+C label and improve comfort in commercial buildings. The Bathrooms & Interiors Hub (Hall 3/Hall 4), will focus on bathrooms and interiors. The Construction & Sustainable Renovation (Hall 6) will introduce products and solutions to energy-positive, low-carbon (E+C-) construction, eco-responsible construction and renovation, urban construction and renovation as well as building for user comfort. The Building of the Future (Hall 5A-6), will focus on emerging products and technologies for the construction of tomorrow: innovative materials, energy production and storage, connected objects/IoT, new applications, big data, BIM, collaborative platforms, augmented reality and 3D printing along with many other innovative areas.
Discover the best of building
Le Mondial du Bâtiment Awards, unveiled in September during a special evening ceremony, highlight market trends, introduce the latest innovations in the building industry and shine a spotlight on the winners. The 2017 award-winning products will be showcased at the show in the innovation areas. An 'Innovations Trail' will offer a practical visit aid to pinpoint a selection of exhibitors who participated in the Innovation Awards, focusing on specific topics and issues such as digital approach to housing; design and performance for external heat insulation; building accessibility; acoustics in residential housing alongside the latest sanitary innovations.
Talks and workshops
To better anticipate the changes in the building industry, Le Mondial du Batiment has prepared a particularly rich programme of talks and workshops situated in the different area at the show. Among the topics to be addressed will be energy and comfort in commercial buildings, sustainable renovation, an Architecture Forum and a Construction Quality Forum.