Industry experts gathered in Paris for a biennial award ceremony celebrating innovation in building solutions and materials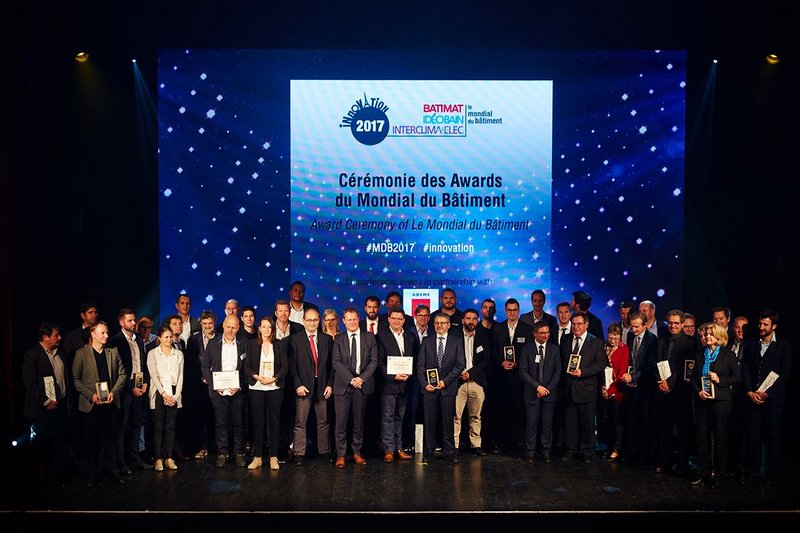 Winners and award givers in Paris.
Le Mondial du Bâtiment's biennial innovation awards reflect and highlight industry trends, reinforcing their reputation as a leading event in the architecture and building sectors. This year 217 companies entered the competition from which 89 projects were submitted to a panel of expert representatives from certification bodies, media, project owners, businesses, distributors and specialists, among others.
This year's competition rewarded companies who could demonstrate technical innovation, energy reduction and a lean toward renewables in building. Altogether 27 companies were granted prizes.
The following is a list of gold winners and special prizes from a selection of categories...
Structure and Envelope:
Wysips Cameleon by Sunpartner Technologies; an aesthetic photovoltaic façade.
Renewable Energy Systems:
Compacte Energie by Airmat; an air/water heat pump with both hot and cold water.
Heating, Ventilation and Air Conditioning (HVAC):
Luftmeister; a system which distributes ventilation into energy consumption.
Indoor Fittings (Gold):
Placo – Une Marque de Saint-Gobain by Habito; a wall meeting the challenges of everyday living.
Digital, BIM and New Technology:
Leica Blk360 Imaging Scanner by Leica Geosystems; an imaging laser 3-D scanner.
Special mentions of the jury...
Design:
Sky Frame Slope by Sky Frame; the first ever frameless inclined sliding door.
Environmental Integration:
Mobipool by Piscines des Joyaux; the world's first floating swimming pool.
The 2017 shortlisted companies and winners are available on Batimat's website. All finalists will be exhibiting at Le Mondial du Bâtiment, 6th to 10th November 2017 at Paris Nord Villepinte exhibition centre, where products will be showcased in the dedicated 'Innovation Areas'.
RIBA members can benefit from complimentary VIP entrance to the show using the code BPVRYW9HE when you register online.