Glasgow client Rhona Baillie chose the architect for her new hospice premises after asking them to spend an hour on a bed. The result is a very patient-oriented architecture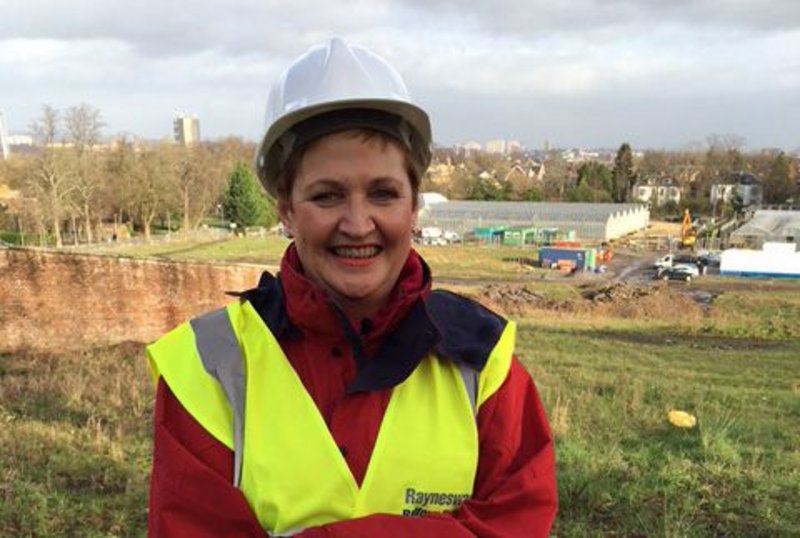 PPWH director Rhona Baillie on site at Bellahouston Park, Glasgow.
So often now when clients are asked what kind of architect they sought for their particular project, they say they didn't want one that had a lot of commercial, or housing, or whatever experience for their commercial, or housing, or whatever type of project. Rhona Baillie, CEO of the Prince and Princess of Wales Hospice (PPWH) in Glasgow, felt the same.
'We didn't want an architect with healthcare experience,' she says. 'We didn't want a healthcare environment. We wanted a fantastic listener, a practice that was willing to work hand in hand with us.'
So that's how PPWH ended up with Ryder Architecture. In fact the whole process was rather informal. PPWH had actually started looking for an architect by asking local people, even a group of students at the University of Strathclyde. As it turned out, the same three or four practice names kept coming up, but 10 were invited for interview at the first stage, to meet over a cup of coffee, and were whittled down to five for the second.
What clinched it for Ryder was the suggestion that the hospice should take the Georgian-style door of its townhouse premises at Carlton Place on the south bank of the Clyde with it to its new location, a green corner of Bellahouston Park three miles to the south-west. It wasn't just that Ryder thought the door would provide continuity, but that sliding doors make buildings feel institutional, and the old door would make staff, families and patients feel more at home.
And that has been the hospice's overall brief for its new building and site: to create 'a big house in a park'. The land was donated by the council in 2010 for 60 years and the process of selecting an architect started by asking those on the longlist to lie for an hour in one of the existing building's rooms.
'We wanted the architect to understand the patient's perspective,' explains Baillie. 'There's a slight fear of moving. We wanted everyone to feel welcome and part of the move – staff, families and patients. The consultations helped with that. It's worth remembering that some patients can be on a treadmill of treatment that lasts many years.'
Surprisingly, PPWH admits it found nothing similar to what it had wanted in Ryder's portfolio, but went with it anyway. In some ways the client has served to push the architect's work forward, challenging it over and beyond the normal.
'There are no architectural egos here,' says Baillie in her South Lanarkshire accent.
Even so, Ryder – led by architectural director Alastair Forbes – was the most engaged of the lot. It did a lot of research upfront and even brought Scandinavia's Sengetun model of care, on which the new building is based, to the client's attention. Centred on putting patients and families first, it will see PPWH become the first hospice in the UK to adapt it to palliative care.
Although that approach doesn't sound particularly innovative, and really what might be expected in any decent hospice, in practical ways this new emphasis is just shy of revolutionising what's been before.
'The current building has been under constant adaptations since the hospice opened 33 years ago,' says Baillie. 'But it can adapt no more. The environment no longer supports our ambitions.'
In the new design, the four single bedrooms and four multi-bed shared rooms will be replaced with 16 private en suite bedrooms, two separate family suites and two rooms for young people, which the hospice has never had the capacity to accommodate before.
'We wanted to lower the age of referral to 16 so we needed age-appropriate facilities,' explains Baillie. 'The building will be flexible so we can adapt as we go along. All rooms will have double healthcare beds so partners can sleep together if they wish. There will be many small sitting rooms and breakout spaces in the new design, and special spaces for young people. There won't be visiting times, pets will be able to stay – we will be enabling patients and families to have the privacy they need alongside expert care.'
For inspiration, PPWH visited hospices throughout the UK as well as researching what's offered abroad. It didn't find exactly what it wanted but came across some good examples, including the recently refurbished Royal Trinity Hospice in London, which has a gym, en suite bedrooms and bedrooms with balconies overlooking the gardens. It took a special interest in a palliative care hospital in France that has a wine bar attached.
For the final design, the most important part of the brief was to make it non-clinical. The building is designed to blend into its local context, the Hazelwood conservation area. In the park it appears as four pitched-roofed villas in yellow brick and a Welsh slate roof (colours that are welcoming even in the rain). Because of the topography of the site, what is actually three storeys appears as two. Inside, the first thing visitors will see is a sitting room with a huge welcoming fireplace, then clusters of bedrooms wrapped around communal areas like strings of pearls. Bedrooms have full-width balconies overlooking the park, and the kitchen has a large table to make it feel home-like. There is an art room for patients and families, an education room (for its work teaching GPs, social workers and staff at nursing homes and hospitals about palliative care) and an art gallery to draw the public through the door and make the building and hospice in general more integral to the community. In terms of materials, natural and long lasting have ruled the brief; every room has a different interior design and fabrics, and national regulations take a back seat in favour of curtains, carpets, working fireplaces and oxygen tables that don't look clinical.
'Everything has been designed to the last nail,' explains Baillie. 'The design challenges healthcare traditions. It puts patients first and manages risk afterwards.'
In all, the experiences of both architect and client seem to be enriching. The building started on site in September – without a single objection in planning despite its prominent position – and the hospice is looking to move in in 2018. Meanwhile, the project has brought extra diversity in type and form to Ryder Architecture's portfolio, and has opened up its work on other hospices too.
---