At Bridgend Inspiring Growth, critically assisted by architect Halliday Fraser Munro, people can make, mend, grow and cook – but most of all socialise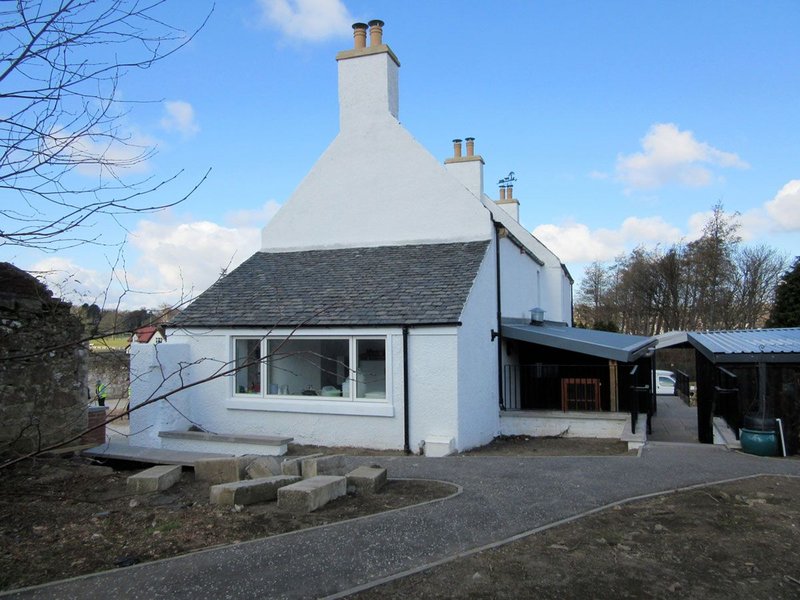 Looking into the teaching kitchen to the side of the restored farmhouse. MacEwen Award 2019 commended Bridgend Inspiring Growth, Edinburgh by Halliday Fraser Munro Architects for Bridgend Inspiring Growth
'Nurturing is really important when people are at transition points or have a disability… and the world shrinks. Places like this can make the world bigger again,' says Christina McKelvie, the Scottish minister for older people and equalities.
Touring the old farmhouse and workshops of Bridgend Inspiring Growth, it soon becomes clear why this new project was chosen for the launch of the Scottish government's strategy for tackling social isolation. Its warmth shone out even on a driech day, generous overhangs keeping the wet off, a piano in the oversized porch, shutters folded back into window reveals in the café alongside a counter loaded with scones and cakes.
Local Will Golding took a lead in bringing the once derelict farmhouse back to life. He used to attend the gardening project next door, protected from the Scottish weather by just a large barn roof, and dreamt of having the farmhouse to retreat to. He went to architect Malcolm Fraser, who had been looking at applying the community empowerment lessons from the Scottish Islands to urban environments, particularly through his government-sponsored National Review of Town Centres. The farmhouse was put on the market and the community had to bid for it, for an eventual transfer price of a nominal £1. Golding describes Fraser's support, through the community consultation, struggles over the transfer of ownership from the council and funding, as 'quite unique and fundamental to the development of the whole thing'.
Halliday Fraser Munro worked with locals to establish what they were missing in an area of food poverty – not just growing but also cooking and eating well. The discussions also drew out the importance of being able to mend and repair things. With help from the Lottery and Historic Environment Scotland the farmhouse was reworked. The upper floor was replanned, with a platform lift and smaller rooms amalgamated to make ­gallery/meeting room and offices. Downstairs are teaching kitchen and café. It retains a sense of history, despite all the rebuilding, with stone lintels and shutters and old alcoves reused, but it is not precious. A new timber porch with canopy makes for a comfortable entrance. Outside the wide garden has been split into courtyard and growing space by a line of simple larch-clad timber workshops where woodwork and boat and bike repair spill out into the grounds.
Volunteers cleared the building of overgrown plants and rubbish, rebuilt boundary walls learning to use lime mortar, and charred the larch for cladding the workshops as well as doing the fixing. The workshops have no heating systems but are highly insulated so a small fan heater, turned on for half an hour before a class, can make them habitable in winter – so long as the oversized sliding doors are kept closed.
Now Bridgend Inspiring Growth is open for people to drop in, to cook and eat (and learn to cook), to make and repair, to garden and weed, and, most important, to connect and meet other people. The restored farmhouse is a visible piece of history on the Old Dalkeith Road and at the knuckle of large post war housing estates, Inch, Craigmillar, Moredun and Gilmerton. Together the estates – though hardly touching between park, cemetery, light industrial and retail park – make up some of Scotland's most deprived areas, and most isolated in terms of community beyond the estates. Those struggling with rehabilitation, bereavement, loneliness and dislocation can find a purpose and people to talk to at the farmhouse.
The charitable body that saw the conversion through, and now employs two full and two part time staff, has become a co-operative community benefit society, with a local share offer to pass ownership to the local community which should see it through future funding cycles.
The MacEwen judges approved of the simple means by which the farmhouse and its garden has been brought back into use, a forward looking piece of history at the heart of a community where it is already being well used. 'This area of Edinburgh would get an enormous benefit from an intervention like this, it has re-energised this place,' said judge Kathy MacEwen.
---
IN NUMBERS
165.8m2 Farmhouse gifa
90.8m2 Workshops gifa
£678,000 Contract cost
Credits
Contractor Cornhill Building Services
Structural engineer Elliott & Co
Services Harley Haddow
QS David Adamson Group