Sometimes an icy reception is just what you need to warm up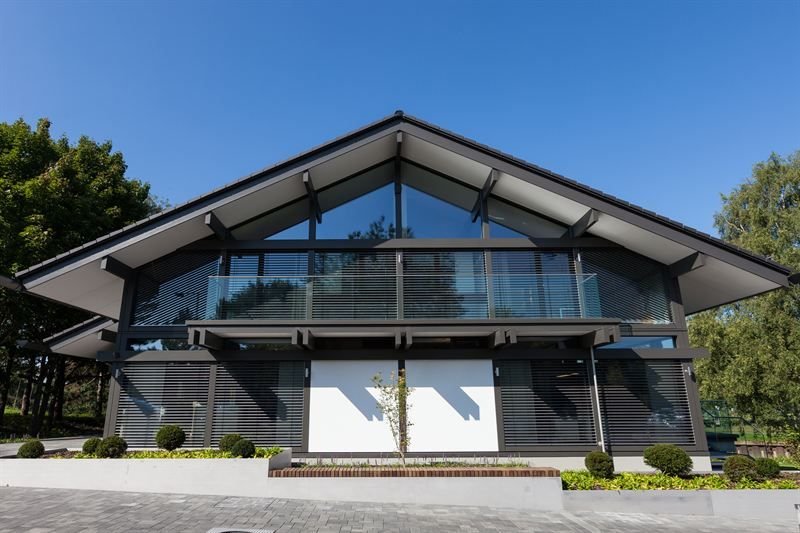 The UKs first HUF HAUS show home is in Weybridge Surrey
If a client tells you they fancy an ice store on their development, avoid the urge to smile smugly and say, 'I think the store you mean is Iceland': they are probably referring to a pioneering energy storage technology designed to harness the transformative power of ice to heat and cool buildings.
In what's thought to be a first for a UK residential property, heating and boiler systems manufacturer Viessmann in has installed an ice store in a new Huf Haus sustainable demonstrator home in Brooklands, near Weybridge in Surrey.
The idea that ice could be used to heat, as well as cool, a property might sound ridiculous, but it is based on sound thermodynamic principles.
The system at Brooklands uses a heat pump to extract heat energy from a reservoir of water held inside an ice store. As more energy is extracted – especially during winter when more heating is required – the temperature of the water drops until it freezes, and in the process of freezing it releases extra latent heat energy that can be harvested, hence the term ice store.
A standard 10m3 ice store for a detached house is able to generate a heat gain equivalent to about 100 litres of fuel oil and is capable of 10kW heating output, says Viessmann. In addition, the process of latent heat release and capture is 100% energy efficient, with zero losses.
The energy transfer process is reversed during summer, when the ice store provides natural cooling for the building's interior. In this mode of operation, an extraction heat exchanger channels heat from the building's heating system into the ice store, now full of ice at the end of the winter, melting the ice and using the energy to cool the home's heating circuit.
Nick Brown, senior engineer at Max Fordham, comments: 'It's interesting to see a firm putting this technology into production. Ice stores have previously been used here for commercial cooling, to smooth the cooling load over a daily cycle, because phase changing water into ice is an efficient means of storing larger amounts of energy.'
He adds: 'Trying to do the same thing in reverse and use it for heating is quite innovative and it will be interesting to see how efficiently the heat pumps can run at ice cold temperatures. Normally, as the temperature gets colder, a heat pump's efficiency falls off. They work much more efficiently when the temperature where energy is being extracted from is closer to that where it is being delivered.'
At Brooklands, a heat source management system integrated into the heat pump control unit is programmed to draw energy for heating, from either the ice store system or a solar air absorber on the building's roof. Outside the winter heating period, the ice store also draws energy from the surrounding ground, provided that has a higher temperature, to melt ice in the ice store.
Peter Huf, lead architect for Huf Haus, commented: 'The ice store is an evolution on from air source and ground source heat pumps, which require the drilling of deep boreholes. Heating with ice works with Huf technology to perpetuate an ambient internal temperature regardless of the weather outside, all the while using minimal energy.
'By extension, it also allows clients to adapt to ever changing temperatures and geological conditions for the long term.'
---