Ridgeglaze and Flushglaze fixed rooflights have been specified on a project that creates a bold connection with the outdoors while protecting against the elements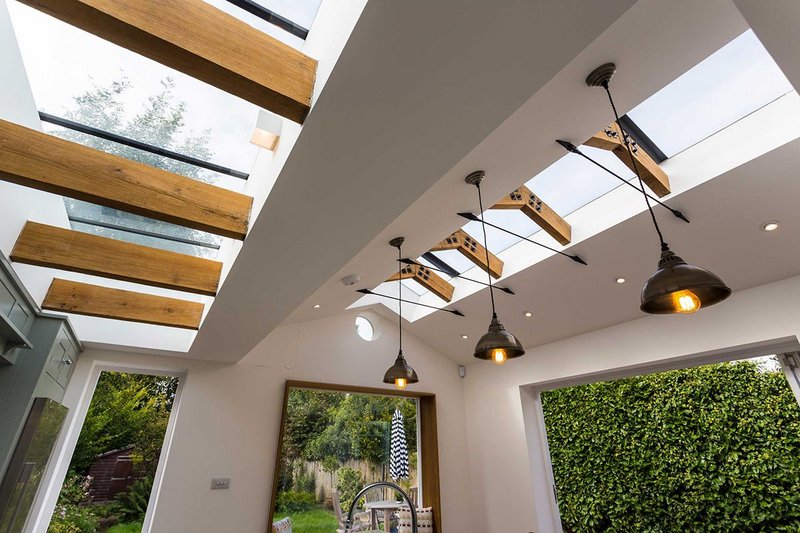 Glazing Vision's Flushglaze (left) and Ridgeglaze rooflights open up to the sky, highlighting the exposed beams and rafters below.
Glazing Vision's Ridgeglaze rooflight and modular Flushglaze fixed rooflight have been specified at a newly built residential extension in Wimbledon, London.
The aim was to create a bright new kitchen and living space while allowing the client to make the most of the garden at the rear of the property. The team at Architecture WK maximised the flow of light into the space by specifying rooflights that run along the length of the extension apex.
Heat-strengthened, low-emissivity glass was used to maintain desirable temperatures and optimise thermal performance without compromising the visual effect of the project. The abundance of natural light creates an inviting space for entertaining, cooking and reading in the family home.
The project was carefully co-ordinated by Glazing Vision and the architects as the structure had to be erected before measurements could be taken. The collaboration allowed the teams to overcome any logistical and installation challenges.
With no visible internal framework, Glazing Vision's Ridgeglaze rooflight was an ideal solution, allowing the oak frame to be exposed beneath the rooflight. The pitched-roof skylight running the length of the extension was central to the design concept, maximising the ceiling height while allowing light to flood the space.
Glazing Vision's Ridgeglaze and Flushglaze rooflights are available in bespoke sizes and are easily modified to suit the needs of a project.
See the full case study at glazingvision.co.uk/case-studies/wimbledon