Washrooms don't need to be big to be functional, but they do need to be well designed. Duravit's collaborations with Cecilie Manz and Kurt Merki Jr are producing beautiful results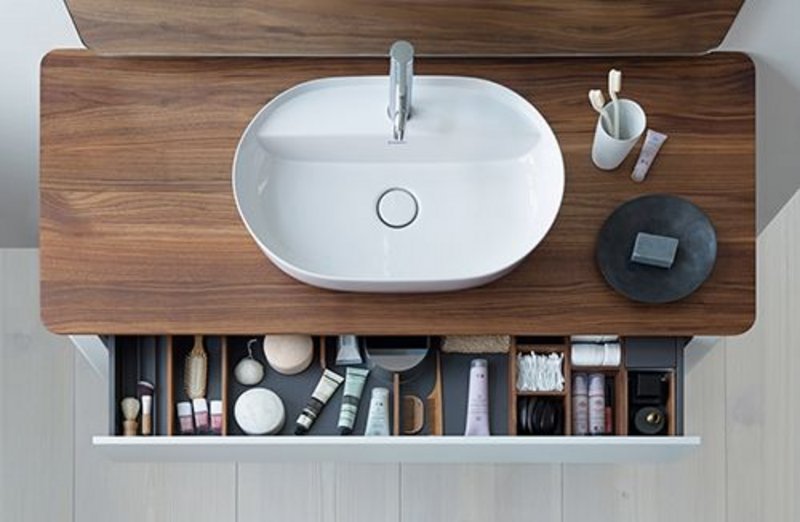 The handle-free drawers of Duravit's Luv freestanding bathroom unit by Danish designer Cecilie Manz provide plenty of storage space: they open via tip-on technology and close with self-closing action.
A comfortable bathroom doesn't need to be spacious, but it does need to have enough storage space to cope with everything from cosmetics to cleaning materials.
Even the largest bathrooms can appear smaller when cluttered and messy, but with a little creative thinking and the correct bathroom furniture it is possible to create a home for all those everyday bathroom items.
Duravit's stylish furniture collections have discreet additional storage space and unique storage compartments designed to help keep bathrooms clutter free.
The company works with leading designers to create elegant freestanding units, such as the Luv series by Danish designer Cecilie Manz and the XSquare wall-hanging units by Kurt Merki Jr. Duravit furniture is designed to ensure that bathroom essentials of all shapes and sizes can be stored in drawers or practical compartments within which there are also organiser systems that look great and help keep things tidy.
The storage potential of wall areas is frequently overlooked, but wall-mounted shelves can provide additional space for toiletries and towels or can be used for decorative display purposes.
Mirror cabinets are a good option for making dead wall space useful and offer an extra light source, giving the visual impression of a larger, more open room. They are essential for shaving and applying make-up and keep essential toiletries hidden from view. This leaves the area around the washbasin uncluttered, making mirror cabinets the ultimate all-rounder in the bathroom.
For more information and technical support, visit: duravit.co.uk
Contact:
0207 253 3559