Billi taps and watering systems offer architects and specifiers innovative, sustainable - and beautiful - design solutions for today's office environments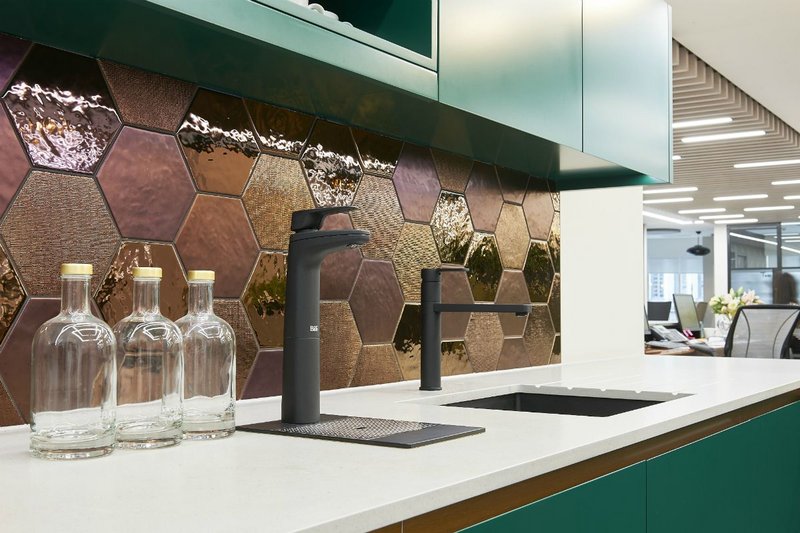 Billi Quadra Sparkling Plus tap in Matte Black with matching drainage font, providing boiling and chilled filtered water at refurbishment contractor Parkeray's London office.
It has never been more important for specifiers to ensure that they are delivering sustainable hydration solutions that help customers save on energy bills and reduce their carbon footprints.
Billi is a leading manufacturer and supplier of boiling, chilled and sparkling filtered drinking water dispensing systems. Its products are designed with three things in mind: design, functionality and sustainability. The company's broad range of filtered water systems are suitable for any project, providing instant hydration to teams of workers from five to 500-plus.
Billi's 'SET advantage' marks it out from its competitors. SET stands for Space, Energy and Time and, for designers and architects that have sustainability and productivity front of mind, these are of key importance:
Space: under-counter technology Billi systems can be installed in cupboard spaces up to half the size of its competitors'. This allows for the most economical use of under-counter space, making the systems easier to fit into any project.
Energy: heat exchange technology A unique heat exchange system uses revolutionary technology to harness a large amount of the heat typically wasted to the atmosphere during the chilling cycle. This waste heat energy is used to pre-heat the boiling water, achieving substantial energy savings.
Time: highest instant dispense cup rates Billi's heat-exchange technology gives the best instant cup dispense rate capacity. An in-built, seven-day time switch ensures the system is only running when it is needed and when the system is on. It can produce an impressive 90 to 250 cups of boiling water an hour.
Billi water systems feature in award-winning workplaces such as M Moser Associates' London headquarters. M Moser London was awarded WELL Silver v1 Certification by the International WELL Building Institute, demonstrating continued leadership in workplace well-being.
The seven WELL concepts (air, water, nourishment, light, fitness, comfort and mind) are achieved at Silver level by meeting 100 per cent of the WELL preconditions applicable to the project type.
M Moser Associates chose one of Billi's most popular Quadra Plus 9 systems, combining boiling and chilled filtered water through an XL lever dispenser in Matte Black and hot and cold water from a matching Gooseneck sink mixer tap.
With more than 25 years' experience, Billi has worked with world-renowned names such as Deliveroo, Nike, PepsiCo and Warner Bros, perfecting the art of exceptional customer service at every stage of the process (the company has an impressive NPS score of 70).
Billi products fit seamlessly into any project, providing stylish, beautiful and timeless designs that stand out.
For more information and technical support, visit: billi-uk.com
Contact:
020 7456 6789
---