When we emerge from the coronavirus pandemic a new sort of design will be needed. How would you design the new world we will find ourselves in? Entries now closed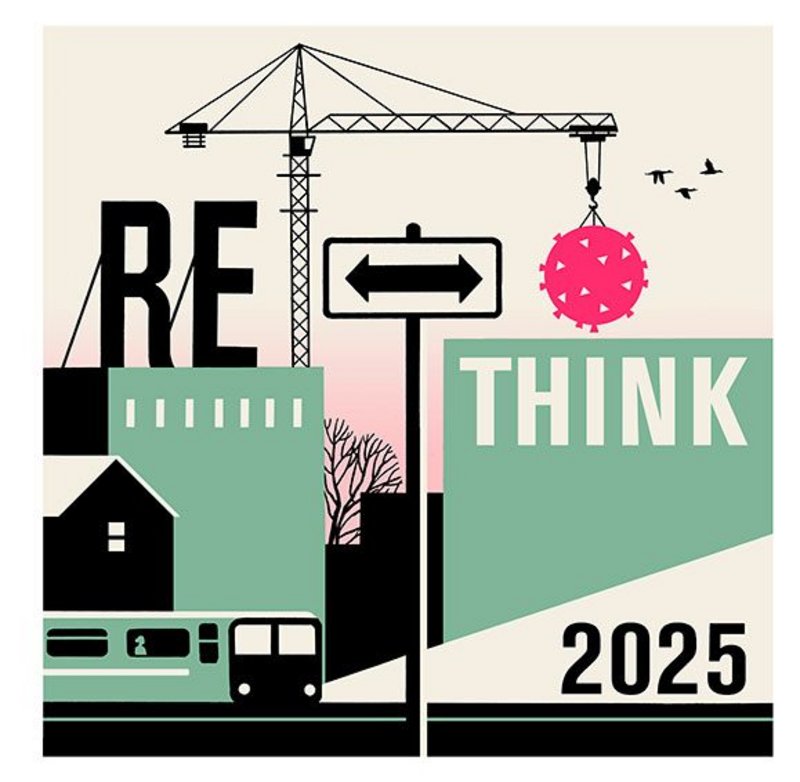 This competition is now closed. See the winners and more ideas for post pandemic design.
Six months after Patient Zero first manifested symptoms of coronavirus in Wuhan, China, the world feels like a very different place. The deeply affecting infection rates and death toll aside, the accompanying economic shutdown that spread westwards across the globe has resulted in a recessionary climate not seen since the Great Depression.
Booker Prize winner and activist Arundhati Roy declared 'the pandemic is a portal'; and we are all gradually coming to realise that, once we have emerged from the lockdown tunnel, we will have arrived somewhere else.
This competition asked entrants to imagine what kind of a world it might be, with the first prize sponsored by Arup.
'Social distancing', 'self-isolation' and 'lockdown' are words that have become an established part of the pandemic lexicon but they also intimate new spatial relationships, both physical and psychological, that must be taken account of and designed for.
Arup, sponsor of the £5000 first prize, adds: 'As an industry we have a critical role to play in shaping a better post-pandemic world. It's a time to rethink assumptions and apply our expertise in radical new ways at pace. This is a moment to be brave, try new ideas and collaborate closely with others to develop a resilient and liveable future for all.
'At Arup we're asking ourselves "how will we build back better?". That is the question at the heart of this design challenge, which is why we're proud to support all those who are prepared to bring big ideas to the table.'
Brief
We invite all RIBA members, from any category of membership including student members, to submit a speculative proposition at any scale – in-detail or wide-ranging – that offers a positive and tangible response to one or more of the above issues or others arising from the pandemic. Does it also facilitate the step-change in thinking needed to meet our 2050 climate change commitments? How can your design idea help generate a better paradigm for living once we have passed throughthe portal of the pandemic?
What will your paradigm for living be?
We want architects and students to consider life in 2025 and how the pandemic will have modified the way humans interact with space and one another, and how design can mitigate its worst effects.
Breathing space: We created new hospitals in two weeks. What will healthcare spaces look like in five years?
Schools out: Will remote learning become the norm? Will there be any more 'gown' in our 'town'?
How will we live? Will home life become an increasingly atomised experience? Did the pandemic's high death rates cause the death of high density?
What will be the future of work and our workspaces? What will be the new business as usual? Will we all be praying for the return of paternoster lifts?
Infrastructure and public realm: How will we move safely through the city? Will the commuter's rush involve less crush? Will our parks and squares and roads reflect our new-found love of fresh air?
Window shopping? Did covid-19 finish off what online shopping started on the high street? If so, where do you now go to try before you buy?
Travel and tourism: Will we miss the plane but rediscover a love of trains? Will our long-haul world shrink and our seaside towns get an upgrade?
Soft power: Will track and trace apps make us slave to the nanny state or will technology offer a new, democratising potential?
Submissions
Small or large, we are looking for proposals that represent big thinking and we have assembled an evaluation panel of five design leaders and radical thinkers together with our panel chair, RIBAJ editor Hugh Pearman. Joining Pearman will be Francine Houben (Mecanoo), Matt Jones (Google AI), Sarah Castle (IF_DO), Arup's Ed Clark, Joanna Averley, London Mayor's design advocate and architect Asif Khan (Asif Khan).
Submissions should be on two A3 sheets. This should be accompanied with maximum 500-word description and, if desired, a visual media presentation of up to two minutes.
The design idea that, in the judges' opinion, best encapsulates the new spirit of a post-Covid-19 era will be declared winner of the £5000 prize, sponsored by Arup. There will be a £2000 second prize and £1000 third prize. For full conditions see below.
All winners will be published in the August issue of the RIBA Journal.
This competition closed for entries on Friday 12 June 2020, 14.00 hrs
---
'Social distancing', 'self-isolation' and 'lockdown' are words that intimate new spatial relationships, both physical and psychological, that must be taken account of and designed for
COMPETITION CONDITIONS
1. Competition promoter
The competition is being run by the RIBA Journal in conjunction with the RIBA.
2. Eligibility
The competition is open internationally to all RIBA members, from any category of membership including students.
No member or employee of the promoting body, the evaluation panel, or any partner, close associate or employee of them is eligible to compete or assist a competitor.
3. Competition format
The competition will follow the single phase ideas competition format. It will be assessed anonymously.
Three prize winners will be selected and prize money awarded as follows:
First prize: £5,000, sponsored by Arup
Second prize: £2,000
Third prize: £1,000
Shortlisted and commended entries may also be published.
4. How to register and enter
You may only submit an entry to the competition if you are officially registered through RIBA Competitions and in possession of a unique registration number (URN). Please visit the registration page and complete the online form.
Once your registration has been processed, you will be issued with a unique registration number (URN) and a declaration of authorship form.
5. Declaration of authorship and acceptance of competition regulations
The declaration form acknowledges authorship of the design ideas, and by signing it, entrants agree to abide by the competition conditions and the decision of the evaluation panel as final. The completed declaration form should be uploaded to the digital entry system along with the design submission.
Note that the team members stated on the declaration form will be used as the credits in all promotional activity so please ensure this is reflected accurately.
6. Evaluation panel
The evaluation panel (which may be subject to change) is expected to comprise:
| | |
| --- | --- |
| | Editor, RIBA Journal and chair of the panel |
| | Creative director and founding partner, Mecanoo |
| | Principal designer, Google AI and RIBA trustee |
| | Director and co-founder, IF_DO |
| | Director, buildings engineering, Arup |
| | Design advocate, London mayor |
| | |
In the event of an evaluation panel member being unable to continue to act through illness or any other cause, the RIBA reserves the right to appoint an alternative panel member.
7. Competition timetable
The anticipated programme, which may be subject to variation, is as follows:
| | |
| --- | --- |
| | |
| | Friday 12 June 2020 by 14.00 hrs |
| Evaluation of designs with panel and winners agreed | |
| Email notification to winners | |
| Result announced in RIBA Journal and on ribaj.com | |
All submissions will be evaluated anonymously, via use of the Unique Registration Number (URN) issued at the time of registration. The URN should be prominently displayed on each of the design submission sheets, report and declaration form. Please refer to the above section How to Register to obtain a URN.
8. Anonymity
Any submission that has identifying marks (including logos, text, insignia, or images that could be used to identify the submission's authors) will be automatically disqualified.
9. Disqualification
Submissions shall be excluded from the competition:
If an entrant shall disclose his or her identity, or improperly attempt to influence the decision;
If received after the latest time stated under the Submission method (below);
If, in the opinion of the Evaluation Panel, it does not fulfil the requirements of the competition brief;
If any of the mandatory requirements of the competition brief and conditions are disregarded.
10. Submission requirements
There are six elements to the design submission, each of which should bear the Unique Registration Number only. Entrants should refer to the anonymity requirements and submit the following material digitally:
i. A maximum of two landscape sheets (equivalent to A3 in PDF format only)
The proposals should be presented in a clear and succinct manner to enable Evaluation Panel members to readily understand the essence and design drivers behind the design idea.
The URN should be prominently displayed on the front face of each design sheet in the top right hand corner, together with the order in which the sheets should be viewed (1 of 2 etc).
Physical architectural models will not be accepted as part of the Phase 1 submission. However images of models used to develop the design proposal may be included on the design sheet(s).
ii. A written design statement in Word format (maximum 500 words) in support of the submission describing the approach and key points.
iii. A completed declaration form which should bear the URN in the dedicated section on the form. Please note the team members stated on the declaration form will be used as the credits in all promotional activity so please ensure this is reflected accurately.
iv. In addition to the PDF of the design sheets one visual image of the design concept should be provided for publicity purposes. The image should be representative of the ideas proposed and be readily identifiable as such. The image should be submitted in JPEG format, in a high resolution with an image width of at least 1000px.
v. A 30 word summary in Word format to explain the visual image for publicity purposes.
vi. Optional: If desired a visual media presentation of up to two minutes as a separate file (no larger than 10MB) may also be submitted but will not be used as part of the evaluation. It may however be used in subsequent publicity.
11. Submission method
Each design submission should be uploaded to the RIBA Competitions digital entry system before 14.00 hours on Friday 12 June 2020. Further upload details and a unique secure link will be issued to registered competitors.
Please note that the total upload should not exceed 30MB.
Late entries will not be accepted and the digital entry system will not permit uploads after the deadline. The digital entry system will allow you to amend or delete the information you upload until the stipulated deadline date and time. You are strongly advised to familiarise yourself with the system and to allow adequate time for your submission material to successfully upload.
12. Evaluation criteria
Overall quality of the design approach and ideas that have the possibility to make a positive difference to post-pandemic life
Response to the brief, including:
a. Adaption to implications and fallout of Covid-19 and pandemic
b. Mitigation of climate change
c. Impact on quality of life
Creativity and innovation
13. Notification of result / publication and publicity
The competition results will be published after all entrants have been notified.
Entrants must not release their designs for publication to any third parties until after the result has been officially announced and permission has been granted from the RIBA. Entrants should note that by entering the competition they are expected to honour the request for confidentiality to prevent information of the shortlist or the winning team being leaked to the press before any official announcement is made.
The RIBA reserves the right to publicise the competition, any design submission, and the result in any promotional activity, including all social media channels, as it considers fit.
You and your collaborators also grant to the Royal Institute of British Architects permission to reproduce the material supplied in all formats, in all media and on all platforms in perpetuity, in whole or in part – either separately, or together with other designs, with or without explanatory text – without payment.
Once anonymity has been lifted, authors will be credited and recognised in all associated media and publicity. This information will be taken from the declaration form so please ensure the details are accurate.
14. Copyright
The ownership of copyright will be in accordance with the Copyright, Designs and Patents Act 1988 – ie copyright rests with the author of the submitted design.
15. Post competition
The competition is a call for ideas only.
16. Enquiries
All enquiries relating to the competition should be directed to: rethink2025@riba.org
Members of the evaluation panel, RIBA or the RIBA Journal should not be contacted for information as this may lead to disqualification from the competition.