Amtico RIBAJ Design Competition team DLA Design specifies its 'Workshop' laying pattern into its London studio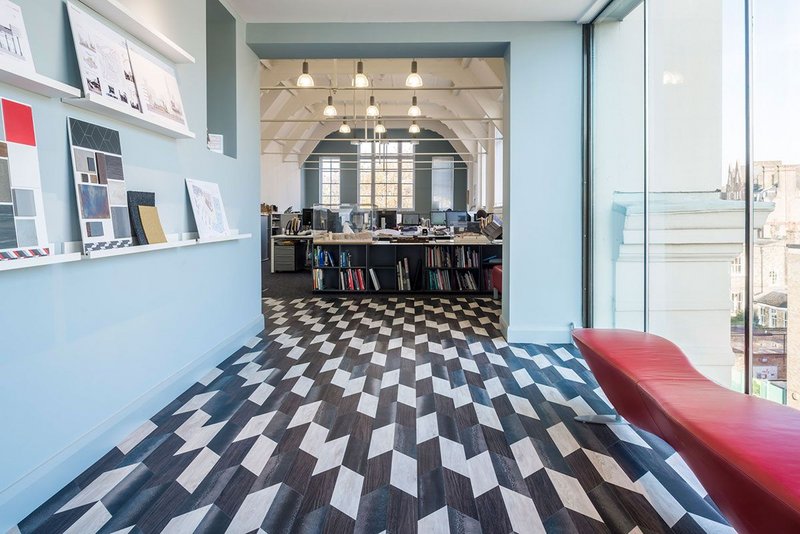 DLA Design's successful Workshop entry combines cool metallic blues with modern washed whites, set against rich, wood grains.
Amtico has installed one of its latest laying patterns, 'Workshop', from its new Architects' Choice collection at DLA Design's offices in Clerkenwell, London.
Launched as a result of last year's Amtico RIBAJ Design Competition, the Architects' Choice collection is a range of 12 exclusive laying patterns that have been selected from the competition's six architecture practice teams. The aim of the competition was for the architecture practices, which included WHAT Architecture, TP Bennett, Cousins & Cousins, Moxon, Willmore Iles and DLA Design, to design a selection of three new, unique off-the-shelf laying patterns using Amtico's flagship Signature LVT products.
As one of the teams competing in the design competition, DLA Design's entry Workshop has been installed into the firm's studio as a feature floor. When researching ideas for its Amtico design competition entry, DLA Design found inspiration right on its doorstep. The linear nature of the flooring conveys the metal, brick and timber materiality of workshop buildings in the practice's local area, which has become popular with creative industries.
The flooring design for the entrance and reception areas was created using the Amtico Signature collection in an Arrow laying pattern. Dark timber (Quill Kohl) and metallic patterns (Chroma Blue) invoke a rich patina, which contrasts with a highlight of white washed timber (White Wash Wood).
In addition to using Amtico's LVT products, two Mannington carpet tile products from Amtico were also used in the meeting rooms and hallways to introduce a warm and welcoming environment. The change in texture from LVT to carpet has helped define zones, reflective of the different areas and functions of the office space, while the use of similar colours has kept the design connected throughout.
'Since the flooring has been laid, we have already had visitors commenting on the design and enquiring where it is from - we're really pleased with the impact it has had,' says architectural assistant Jake Grousset, DLA Design.
Signature is Amtico's flagship collection of 163 products: 69 Woods, 43 Stones and 51 Abstracts. The collection combines original palettes, distinctive patterns and stunning details. The design-led, high-performance LVT products have a total thickness of 2.5mm and a 1mm wear layer. Signature products also carry a 20 year warranty, providing added peace of mind for areas that receive high levels of footfall, such as restaurants.
For more information and technical support visit: www.amtico.com
Contact:
0121 514 7053
---