Benevolence stretching back to the 15th century lies behind 6a's rebuilding of Holborn House, a community gym in a quiet London alley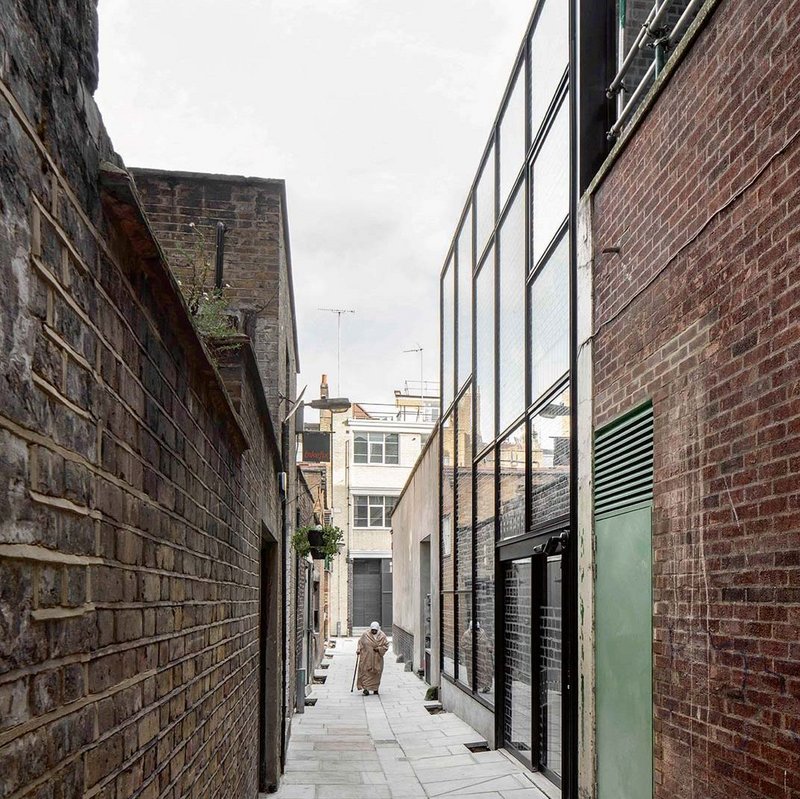 New entrance on Emerald Street, a barely noticeable alleyway off Lamb's Conduit Street in Holborn.

Credit: 6a architects
This history of Holborn is intrinsically tied up with a merchant tailor called Sir William Harpur. Born to humble beginnings around 1496 in Bedford, he made his fortune and became Lord Mayor of London in 1561. In 1566 Sir William and his wife Dame Alice created an endowment comprising a schoolhouse (now the Old Town Hall) and other property in Bedford, and more than 13 acres of farmland and water meadow he had bought just outside the City of London, in what is now Holborn. The endowment was used to support the dowries of 'poor maidens' and education in Bedford, including Bedford School and other subsequent boys' and girls' schools. The endowment's value greatly increased when the London estate was developed for housing in the late 17th century, with the profits able to maintain the success of the school and keep fees low.
In 1920, the headmaster of Bedford School decided it would be fitting to give something back to the inner city and established the Bedford House Holborn Boys Club, an increasingly common initiative around London at the time. It was set up to provide working class children with the same facilities and activities of public schools; fencing, drama, chess, gymnastics, trips abroad and its own magazine.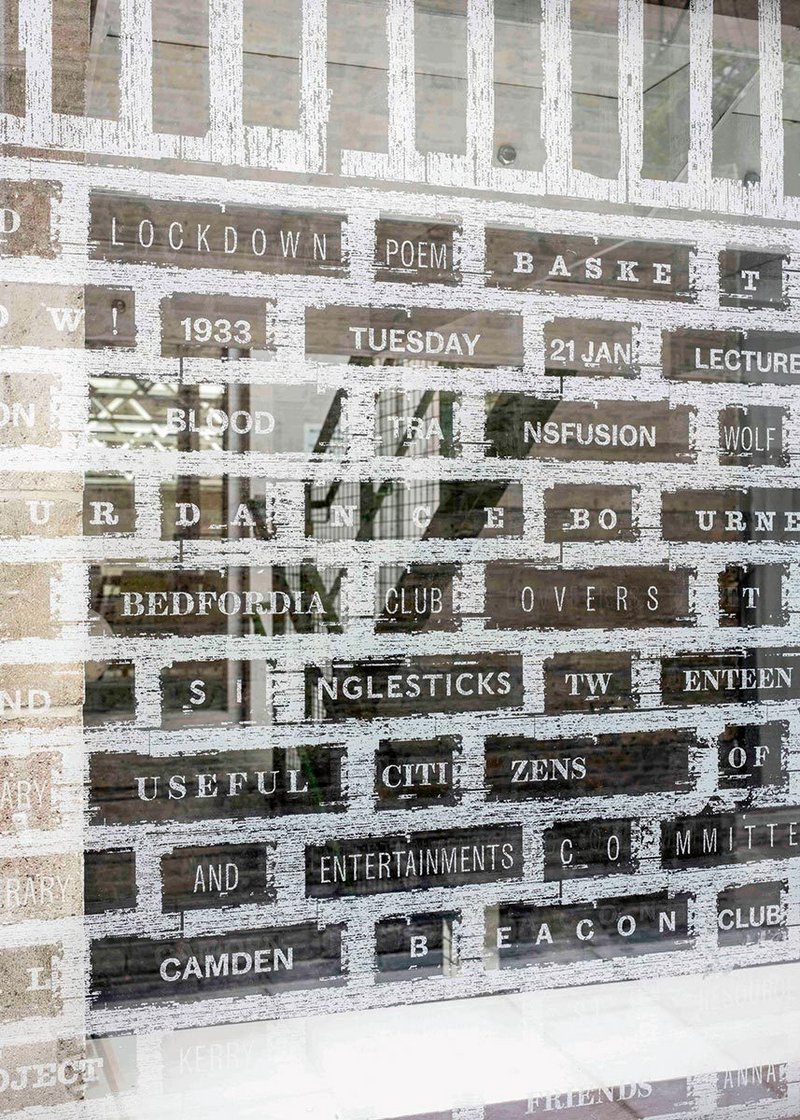 aragh Thuring's etched artwork on the glass facade picks up the styles of brick coursing in the area, filled with words relevant to Holborn House's past and present. Originally the facade was to be tiled, but was amended later to save money.

Credit: 6a architects
By the time 6a architects came to the project this association with Bedford School had long been lost. Its original building was bombed during the Second World War and ambitiously rebuilt in 1957 as part of a terrace on Lamb's Conduit Street called Raker House, with shops on the ground floor, offices and a caretaker's office. In the 1980s the Trust had sold it into private ownership, and all that was left was one of the two original community centre floors and a vertiginous staircase down to a dark and leaky basement gym – run by the Holborn Community Association which was set up at the time of the sale to save the whole building from demolition.
Nine years ago, the organisation received some funding and decided to commission a local parent, 6a's Stephanie MacDonald, to do a feasibility study into the option of buying the building next door. Although the HCA was gazumped by the landlord, it swapped the third floor community centre for a 60-year lease on the gym site, along with permission to rebuild it. After coming here for years of soft play and activities with her son, it was only on a site visit for the feasibility that MacDonald unearthed the archive that revealed how the organisation and building came to be. The organisation, however, was struggling with funding, accessibility and maintenance. 'At the time the 1957 building was constructed, it was considered the council would fund social services like this,' she explains. The gym was top-lit by an unreliable glass block roof and was accessed by a labyrinthine series of spaces from Emerald Street, a shadowy pedestrian alleyway.
A new brief was to give the building a sense of place for children in the neighbourhood and make it visible, suitable for hire, easier to run, accessible and welcoming.
6a's approach has essentially been to rebuild as much as possible, while retaining the 1960s concrete structure – basement floor slabs, ground floor concrete structure, posts and lateral brick walls, to mitigate additional embodied carbon from complete demolition. The gym still occupies its original footprint to the rear of Raker House, but the front single-storey contemporaneous red brick entrance on Emerald Street has been demolished to make way for a new, two-storey glass facade that squeezes in a reception, changing rooms and buggy parking as well as additional staff and community rooms that can be let out to generate income.
As building access to the site was very restricted, new elements had to be lightweight and in manageable parts for assembly on site. Consequently, the new structures are made from steel trusses with blockwork and timber walls; everything is left exposed, from concrete floor slabs to timber joists and electrical cabling run in galvanized conduits. The gym glass block roof has been replaced by three glazed lanterns that admit better daylight.
Transparency is a key theme throughout. The glass facade means passers-by can see in, but an automatic sliding door encourages people to slip inside almost without noticing. Once in the building, the ground floor reception opens before you with more sliding glass doors and a Juliet balcony beyond, that overlook the refurbished gym below. This means a single member of staff can man the entrance and other community functions, as well as keep an extra eye on those activities too, which helps with funding pressures. A bright green grille adds a pop of colour to a palette of whites, greys, nudes and other greens advised on by Little Greene.
A metal stair, again in green, to the front left of the building gives access to the basement where there are changing rooms, a kitchen, storage and double doors to the gym itself. This has been entirely refurbished, with air quality monitors that show when to operate a mechanical heating and cooling system. The acoustic floor is supplied by Junckers, and additional sound insulation comes from a woven linen/cotton mix fabric enveloping the upper half of the gym walls – printed with a version of the artwork by Caragh Thuring that is etched on the glass of the front elevation. The project is small, but neatly resolved, calming and uplifting, and in an ideal world would encourage the development of similar facilities and organisations like the boys' and girls' clubs that proliferated a century ago.
Credits
Architect 6a architects
Artist Caragh Thuring
Structural engineer Price & Myers
Environmental engineer Ritchie+Daffin
Signage and typography John Morgan Studio
Landscaping Dan Pearson Studio
Contractor Quinn London
Building control Sweco Building Control
Joinery Jones Neville and Nie Rhode
Facade artwork Protoglass