Apparata lays out its philosophy for living with A House for Artists, a bold, raw concrete statement intended to bring creativity to Barking
A House for Artists is the first building of its kind, and the first major project by architect Apparata. It's a remarkable debut. Having won a 2016 competition to create a novel live/work set-up for artists in east London, the newly-formed practice set about challenging the habits and assumptions that make so much contemporary housing feel cramped, flimsy and dull. Its muscular addition to Barking town centre is something like a manifesto, combining ideas about collective living with a determination to make light-filled, spacious and adaptable homes.
The initial impetus for the project came from the London Borough of Barking & Dagenham's ambition to attract artists priced out of inner London. Council leader Darren Rodwell says it aims to enrich cultural life and inject economic stimulus while avoiding the gentrification often said to follow an influx of the creative classes – the very process pushing artists out of the city. LBBD's wholly-owned housing firms can provide a counterweight to market forces, he suggests. A House for Artists shows what that might mean. Co-commissioned with Create London, a non-profit curator of public art projects, it offers long leases on 12 flats, and sets rents at a third below market rates. In exchange, artists contribute time to work that benefits local people, centred around an integral 'community hall'.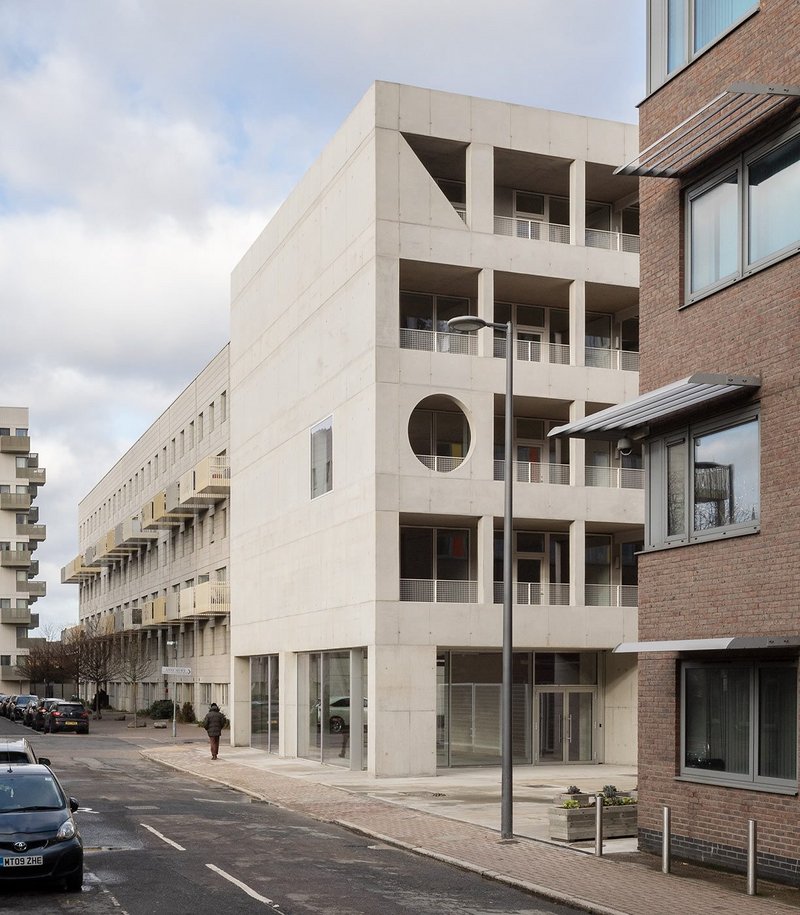 A House for Artists sits alongside mid-rise residential blocks designed by AHMM.

Credit: Ståle Eriksen
Its long-vacant corner site lies alongside the grey mid-rise blocks and pitched-roofed houses of the newish William Street Quarter. Apparata's beefy slab of raw concrete picks up on some qualities of its neighbours, recomposed in deliberately monumental form. 'It's conceived as a public building', says Apparata co-founder Nicholas Lobo Brennan, 'and needed weight to hold its own against the scale of nearby towers.'
An almost featureless cliff facing the street is relieved by side elevations with more variety, with flats set behind a grid of deep loggias. A Bauhausian vocabulary of circles, squares and triangles adds a playful touch, recurring in windows, cut-outs and eccentric manipulations of the roofline. (The original design was even fruitier, but triangular columns and sloping concrete canopies were dropped to aid buildability).
With glass walls set behind deep columns, the rugged community hall is like an extension of the street, putting activity within on public display. 'It can open up for events and become quite fluid,' says Brennan. Blockwork service risers screen some studios at the back, and artists can also work in a fenced yard to the side.
From the yard, the route to residents' homes is entirely outdoors, via external stairs and open decks. 'In many apartment buildings flats are approached through dark corridors', says Apparata co-founder Astrid Smitham. 'We wanted all shared spaces to be pleasant places to be, helping to form a community'. The architect was equally keen to rid the flats of space-hungry corridors and lobbies often assumed to be necessary for fire protection. The solution developed with fire consultant Beryl Menzies relies on incombustible materials and an inventive plan. All but one of the flats are dual aspect, with open decks on both sides giving two means of escape. To the east, outside bedrooms, this is a narrow strip with gates between private areas belonging to each home. To the west, glass-walled living rooms look onto access decks shared by three flats on each floor.
'Deck access has negative associations', says Brennan, 'but that doesn't mean we should reject the idea; we just have to design in different ways'. These short, sheltered terraces are 2.1m wide, giving residents a 1m space for plant pots and furniture while allowing room for wheelchairs and emergency services. The informal front gardens can be a buffer between private and communal spaces while effectively extending every home.
Connection between the interior and exterior is reinforced in other ways. Exposed concrete soffits in the loggias, veined with shuttering marks, continue inside. And on either side of each glazed front door there are pairs of large side-hung windows with bench-height sills, where residents can sit among plants and enjoy the afternoon sun.
Having room to accommodate the windows' inward swing points to the main benefit of omitting lobbies: more living area, and freedom in its use. Flats conform to national space standards but feel much larger – a sensation amplified by 2.8m ceilings. Another bedroom or study can be carved out of living rooms, so residents can remain in place as needs change.
Another kind of flexibility is found on the second floor, where double doors in party walls allow three flats to be combined in an airy enfilade, to suit co-housing or extended families. Communal life is optional, not imposed, says Brennan: 'You can still close the doors and be done with co-living for the day'.
At the front, one of the four non-standard flats has an extraordinary double-height space in one of the triangular roof volumes, and a private patio. 'Affordable housing in Britain offers very few flat types,' says Brennan, 'but by keeping costs down we could add variety'. (LBBD won't disclose the contract sum, but says it was within normal range).
Construction is lean, legible and surprisingly sustainable – exceeding the RIBA 2030 Climate Challenge target for embodied carbon by more than 20%. The primary structure is all exposed concrete, using 50% GGBS. Loadbearing in-situ cast facades are supplemented by a handful of internal columns. Next come bolt-on steel accoutrements: mesh balustrades and smoke-diffusing downstands above the terraces. Timber composite doors and windows form the thermal envelope, with structural connectors in the slabs above and below to eliminate cold bridging.
Inside, raised timber floors and skeletal steel kitchens let residents alter arrangements to suit; sockets and electric radiators are kept to party walls, so stud partitions between bedrooms are easy to remove. Party walls are finished in plasterboard, but plywood patressing makes secure fixing points for artwork, and contributes to a reassuring sense of solidity. 'We've used ordinary off-the-shelf products, assembled in a thoughtful way', says Brennan. 'The building's replicable; any contractor in Britain could do it'.
Set aside the specific provision for artists, and Apparata's cogent piece of 'built research' not only shows that imaginative architects can still find wriggle room within the straightjackets of finance and regulation to do something different in housing design, but also provides a template for others. The building's austere character, or its trade-offs between privacy and community, wouldn't suit everyone, of course. But plenty would value the space and light, and jump at the chance to shape their own environment. A House for Artists should be the first of many.
---
In numbers
Gross internal area: 1553m²
KgCO2eq/m² embodied carbon (A-5, B-5, C-4): 470
KgCO2/m²/yr CO2 emissions: 9.52
Airtightness at 50Pa: 3m³/hr/m²
Credits
Architect Apparata Architects
Client London Borough of Barking & Dagenham; co-commissioned by Create London; delivered by Be First
Fire Menzies Consultants
Contractor J Murphy & Sons
Engineering Expedition Engineering
M&E consultant Max Fordham
QS Artelia