It looks as though it's been there for centuries, but this chapel is the most recent manifestation of one man's mission. One man and his architect acolyte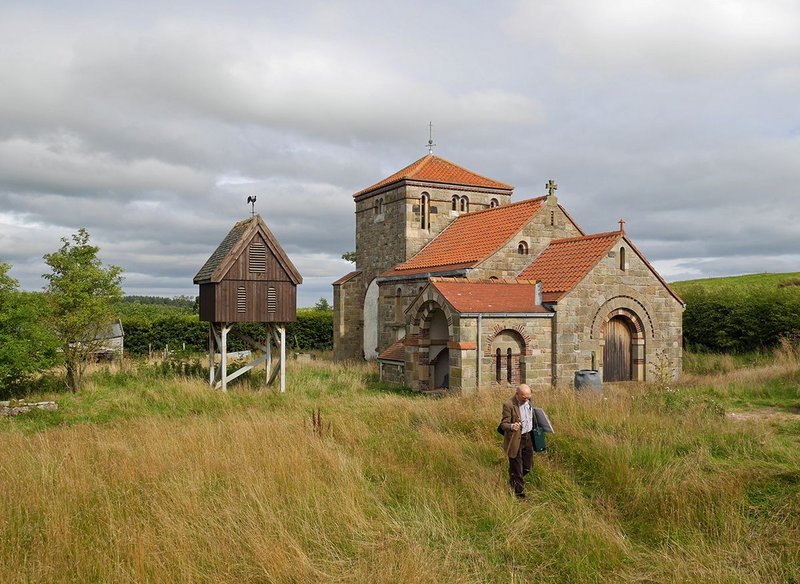 The chapel of Shepherd's Law in Northumberland recalls an earlier age and is still a work in progress. Architect Ralph Pattisson paces out the site. To the left is the incomplete but functioning bell tower.

Credit: Hugh Pearman
You could call it slow architecture, you could call it self-build, you could even call it up­cycling – and of course religious. But how about Romanesque? A new chapel in the Romanesque tradition that looks as if it has been there for centuries? Such is the chapel at Shepherd's Law in Northumbria, in the hills looking across to the Cheviots. The client, Brother Harold, is a hermit. The architect, Ralph Pattisson from Newcastle, has worked on the Shepherd's Law settlement for more than 30 years. It is not finished yet.
This little chapel came to my notice because late last year it jointly won the ACE/RIBA Award for Religious Architecture – in the process beating into second place the much better known, Stirling Prize-shortlisted Bishop Edward King Chapel at Ripon College outside Oxford by Niall McLaughlin Architects. That in itself makes it interesting, as does its determinedly traditionalist style, but what intrigued me more was the way the building came into being. It is a unique
client-architect relationship.
Pattisson collects me from Newcastle station and we head up into the hills. In the lane below the settlement, he produces a sheaf of plans and spreads them out on the car bonnet. Everything is hand drawn and many of these drawings are old and yellowing. There is a masterplan: a cloister will eventually link the buildings. He has come to measure up for the first part of this, leading from the hermitage to the chapel. We set off up the hill past grazing cattle and sheep, and through a farm gate between ruined walls into the overgrown courtyard. You expect chickens: instead, a hare suddenly starts up from beneath the little steel-and-timber belltower and dashes off.
Brother Harold, a Franciscan, has founded a contemplative settlement of a kind that is rare in the UK but, as he points out, has precedents in Eastern Christianity, such as on Mount Athos in Greece – the tradition of 'sketes' or mini-monasteries with maybe half a dozen inhabitants. 'I am a hermit, but not a solitary,' he says as we eat our sandwich lunch round his kitchen table. 'There is a small community here.' He found the site in the early 1970s – previously a farmstead, with some relatively ornate stone ruins suggesting it could have functioned as a shooting lodge. He established his tenancy, at first living in a caravan, then building his hermitage with his own hands. In the 1980s, legacies meant he could build more, and Pattisson arrived as architect to design a short terrace of monkly cells for visitors, who typically come on retreats. Finally came the chapel, replacing one Brother Harold had, and still keeps, in the pitched roofspace of his hermitage.
The walls are nearly a metre thick and the chapel includes a lot of reused stones from demolished farm buildings, including four stout pillars at the crossing. Pattisson includes fragments of brick among the stones on the exterior to enliven it, with locally handmade thin bricks defining the arches. In places moulded concrete is used and concealed beneath everything is a lot of blockwork, which also forms the interior barrel roof of the chapel, finished in a cream render. Nothing is painted.
It works well as a composition and sequence of four internal spaces culminating in an apse behind the altar. There are enough of those tiny windows with very deep reveals to make it surprisingly light. Brother Harold has visited Le Corbusier's chapel at Ronchamp and taken something from it: the gently sloping floor to the nave, which, ending in a shallow step, helps define the interior. It takes congregations of up to 50, led by ministers who can be Anglican, Roman Catholic or Orthodox: Brother Harold himself, not being ordained, sits in the congregation.
It's not completely homogenous as a work: the dressed, radiused stones to the exterior of the apse, for instance, look a bit too fine compared with the rougher stones of the flanks. A low lean-to beside the entrance porch, I think containing equipment for the propane-powered underfloor heating, is somewhat intrusive. The furniture, including the ciborium, is designed by John Sanders of Simpson and Brown in Edinburgh. Again, it's perhaps too sophisticated: in this context I had expected rougher and readier work.
But perhaps I am bringing my metropolitan, faith-free attitude to something which is above all a matter of deep faith, by the architect as much as the client, making an interior which is in its way miraculous. Brother Harold is now in his eighties and his architect is not a young man either, but both see the Shepherd's Law settlement continuing. There are trustees who oversee it. And as an incident in this glorious landscape, well – from a distance you would think at a glance that it was a farm, as indeed it once was.
It very much deserves to be there.
---