Richard Murphy, RPP and Devereux make humane and uplifting spaces in garden-focussed buildings for Belfast's new acute mental unit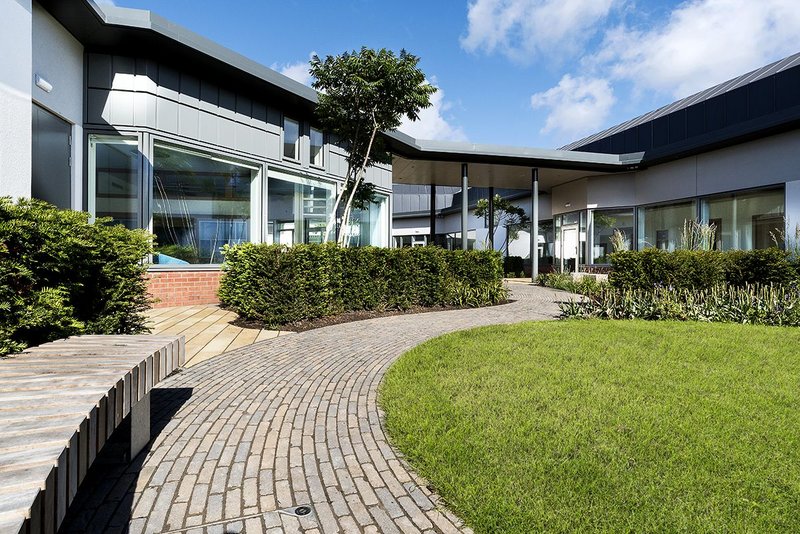 Gardens with wards attached; the radical new plan for the new Belfast hospital mental health unit. Credit Sohaila McKee
As everyone surely knows, getting a halfway decent building commissioned and built by an NHS trust is difficult to achieve, given the normal procurement regime that seems inevitably to lead to the privately-financed design-and-build products of a relatively small roster of big practices. The contrast is stark indeed when a Maggie's Centre, say, lands in the vicinity of a typical large general hospital. But it can be done, given commitment from client and architect. So it has proved at Belfast City Hospital, where a large new acute mental unit by Richard Murphy Architects with RPP Architects breaks the institutional mould with a landscape-led design.
Both Edinburgh-based Murphy and Belfast-based Simon Robinson of RPP doff their hats to their client John Cole – an architect himself who was chief estates officer of the Northern Ireland health department, and before that chief executive of the Health Estates Agency. An early advocate of therapeutic environments now retired from his official position, he acts as an independent health buildings adviser and is the RIBA's procurement champion. Without him, you get the strong impression, this building would not have been possible. Joining Murphy and RPP in a three-nations fixture was healthcare specialist Devereux Architects from London – now part of Ryder.
An acute mental inpatient unit has to be tough and secure, and must deal with the problems of age and infirmity as well. All the more reason, then, to avoid the depressing normal solution: a multi-level building, shunning the outside world, organised around double-loaded corridors. The Murphy/RPP design takes exactly the opposite course. It tries as hard as it can not to be institutional.
Large though it is, with a construction cost of £20 million, this is anything but an assertive building, assuming a redbrick domestic character. In the context of a big hospital its spacious ground-hugging design – single storey with a tall walkable service zone built into the spine roof, all set around generous and very well landscaped courtyards – is a rare use of what is normally much more constrained space. There are details that announce its difference externally, such as the way you approach it through more lush planting, and then see that it is surrounded by a crinkle-crankle (or sinusoidal if you prefer) brick wall rather than a security fence, and that the perimeter rooms respond to the surrounding terraced streets by each having their own expressed pitched roofs. This gives the edges a sawtooth character that – together with the wavy wall – successfully helps to disguise what a large complex this is.
The plan is the thing. Murphy's idea, as the lead design architect, was to insist on it being single-storey, to therefore occupy the site completely and to make a new set of outside spaces within the overall layout. The biggest of these is the most radical move: having entered the building via one courtyard and passed by reception and café, you then go back outside again, into a larger circular courtyard, in order to access each of the wards which open off it: each of which gets its own front door. Sheltered by a deep roof, this space acts like a cloister (Murphy points out the monastic antecedents of hospitals), and in it you find two things: a rivulet of water running right round its polished-stone balustrade, and a curious hut with no defined purpose for solitary contemplation or private discussion. This sets the tone for what is to follow as you move into the wards, which look onto more private outdoor spaces, each with its own different water-gurgling, reflection-generating device providing a calming background. 'I like to think of the unit as gardens with wards attached,' says Murphy.
His other mantra is: 'I campaign against the corridor'. Well, the double-loaded corridor for patients, anyway: here the main circulation goes round the edges of the gardens, inside and out. You will see double-loaded corridors on the plan but those are behind-the-scenes staff access routes.
The project went through a rough patch at one point and some changes were imposed such as the servicing spine in the roofs. The idea is that repairs and maintenance to the services can be done without any inter-action with patients or staff, a device that neither Murphy nor Robinson regard as strictly necessary, and it certainly makes for a much more lumpen roofscape. But the two architects – who have previously collaborated on two smaller health projects in Belfast – held onto their overall design concept.
Inside the wards you get all the usual kickable hospital materials but care is taken to make rooms a bit more homely, a bit less like prison cells. Little devices like built-in window seats help. Common areas are generous and well daylit, always with views across the gardens. As Robinson points out, there is also an understated security aspect to this: if something concerning happens on the other side of a courtyard, the chances are that staff will see it and act. It's a product of benign design thinking: the hope is that people will take short cuts across the gardens anyway. They are to use, not just to stare out at. There is even a Petanque pitch in one.
All such buildings are liable to change in use but flexibility is built in. The brief was for wards devoted variously to male, female, mixed, psychiatry of old age and psychiatric intensive care unit: five wards in all. In the longer term the architects have identified the site for a sixth ward on a site just to the east of the new building. The old-age mental unit could move there, so freeing up a ward for other purposes in the first building.
A further aspect of this kind of building is that there is a necessarily high staff-to-patient ratio. Staff facilities, therefore, need to be substantial and here this is achieved both in the form of staff-only spaces throughout the building but also in a separate administration wing on the northern side of the complex with all the meeting, conference and changing rooms plus health records storage that such places need.
Walking through the building one gets a sense of calm but also, inevitably, slight wariness: staff are primed for quick response in the event of difficulty with patients. There is an 'airlock' entrance arrangement to the wards – one door must close before the next can open, with a pause for checking from a concierge's room alongside. I'd add that privacy considerations did not allow me to see all the wards, just one. Staff were still adjusting to their new workplace as were the patients: there is a well-equipped gym for instance, to the left of the main entrance which at the time of my visit had scarcely been used. In the context of the normal run of such facilities, this is unusual.
This is very complex architecture on plan, a small cityscape of different functions ranging from the public to the intensely private, the general to the clinical. It is a tribute to the design team that here the brief is translated into a succession of intriguing, humane spaces that suggest a better way forward for such buildings. For Murphy and his colleagues and clients, the hope is that this different approach to specialist healthcare design can become the new normal.
---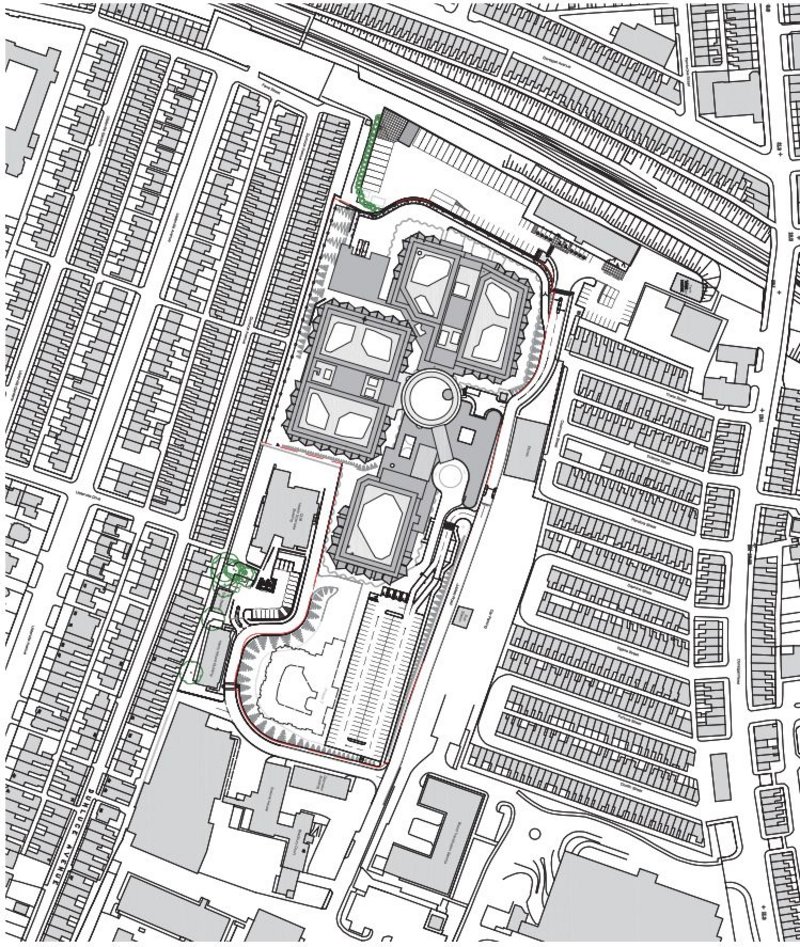 Site plan showing surrounding terraced housing and site for extra ward. Credit RMA
Credits
Client: Belfast Health and Social Care Trust
Architects: Richard Murphy Architects, RPP Architects, Devereux Architects
Engineer: Aecom
Landscape architect: Sturgeon Landscape Architects
Quantity surveyor: Sammon Consultants