Royal Gold Medallist Albert Richardson was a neoclassicist and a Soane fan – how did he come to design this bright, modernist factory in Rushden?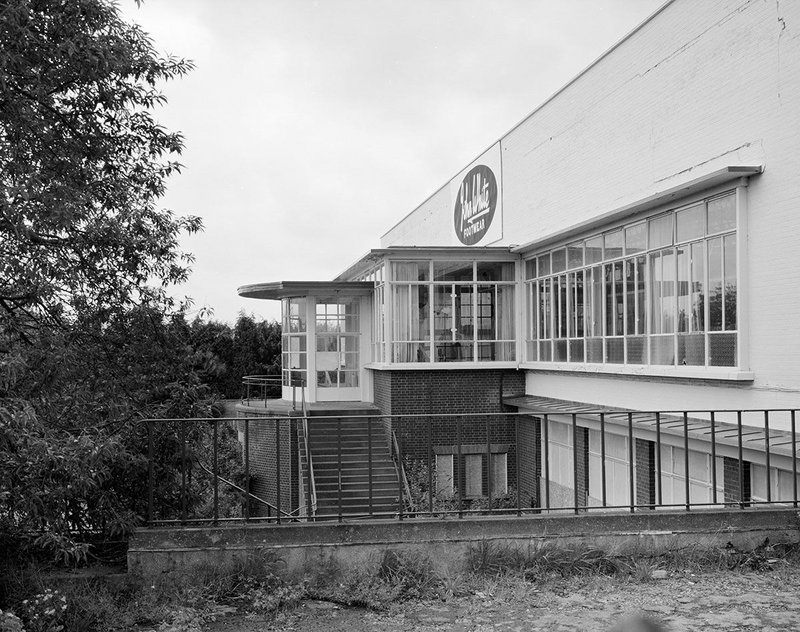 The front elevation and projecting sun room at John White Lime Street Factory as photographed, already closed and becoming dilapidated in 1997.

Credit: Historic England Archive
Royal Gold Medal winner 1947
John White Lime Street Factory, Rushden, 1938
Every half year when I was young, on a rainy Saturday when we couldn't think of anything else to do, my mum would take me to the factory shops in Rushden, Northamptonshire to buy new shoes for school. I remember the rows of metal shelving, lack of choice, rundown spaces, convoluted ways in through battered side doors and up crooked staircases, as well as the musty smells. It was clear then that the whole operation, and town's purpose, was up. We no longer bothered with the high street as we would have done in the previous decade. It was the mid-1990s, buildings were being vacated. In 2000 Rushden & Diamonds FC's new stadium and Dr Martens' factory brought hopes that were dashed a few years later.
This was a long time ago, but Rushden's decline felt so entrenched I never thought there would be a reason to visit it for RIBA Journal. This is still true in a way, though mass housebuilding and retail parks are bringing life to the town again. Yet RIBAJ's 125th birthday and its celebration of these Gold Medal winners have afforded us the opportunity to consider how architecture has changed over these years, both what it is and where it is. Northamptonshire is not often visited by architecture critics, nor are factories. The buildings that emerged out of Northants' famous shoemaking from the 1850s (centralised production came late to footwear) were generally designed by local firms and their characteristics so omnipresent that they may have seemed unexceptional. Now, given the chance to visit a new factory, we jump at it, all nostalgic.
How the architect Albert Richardson (1880-1954) and John White, who founded John White Footwear in adjoining Higham Ferrers in 1918, came to form an association is lost in time. White was a local man focused on costings, modern manufacturing and being his own boss in the only industry he knew. Richardson, living 25 miles away, was London-born and had a fancy for dressing in 18th century clothing and all things neo-classical, preferring to live without electricity.
When their business relationship began in the 1930s, White's company had grown from one-man 'uppers' supplier to producing a million pairs of shoes a year, while Richardson was a noted conservative UCL professor who designed buildings such as the rusticated stucco Manchester Opera House (1912) and later the Financial Times building in London (1958), and wrote books advocating Cockerell, Soane and so on. But it is his 20-year association with White that is most quirky – though it never made it into history books or magazines.
Having pulled his nascent company through the difficult '20s to become one of the largest shoemakers in Britain, White was in expansion mode and no doubt sought an architect who represented his ambition.
Beginning with a stripped back classical head office for the company in 1936, either side of WW2 Richardson designed multifarious buildings in unexpectedly multifarious styles – something serious architects would never do now – that could have amounted to a small village: an arts & crafts house for White's daughter and the redesign of White's own house in the 1930s, and an estate of single-storey alms-like houses around a green for White's employees in 1951. But the most remarkable was his Lime Street Factory of 1938. With its combination of art deco and international modernism, it must have seemed as if a huge white spaceship had landed in the middle of a large landscaped lawn, gleaming from the road. It had hints of the Garden City Movement too. It isn't possible to find another Richardson building nor Northants shoe factory like it. Its curved projecting sun room at the front, reached by a pair of external ceremonial staircases, saw-tooth roof hidden by a deep parapet, airiness and chimney relegated to the rear, send out architectural messages of health, lightness and pleasure.
This cannot have been far from the intention. White was, according to his memoir, keen on the wellbeing of his operatives, particularly clickers (leather cutters) who were known to be susceptible to TB, and never forgot how one shoemaker told him he didn't want his children to stand beneath frosted windows for 40 years as he had. Here glass was clear, windows enormous and people could see in and out. White was proud, illuminating the building with floodlights as if it were a fun palace or dog track until he was ordered to remove them during WW2.
But by 1990 John White Footwear, once a marvel, had become just another company where money mattered more than employees. It closed. The building never got its floodlights back and lost its 'John White Impregnables' signage across the front, but it was one of the first factories in Rushden to be converted into flats, by PCA Architects in 2002. Like White's ambition for his shoes, I'm told there is nothing like them for the price. Slowly the town is finding its happiness again too.
---
More Royal Gold Medallists and other highlights of RIBAJ's 125 years here