Cité Internationale de la Gastronomie et du Vin by Anthony Béchu & Associés combines restaurants, retail and cookery schools to make it the starting point for those exploring the area's produce
For years I would pass through Burgundy twice a summer. It was a ritual, going between the winemaking villages and towns, visiting vineyards, meeting the producers in the cellars under their stone houses, sampling Époisses cheese and parsley-ed ham along the way, as well as eating regional dishes like beef bourguignon. One thing consistent with every trip, however, was that we never visited the region's capital Dijon. It had been the seat of the Dukes of Burgundy whose duchy once extended into what is now the Netherlands, but 15 years ago it was felt that gastronomy was found in the countryside. Dijon was just for mustard.
Over recent years, there has been a concerted attempt to redress this image. In 2015, Dijon's historic centre was recognised as part of the 13,219ha 'climats, terriors of Burgundy' with UNESCO world heritage cultural landscape protected status. Its first aspect is the precisely delimited vineyards, villages and town of Beaune south of the city, and its second is Dijon's historic centre, whose social, political and regulatory impetus gave rise to that viticulture.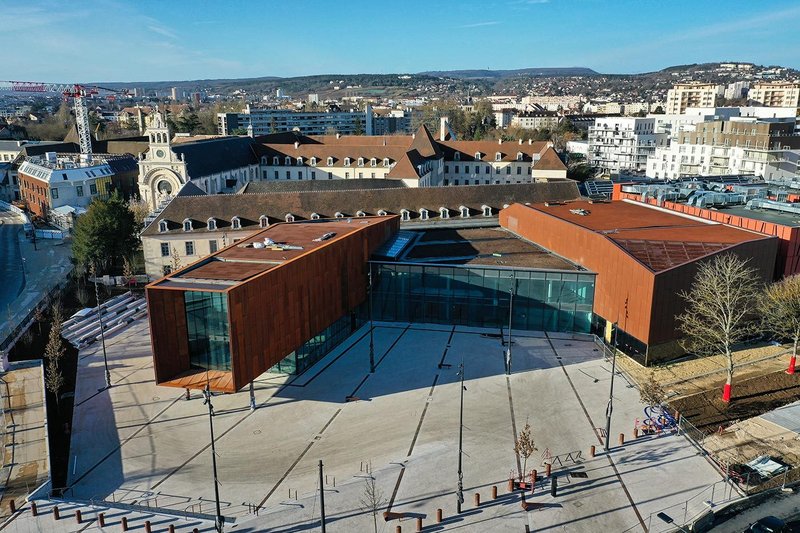 Welcoming visitors with open arms - Agence d'Architecture Anthony Béchu & Associés' new Cité Internationale de la Gastronomie et du Vin - Dijon

Credit: Ville de Dijon, François Weckerlé
The UK is not so adept at chasing world heritage status for its treasures. It has 28 cultural World Heritage Sites compared with France's 43, Germany's 48 and Italy's leading 53. Liverpool was even stripped of its status last year, after pursuing urban development. Yet, gaining such status can play a vital role in protecting not just a place's historical importance but also contributing to its longer-term financial prosperity and sustainability. Unesco listing is thought to draw 20 to 25 per cent additional visitors.
Raising awareness and understanding of viticulture and the part Dijon has played is the strategy behind Anthony Béchu & Associés' new Cité Internationale de la Gastronomie et du Vin - Dijon. Rather than being somewhere that tourists bypass, the centre has been conceived as the future starting point for discovering the goodness of the region.
Timeline-wise, the project predates the 2015 Unesco inscription, and in fact originates from the 'intangible cultural heritage' status awarded in 2010 to the gastronomic meal of the French. To manifest this heritage, in 2013 the French government sought to create a network of cities of gastronomy, of which Dijon was selected alongside Lyon, Paris-Rungis and Tours – each representing a different aspect of French food culture. The promise of the Cité was at the centre of Dijon's nomination and has consequently been led by the council with funding from national and regional governments via a private partnership with building contractor Eiffage.
Located just outside the protected historical centre, the Cité occupies the former Hôpital du Saint-Esprit founded by Duc Eudes III de Bourgogne in 1204, but which, since the 1960s, has gradually moved to near the university. The site comprised typical Burgundian stone and render buildings, variously dating from the past 400 years, including 15th and 18th-century chapels, set around a network of courtyards backing on to the river and sided by large roads. The emergency services department was last to leave in 2015, by which time the buildings were not considerably deteriorated but had lost their soft yellow lustre, and parts of the plot had been filled in with more modern technical facilities.
Anthony Béchu & Associés has reimagined the 6.5ha diamond site as a vast mixed-use district including 970 homes themed around gastronomy – training, trading and culture. It provides a full menu of 1,720m2 of exhibition spaces, two cookery schools, a food market, restaurants, vintners, a cinema and more.
'The difficulties of a former hospital is that they are self-sufficient places,' explains Béchu. 'They are isolated without links to the city, hidden and closed off for healing. One of the first challenges was to repair the site's connections to the city – scars left by the railway and roads.'
Consequently, and unglamorously, the Cité's first move was to build a multistorey 459-space car park opposite; a triangular, rounded-corner aluminium box made of solid and perforated panels that geometrically pay homage to the Burgundian tradition of patterned polychrome tiled roofs. Back on the hospital site, the architect's approach has been to retain the historical buildings, repurposing them while creating porosity on all sides and a striking new identity for the district where new sits comfortably alongside old. It's not dissimilar in thinking to the factory redevelopment at Luma Arles further south in France.
Approaching from the city centre, visitors are greeted by a landscaped plaza and a dramatic series of volumes that splay outwards as if to welcome you into their embrace with open arms. The furthest on the left is the most spectacular – a projecting corten cantilevered box held up on slender pilotis with a glazed ground floor containing a restaurant and a huge framed glazed opening on the upper levels for the renowned Ferrandi culinary school (its first location outside of Paris). Behind, further to the left, you can catch a tantalising glimpse of the restored hospital buildings and elaborately ornamented 18th-century baroque chapel.
Ahead, a suite of volumes and activities unfurls. A double-height glazed link reception attaches to the first of the restored hospital buildings, with four glass bridges inside at first floor connecting to expanded existing openings. To the right, the first volume contains the Cité's exhibition halls, which have launched with a lively exhibition on patisserie. Tucked in alongside is the outpost for École des Vins de Bourgogne, an interactive learning experience with 360-degree surrounding screens.
Three further splayed volumes beyond house a 9-screen Pathé cinema whose programme will show regular release films as well as overlap with the gastronomic cultural programme of the Cité, and double-up as auditoriums for talks and live events. The rear of this continues the line of the former hospital building as a new three-part timber clad volume that is weathered to look like a shadow of the existing. In the repurposed portion is the city's relocated tourist office as well as Le 1204, a centre of interpretation for the heritage of Dijon that displays its history through its architecture and fabric, including how and why certain materials like the coloured glazed roof tiles came to form a local vernacular. A 180-degree birds eye view of the city allows you to point at monuments and find out more, while upstairs is an exhibition about the hospital itself, including a reconstructed original panelled apothecary. On the other side, a restaurant spills out onto both the street and hospital courtyard.
In the centre of this courtyard is Le Village – a pop-up shopping zone for small producers and independent shops with 10 units, each assigned to a different type of food. The idea is an everyday food shopping area where you can find everything for your daily needs provided by local companies that can let a unit to test their brands for a minimum of two months – fittings are permanent so they can just turn up. This is housed within an autonomous timber, steel and glass marketplace structure under an ETFE roof.
To the south-east is the Cave à Vins where you can sample more than 1,200 wines over four storeys. Meanwhile, to the north is the newbuild Ecoquartier which, together with three converted original courtyards behind, provides the housing, including 114 units for students, 98 for older people and 25 per cent affordable homes. These elements reference both the historical render and new aluminium panels found elsewhere across the site. Individually, this aspect of the Cité makes it one of the largest residential projects in all of France.
Other activities continue, including an upcoming four-star hotel in the former hospital entrance building, featuring a restored colourful roof with its own corten-coloured aluminium extension that is expected to open next year. At the very southern tip of the site is a new business hub seeking to nurture the start-up agri-food companies. I'm probably missing a whole lot of activities in between.
And that's what sums this project up. The scheme is a formidable and comprehensive chunk of new city that achieves an incredible amount: retail, culture, education, business and housing. It's for locals and people discovering the region or seeking be educated in cuisine and gastronomy – French and international. It's a remarkable feat to be planned and almost complete within nine years.
Hitting upon a theme has been a crucial ingredient, enabling it to benefit from €250 million in funding and investment, getting buy-in and support from all kinds of initiatives and private companies. The architecture is also respectful and complementary to the city, its vernacular, historic and civic quality. Even the dramatic aspects are not bombastic and none of it feels overdeveloped. It's highly pleasant and presents the beauty of French ways of life. Will it make more people go to Dijon? I suspect so. It reminds me that there's also a great big hole in the centre of Birmingham that could prosper from similar thinking.