Atelier van Berlo launched itself in practice with this reuse of a former Philips factory site as a business hub for growing companies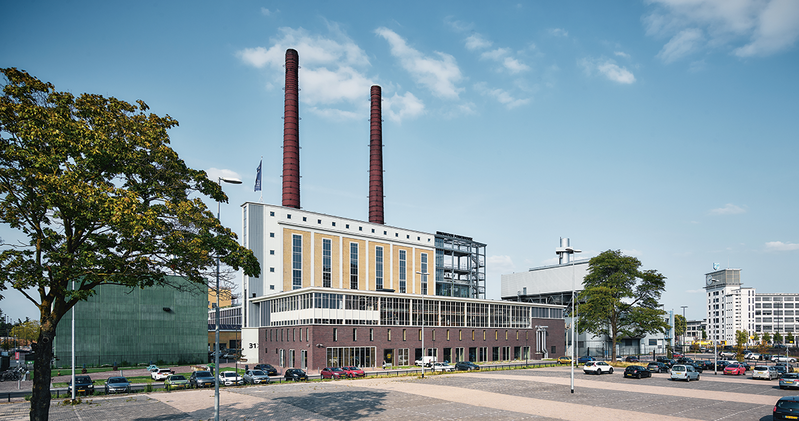 Main elevation of Innovation Powerhouse, a transformed and extended former energy centre for Philips.

Credit: Tycho Merijn
How many fathers would trust their 24-year-old daughter with the transformation of a derel­ict power station into an emerging typology like a shared-working office before they've even completed architecture school?
But Janne van Berlo of Rotterdam practice Atelier van Berlo has a dad who did just that. As the director of a large product design agency with 90 employees in three locations, he is clearly someone who has taken risks that have paid off – this was just another. His daughter brought in the extra experience of Eugelink Architectuur and De Bever Architecten at the start, but still.
Janne van Berlo came properly to the project in January 2015, setting up her own practice in her final months at architecture school. Her father had already spent eight years seeking permission to acquire the power plant, a lobbying process that involved getting it removed from Eindhoven municipality's demolition register. His goal was to create a new office for his agency within a multi-tenanted shared workspace that would drive a creative, supportive and entrepreneurial eco-system of businesses.
The power station used to serve the Philips factories site, an expansive area that became redundant in the 1990s as manufacturing moved abroad. Starting in 1957 it was built in four stages over 30 years as the site required more energy, a period which also saw its fuel change from coal to oil and later gas. Each extension was kept consistent with the original design.
In transforming the old plant into Innovation Powerhouse, Atelier van Berlo was most concerned about how to create a cut-through space between all areas of the building that would make it feel collaborative. The primary move was to create a 5m wide atrium that runs the length of the taller, 28m middle element, where the coal chutes would have been, to draw the front and rear sections of the building together, and glazing the internal partitions. Next to this central backbone, a skylight spans the full length of the building, bringing light into its otherwise dark centre and revealing the magnitude of the old heavy concrete structure. The other move was to extend the power station laterally with a grey steel grid structure that completes some of the missing symmetry found in the planning drawings. This is conceived as a vertical garden housing an external fire stair, glass meeting rooms and an elevator as well as outdoor social space for occupants.
Meanwhile, the front elevation has been over-insulated and clad, with minimal slit windows inserted to maintain a solid appearance. At the back, the original machine hall brick has been retained but stylistically complementary three-storey windows inser­ted in the white painted grid steel structure, based on the existing fenestration of the coal chutes. A new steel roof over the existing structure improves thermal performance but keeps the industrial character. The two 80m tall chimneys have become a national monument and are in the process of being restored.
Inside, new floors have been added to create space for 500 desks. More than 2,000m2 of the 11,000m2 is given to communal areas, including a café and canteen and breakout space that can be used for exhibitions and events. Concrete columns are left exposed, but the design deliberately combines a brutal industrial aesthetic with softer, richer, more luxurious elements like oak panelling and white wall museum-like bannisters to attract scale-ups rather than start-ups – businesses that lease for 10-15 years. Van Berlo's father's company has, of course, moved in but among the 14 occupiers there's also an indoor farm that grows produce under LED lights as well as a car sharing business.
In numbers
11,000m2
Gross floor area
8,702m2
Lettable floor area
Credits
Architects Atelier van Berlo, Eugelink Architectuur and De Bever Architecten
Developer, contractor and project manager GeVa Vastgoed
Structural engineer Van de Laar
Mechanical installations Kemtec
Electrical installations Verweij ElektroHulpdienst
Steel windowframes Hesta
Lighting Philips
Furniture Lensvelt