David Chipperfield has designed a restrained but tactile flagship store for shoe maker Bally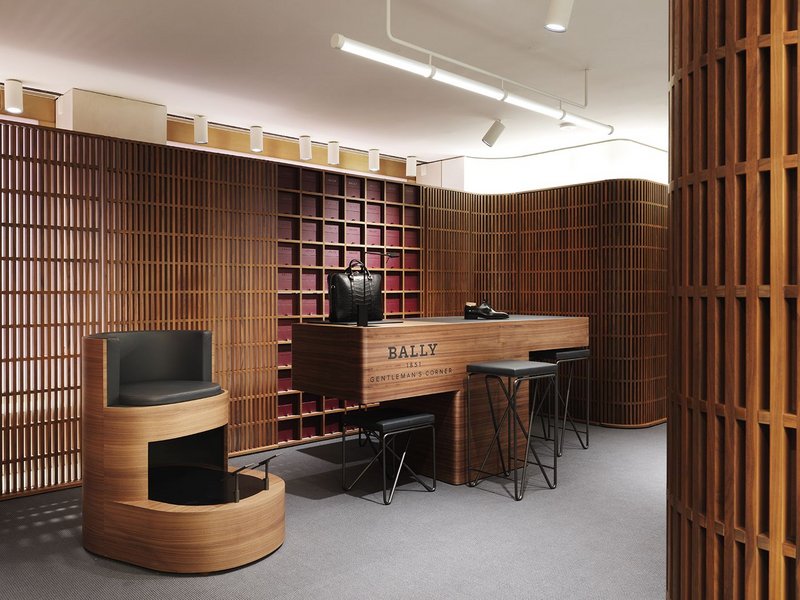 There's a fine art to designing a shoe shop. Not only does the space have to display hundreds of similar-size objects for maximum appeal and provide easy access to back-of-house storage, it must also elegantly seat the customers in the heart of the store while they try out the merchandise and provide space for them to promenade. At Selfridges a couple of years ago, Jamie Fobert Architects showed how to do this with fantastic aplomb, creating a medley of different, highly theatrical settings in a myriad of materials.
David Chipperfield – for whom Fobert once worked – does things rather differently. But he is equally effective in the new 400m2 flagship store for Bally on London's New Bond Street. Chipperfield was following in august footsteps – Bally is proud of its modern design heritage and had over the decades worked with the likes of Marcel Breuer, Le Corbusier, Robert Mallet-Stevens and Andree Putman. Indeed it was an archive photograph of a Breuer-designed store from nearly a century ago, showing shoe boxes stacked up against the walls, that inspired the concept for the new, three-floor store.
Key to the design is the use of a walnut screen, installed to create a cocooned interior by lining the walls and carrying round behind the windows, thus filtering views in and out of the store. Into this, Chipperfield has designed storage by incorporating stacks of burgundy shoe boxes within slots in the screen. Some boxes are pulled out to create a display plinth for a single shoe, with further display space arranged on bespoke aluminium shelving supported by wooden brackets that slot into the screens. Leather topped cylindrical podiums provide plinths for other merchandise.
Restrained and calm in appearance, this store is nonetheless fantastically tactile. As well as the smooth walnut, grey stone lines the staircase and warm to the touch leather is wrapped around the handrail. Elegant display tables are supported by gleaming, spindly metal legs. The emphasis on materiality suits the craftsmanship that Bally embodies. Upstairs, a display shows the different stages of shoe manufacture and the different leathers available for bespoke shoes, while staff are on hand to create exactly the colour the customer requires.