Patel Taylor's brief from Barking council was to tempt pensioners into smaller homes. Can the attractive arts and crafts feel survive the next phase?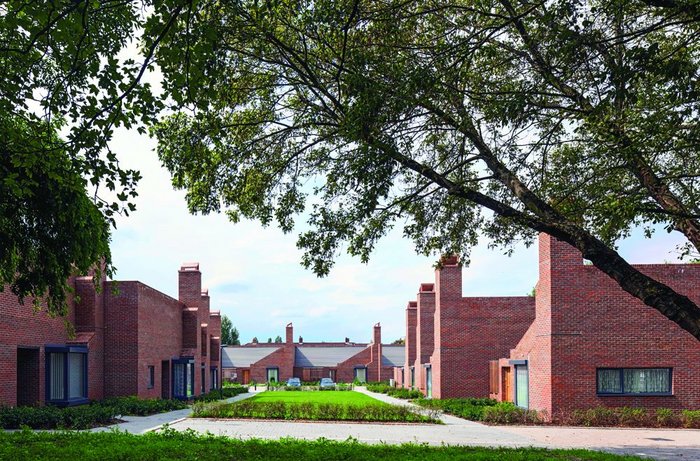 Diminutive monopitch forms with generous Lutyens style chimneys growing through them – one harks back to the sixties social housing of Aldington Craig and Collinge and the other to grand romantic cottages. But in fact they are in Barking, east London.
When you are used to city centre schemes, with five storeys of flats crammed onto a site and every inch of the core squeezed for efficiency, this initially looks luxurious and then wasteful. At low density and with plenty of car parking, it has adopted a suburban model, sitting at the edge of the green belt and other open spaces. But the question of density has to be taken at two scales: first the domestic, plan level and then at the site level.
Patel Taylor was selected under Barking and Dagenham's housing framework to design the first phase at The Lawns, Rainham Road North. The brief was very clear, as government and housing providers focus on reducing 'under occupation' of homes (a spare room to you or me). Prime targets are those of retirement age whose families are probably long gone and who might benefit from a more accessible home, thus making way for an overcrowded family.
For councils, the problem is finding somewhere to build and then providing something tempting enough. Barking managed to find some plots of land, including an old leisure centre and a council depot. Then to persuade the downsizers. Consultation and a focus group showed what they wanted: their own front door, a pitched roof, single storey and clearly identifiable homes of their own. In CABE's heyday it polled the people of Britain to find their favourite housing form. Bungalows were the resounding winner, taking 30% of the vote. This essentially was what Patel Taylor had to aim for – and what the schemes are still referred to as.
Bay window, chimney and monopitch make for an elegant arts and craftsy design - in this phase.

· Credit: Peter Cook

A glimpse into the courtyard, or a glimpse out for a chance chat with a neighbour.

· Credit: Peter Cook

A singular design spelling home.

· Credit: Peter Cook
You wouldn't know it, to be honest. The pitched roof morphed into a monopitch. At least one of terraced frontages can look as bleak, as the early detractors of The Lawns feared with their 'prison' accusations.
Residents later countered that perception, talking about their 'palaces'. Once inside the developments you can see what the hard edge is protecting, perhaps unnecessarily. Andrew Taylor sees it as a 'settlement' like a rock, with a nod to Jorn Utzon's courtyard houses. There is a shared green with sun-hugging courtyards looking onto it on one side and kitchen windows on the other. Chairs in the courtyards hint at where inhabitants sit to catch the rays, looking out through the sociably gappy timber fencing. Glimpses of washing hanging and the bay windows of the living rooms (again at a level suitable for peeping out), reinforce the sense of friendly domestic scale. The bays and the chimneys, expressive in their solidity, create a composition of forms that would warm anyone's cockles, though a little more landscaping wouldn't go amiss, perhaps including something old-fashioned like big-headed blowsy roses.
It is the half-empty car parking that makes this a woefully wasteful scene. One space per unit was seen as appropriate by the client, yet many of the pensioners living here don't even have cars according to anecdote. The edges of the sites are defined by large areas of Tarmac without even giving direct access to every front door to drop off heavy shopping. This is particularly acute at the Wood Lane site, which is ringed with parking.
But the space inside the houses is luxurious, generous and well lit. At The Lawns we visit Lilian Chipperfield who waxes lyrical about the one generous bedroom over the smaller unused bedrooms of her previous flat. The Lifetime Homes standard, the London Housing Design Guide and particularly the Habinteg Wheelchair Standards (aimed at allowing older people and the disabled to stay in their homes) – mean often squeezed spaces such as corridor, kitchen and loo could accommodate a modestly swung cat or two. The courtyard gives a sense of light and air in the living room and bedroom while ensuring just enough privacy. The volume of the monopitch is not exposed as originally planned, the reason lost in the mists of rationalisation. This large space is also out of bounds as loft storage, though it does achieve some value where the height is used over the entrance and cut into for a roof light into the otherwise windowless bathroom.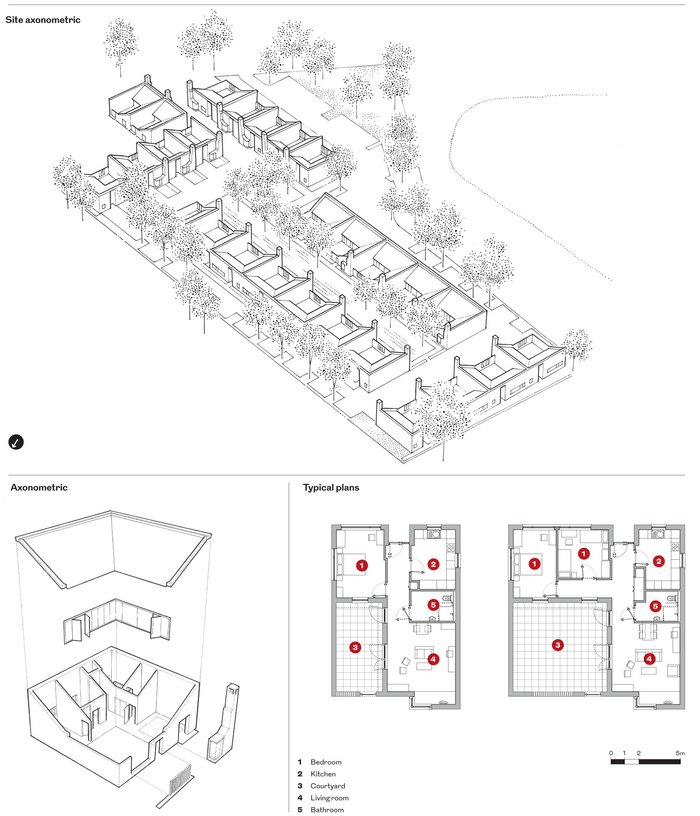 Jennie Coombs, the council's regeneration manager, major housing projects, is ­upfront about the small number of places where costs had to be lost and also about the fact that these 'almshouses' were expected to be 'expensive'; they had to tempt older people out of their larger homes. But at around £200,000 a unit it is not a temptation Barking can continue to fund. There are four more schemes now on site and lessons have been learnt from the first two.
And where do these simple forms sit among the major masterplanning projects with which Patel Taylor is marking out the landscape of White City and the new town near Ostashkov, Russia? The linearity and edge condition set up by the landscaping are all there, unusually with the building contributing softness and sense to the landscape rather than the other way round. The arts and crafts tradition, an abiding interest of Taylor's, is being diluted on the next Barking project, retendered and with a new contractor. The monopitches will be combined in a far less readable form, the plans handed so party walls sit together. Less optimised for living but cheaper to build of course. The chimneys will go too – they were already reduced to follies without a stove or even a vent. The forms will be poorer for it.
---
IN NUMBERS
GIA,1-bed 2-person: 72m2
GIA, 2-bed 4-person: 88m2
Construction cost: £ 7,312,903
Construction cost per m2: £2350
---
Credits
Architect Patel Taylor
Client London Borough of Barking and Dagenham
Structural engineer SDP Consulting Engineers/ Conisbee
M&E consultant Ingleton Wood / CBG Consultants
Main contractor Lakehouse Contracts
Suppliers
Insulated beam / block flooring Milbank
External brickwork Ibstock
Integrated brick batboxes Ibstock
Roof trusses Harmony Timber Solutions
Insulated steel lintels Keystone
Cavity trays and parapet waterproofing
Cavity Trays of Yeovil
Roof tiles Marley
Flat roofing Icopal
Insulation to cavity walls Kingspan
Insulation to flat roofs Kingspan
Electrically operated roof windows Velux
PPC aluminium windows Munster Joinery
MVHR units Titon
Hard paving to internal courtyards Ibstock
Hard paving to public realm Hanson
Kitchen fitout Howdens