Grimshaw's conversion of Bath's Action Factory into an art campus is even more energetic and industrious than ever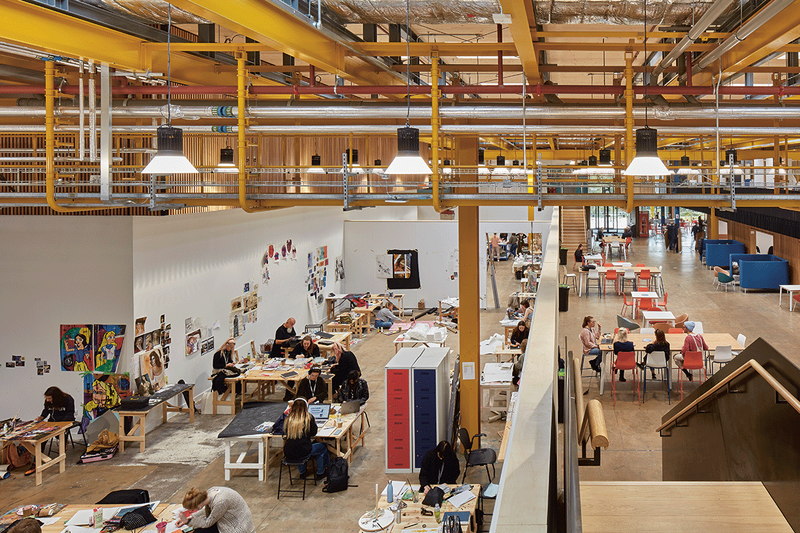 Nicholas Grimshaw completed the Action Factory in 1977 for furniture company Herman Miller, pioneer in furniture and open plan offices. Tucked into the light industrial detritus that follows the River Avon out of Bath, this project has always been notable for its scale and clarity, its smooth, curved GRP cladding panels marking it out. The panels hover unhappily between beige and taupe, related to the Bath stone that was its original justification but – paired with the darkened glass – dating it firmly in the 70s alongside a generation of now-scrapped bathroom suites.
Grimshaw Architects was asked back to convert it for Bath Spa University and if it seems an unlikely setting for a 21st century arts school, when you get inside it makes perfect sense. The original yellow high tech steel structure draws together the energy and industry of studios, print workshops and kilns, a sociable street and informal lecture theatre of giant steps. Everything seems possible in a big shed such as this and paint on the roughly reconditioned concrete floor shows how production lines used the building in a similar way. A rather plain corporate glass box has been stuck on top – a disappointment rather than denouement. But it performs another function, freeing up space from banal offices below and giving staff a quiet hideaway.
The name Action Factory has not survived the change. Drawn from Herman Miller's concept of an Action Office and applied to a factory, it was quashed by concerns about its seriousness ('a bit Playschool') and a wish to distance the university from ideas of higher education just churning out graduates on a production line. No, this building is now Locksbrook Campus, perhaps a hint at the university's future plans in this area. Bringing together students, tutors and facilities at the art and design departments from five sites to just two, it imparts a sense of permanence.
The Action Factory was listed grade II in 2013 shortly before Herman Miller moved out to its own consolidated campus, also by Grimshaw, in nearby Chippenham. A major part of the listing is the 'poetic' brief, which is reproduced in full. The short lines suggest ambition and emphasise change. Panels were made to be swapped with glass and the factory did make changes. But when Grimshaw's Ben Heath started to examine the building the university had bought it didn't quite fit with the line in the brief: 'Changes with grace.' This became the project mantra as Grimshaw reversed ad hoc interventions that had corralled workers into dark office boxes away from the noisy machinery. In its new incarnation the boxes are for machines, in the dark heart of the plan, and humans take back ownership of the 'super room' as Grimshaw called it.
An almost imperceptible change is the raising of the roof to ensure the structure could take the extra loading of the rooftop extension, Okalux rooflights and PV panels. New veriendeel steel trusses sit above the yellow 'heritage structure' and above them is a cross laminated timber roof deck. Now the historic steel calls out for some sort of parkour action where services used to be slung, although areas around are planned to ensure it is not easily climbed.
The great moment of the building is at the head of the main first floor stairs, in among the structure and looking over, and into, both the 'street' and fine art studios. The activity is separated by a single storey ply wall but from above all is visible. This how most of the planning works: many spaces have open edges or routes through them. The lecture space is a prime example, a cascade of steps with bean bags and cushions scattered around, enclosed at ground floor level but open to the first floor. Silent disco technology will allow listeners to hear the speaker without interrupting other activities but until then lecturers have reported quite a different, welcome, pattern of interaction with the audience in this space who seem to feel more part of a discussion.
For the head of school of art Dan Allen and head of school of design Kerry Curtis the building suggests all sorts of exciting possibilities for comment and interaction as work is 'seen and exposed'. Having seen artists' work, graphics students are dabbling in three dimensions and the accessible fabrication spaces – where no technician is required – allow students of all disciplines to experiment and assemble works together. Allen revels in the fit between architect and learning in the handmade and high tech of the building. And it has given parity to courses which were stuck out on a limb and brought staff and students together, boosting morale and sense of community. Allen and Curtis are enjoying seeing practices change and how that will influence teaching. There are 750 students and the building was briefed for modest growth of up to 820, which the heads say they won't exceed.
Internally the original materials are joined by plenty of ply (used with insulation as an internal backing to the refurbished GRP cladding) and some glass. Black waxed mild steel balustrades fit the factory style – better than the fabric and timber batten wall coverings, which feel like a standard higher education answer to softening acoustics.
But this is a small niggle. Inside, the layout makes the energy of the school palpable. It fits another important part of Herman Miller's brief – that the building should have 'flexibility and be non-precious and non-monumental'. The care of reworking and the students themselves ensure that Locksbrook Campus brings life to this neglected corner of the city. The low rise life of the place is particularly important as Bath's main development sites are along the river and recent buildings have been clumsy and oversized. This looks set to continue, from the redevelopment of the po-mo Homebase to a huge new rugby stadium, again by Grimshaw, alongside Robert Adam's Pulteney Bridge in the city centre. In a city where hills, views and nature are as important as the Georgian architecture of the street it is encouraging to see this unmonumental building overtaken by the billowing willows planted when the Action Factory was completed.
---
IN NUMBERS
£23m construction cost
8,500m2 gifa
2013 grade II listed
750 current student numbers
324 existing facade GRP panels
46 of which are replacement
160 glass panels
Credits
Client Bath Spa University / Bath School of Art & Design
Main contractor Willmott Dixon
Structural & civil engineer Mann Williams
MEP engineer Arup
Planning consultant CBRE
Facade contractor Structura
Steelwork contractor MJ Patch
Architectural metalwork Taunton Fabrications
Rooflights Roofglaze
GRP fabricator (new panels) Streamline Fibreglass