Architects including Rafael Vinoly, Wilkinson Eyre, Foster + Partners and Frank Gehry are contributing to the huge redevelopment around Giles Gilbert Scott's powerful London landmark
Approach to Battersea Power Station from Grosvenor Bridge.

Credit: roundturnervisuals.com
Battersea Power Station seemed to be in the headlines every few months a decade ago – such and such owner had pulled out, the south London site was up for sale again. But there haven't been those kind of media flashes since a consortium of Malaysian investors took over the troubled site in 2012 for the sum of £400m. It had been virtually derelict since the power station closed in 1982. Machinery had been stripped out, its floors removed, its walls nothing but a perilous structural shell. There have been occasional protests in response to rumours that the building at the centre of those iconic chimneys might not be replaced, but other than that, if you don't live nearby, you might think nothing is going on. In fact it is a hive of activity.
The area, mostly seen from across the Thames or from trains passing over Gros­venor Bridge out of Victoria Station, is still notoriously difficult to get to. The Northern Line extension here opens in 2021. But people are starting to find it, filtering in under the railway arches to the west, landing at the new river boat pier or arriving via the free shuttle bus laid on by the new owner from Victoria and other local connections. A thousand people already live here in 865 apartments, mainly in the phase 1 blocks by SimpsonHaugh and dRMM completed in 2017.
The grade II listed power station renovation alone has 18 cranes and 3,000 workers on it 24/7. In the office of its architect Wilkinson Eyre, 30 people have been working on the project full-time for six years, led by Sebastien Ricard. Behind that building, the structure and wonky columns of Frank Gehry's first residential building in the UK are done, as is Foster + Partners' multi-stack sandwich proposal next door, both part of phase 3.
'Battersea Power Station will basically be a new town,' explains Gordon Adams, head of planning at the Battersea Power Station Development Company (BPSDC), which was set up by the Malaysian consortium to handle build out of the Rafael Viñoly masterplan lodged in 2009 before it came on board. Under planning permission granted in 2011, the 17 hectare site will house 26,000 people and effectively become the town centre for the three-mile long Nine Elms area. The many separate schemes by different developers that make up Nine Elms are linked by the 2008 London Plan, which designated this Thamesside location as an opportunity area. There is an 80% net flow of retail spending outside it, so the local authority, Wandsworth council, supported making the power station section a commercial heart in the hope that the right mix of uses could grab some of that back.
Consequently, the masterplan splits 40% commercial to 60% residential (4,239 homes, of which a low 386 are affordable) over 10 million square feet total floor area in eight phases. The key element is, naturally, the power station, to which the rest of the site defers. The SimpsonHaugh and dRMM blocks splay away from it towards the river, creating a 2.5ha park where barges once unloaded coal. The architect for the symmetrical phase 6 site on the other side is not decided yet, but will face similar requirements.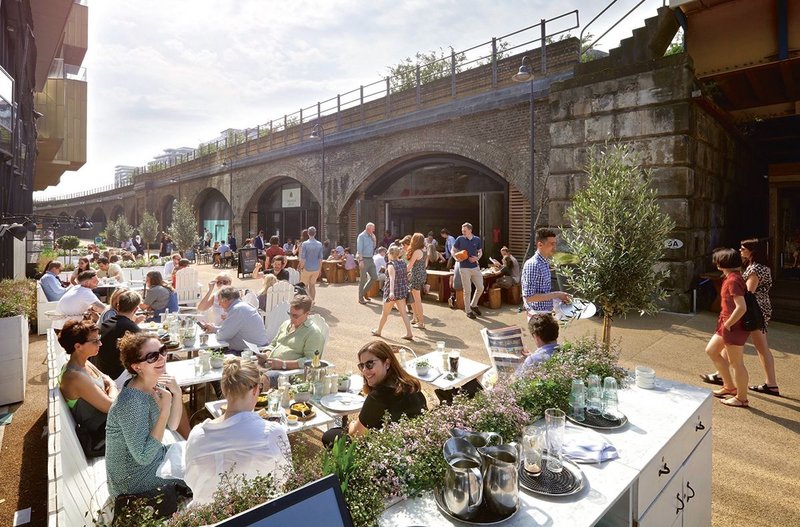 The railway arches have been converted into restaurants, cafés and an independent cinema.

Credit: Jonny Stevens Photography
The power station itself will be surrounded by a perimeter road which keeps other buildings at a distance and allows visitors to walk all the way around it. The main vehicular access will be via Pump House Lane, and there will be a buried service road. In terms of massing, everything that replaces the previous hotchpotch of warehouses and old railway buildings must be below the height of the chimney plinths, a level that equals 17 residential storeys. Nothing must be in brick either, which explains the glassiness of SimpsonHaugh's housing as well as the golden cladding of dRMM's. There are exceptions for satellite sites, such as Patel Taylor's phase 4a brick mansion block type residential scheme in which 98% of units will be dual aspect.
Phase 2 is the power station, in fact two stations joined together, both designed by Giles Gilbert Scott. The first, on the western side, was completed in 1934 during the golden age of electricity. It housed the first centralised production spaces for it and is a very high quality building. The second, on the eastern side, was built during the 1950s. Although the rhythms and monumentality of the building are continuous, look closely and you will see the earlier part has intricate art deco detailing whereas the later half is British austerity aesthetic – cheaper, utilitarian, with an interior designed by the local authority and, apparently, harder to restore. Wilkinson Eyre won the job through an invited competition where it was asked to prepare a few boards about its attitude to the building rather than a design per se. BPSDC's Adams says the practice was 'an obvious choice' as a result of its work on Gilbert Scott's Weston Library in Oxford, as well as for how it dealt with derelict industrial heritage at its Stirling Prize winning building Magna.
'Everywhere you go you should feel in that building, not a generic office space or flat,' explains Ricard. 'You need to be in tall spaces next to brick. We convinced Battersea Power Station to take out floor space to create more drama.' As for the chimneys, the owner believes they are vital to the heritage and purpose of the place. Each has now been completely replaced, and one will become a viewing platform lift accommodating 30 people.
'The attitude is everything must stay,' says Adams. 'If anything they want to put more back in.'
Visitors will enter a full-height atrium that is already emerging. Floorplates are set away from the exterior walls to give an instant impression of the scale and volume. Two huge tree-shaped columns hold up the new roof and floors. The first three storeys of the two turbine halls will be 35,000m2 of shops (about 100) set out as 150m long arcades that will flow out onto the new town square and high street behind. They will also join up with the shops and restaurants already in place along the river and in the railway arches behind phase 1. Above the retail will be a cinema and large entertainment space, topped by three floors of apartments within the original power station walls. There is also 45,000m2 of office space, equal to the Gherkin's. Apple has taken all 18,000m2 of the former boiler house for its European headquarters. It has floorplates 24m deep and an atrium the width and scale of Regent Street. At roof level, apartments, penthouses and duplex villas will be built in glass additions around an open park with views across London between the imposing chimneys – a hidden world in the sky.
The site may suggest there is still much to do but residents will start moving into the power station next year and the shops will open in 2021. The power station itself looks promising and the variety of architecture and programme of the masterplan will make an interesting district. However, what is done so far, particularly the residential ele­ment, is incredibly compacted. You feel people could stretch out their arms from one apartment block to another, and the huge amount of glass make you wonder about privacy. At ground level, spaces between blocks are filled in, seemingly quite needlessly, with offices and other commercial spaces. Another criticism has been that the Coaling Jetty has achieved very little for a great expense.
There will be time and opportunity to do those kind of things better though, as architects have yet to be decided for some plots.
---