The client of Page\Park's day centre for visually impaired veterans had no need to be so coy about its cost. It's worth every penny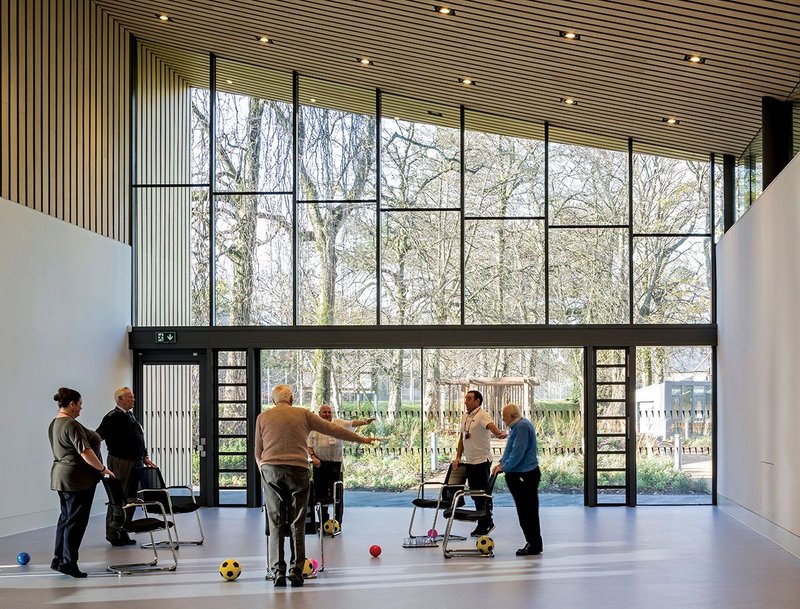 A strength building activity in the double-height sports hall.

Credit: Keith Hunter
Is it anyone's business but the client's how a building is funded and how much it cost? Does it matter in a review of the architecture? Is it fair if the client wants to keep that information quiet?
These are questions often discussed on architecture magazines. Architects, clients and developers often want to keep such information hidden. The issue arose again after I visited Page\Park's new Hawkhead Centre, a health and activity hub on the outskirts of Paisley for the charity Scottish War Blinded (SWB). It's a day centre for ex-service people who have visual impairment, and is an incredibly generous building.
The thing is, we don't know how much it cost. The client, a charity established in 1915 as the first mustard gas victims returned from the trenches of the First World War, wants to keep it secret. All we know is that building was paid for exclusively from 'reserves' – no fundraising necessary. And in these straitened times, when healthcare and community services are in crisis, perhaps that is something to be embarrassed about. SWB completed an equivalent facility, the Linburn Centre, outside Edinburgh in 2011 (also with Page\Park), which it then extended in 2015.
Nevertheless, by our own calculations and the convenient fact that this day centre was delivered alongside a specialist blinded persons nursing home next door for SWB's sister charity Royal Blind, which is much more open, we know that the combined complex cost £12 million. We also know that the nursing home part cost £6m, so we can assume the Hawkhead Centre cost about the same. At 1530m2, this works out at £3921 per m2 – not that surprising a figure given the specialist nature of the building.
It's a shame, though, when organisations hold back such information. We are, after all, used to seeing expensive buildings – take the Bloomberg HQ and the American Embassy in the last six months alone. They both allegedly cost $1 billion. We would rarely critique a building on the basis of cost alone. But when it comes to charities, perhaps more scrutiny is required. The building may have been funded out of reserves, but that money would have once been privately donated I assume. And after the visit, Rebecca Barr, the head of SWB, retracted her statement about the cost being comparable with other builds.
Knowing the cost of a project is an important component in its assessment. It isn't always mentioned, but it lurks in the background. The schemes we cover need to be useful to readers to justify their publication. But it's more than that. The kinds of facilities at Hawkhead are not being provided for visually impaired people equally across Scotland even by SWB, and of course not across the UK. Nor are they part of ordinary health and community care. Although the Hawkhead and Linburn buildings serve Scotland's largest population concentrations, and one veteran travels in from the Isle of Bute, like any day centre they function for a narrow geographical area. For these reasons it is important to know whether they could in any way be replicable by welfare institutions and other, perhaps less well-endowed organisations, and that this money, which attracts all sorts of public relief, is being duly spent.
Why is this so important? Well, it wouldn't be necessary to talk about it if the Hawkhead facilities and function weren't so splendid. In the past I've written about problems in health facilities, but also about one of my favourite hospitals, the Hospital de Sant Pau in Barcelona, which is light and airy as well as full of joy and wonder (PIP Nov/Dec 2016). The Hawkhead Centre shares these qualities though it has a different appearance. Walking around on a late Monday afternoon after all the members have gone home, it's easy to forget this is a building for people with specialist needs.
Shaped like a hawk's wing in deference to its namesake town, the new building combines workshops, classrooms, a gym, sports hall and dining hub under a great curving canopy that sweeps from the taller bank of the passing parallel road down to the nursing home. Visitors enter the Hawkhead Centre at the eastern end, encouraged in by a geometric forecourt sculpted out of the building's volume using a composition of contrasting planes of white-stained larch timber-boarding, natural birch slatted soffit, dark Scottish whinstone paving and glass curtain walling framed by zinc fascias.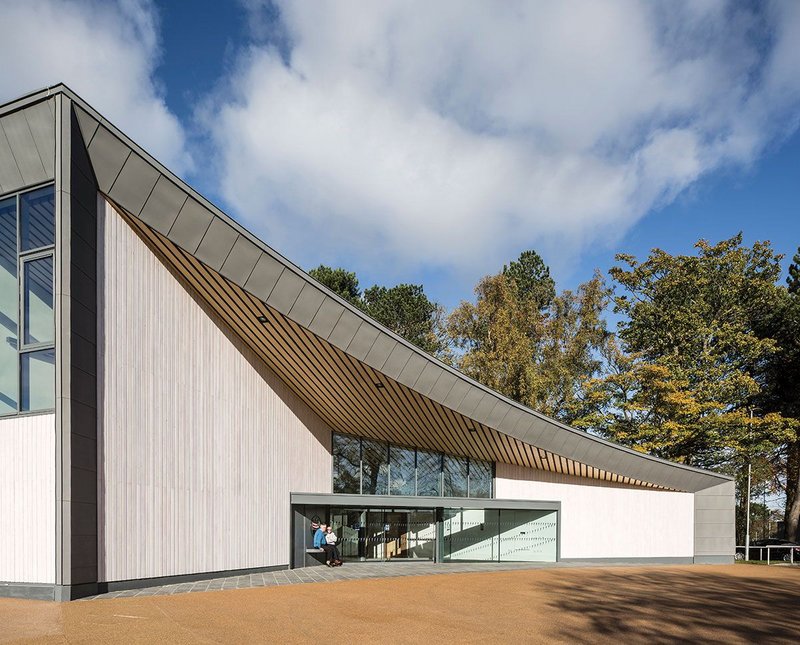 The entrance offers an obvious way in for visitors.

Credit: Keith Hunter
Inside, this generous, clear sense of space continues. The birch-slatted soffit from the entrance portico continues down the tall, 55m length of a wide internal avenue, and then out through the other end wall to form a protective canopy from which to enjoy a newly planted garden. From this avenue the double-height sports hall, gym and upstairs staff area are off to the left; the single-storey workshops, classrooms and a lounge to the right. At the end it opens out into a huge dining area where members are served free lunches and can pick up tea and coffee all day. The entire end wall is glazed to make the most of a new landscape designed by Ian White Associates. A curved timber potting shed at the back of the garden helps contain the building's privacy. Members can enjoy a circular walk in the sensory garden where some plants rattle, others have been chosen for their perfume and some are planted at eye level to allow close inspection.
Without doubt, the ceiling is the most crucial and successful aspect of the project. Combined with the clerestorey windows between all the side rooms and central avenue, it unifies the spaces to make them feel interconnected and free-flowing. It means few rooms are single-aspect, admitting daylight from multiple directions to prevent dimness, which is particularly disabling for visually impaired people. What's more, five triangular dormer windows along the centre, like feathers in the hawk's wing, bring light into the plan, act as ventilation shafts and give the interior an even more exciting architectural dynamic. This additional imaginative thought as well as its aesthetic interest over an ordinary plasterboard finish lifts the project from the good to the extraordinary.
While the overall plan and grand design gestures help create a light and enabling environment for people with visual impairment, great care has been taken with the details too. Light maple wood doors are surrounded by dark walnut frames and fitted with black enamelled ironmongery to create visual differentiation for the partially sighted; coats are tidied away in a long cupboard opposite the reception and fire extinguishers are recessed into walls so people don't bump into them. In the teaching kitchen, the white units have black edged work surfaces and handles. There is a huge emphasis on storage to clear the paraphernalia of the centre's daily life away too.
This attention to detail extends far beyond visual contrast and uncluttered floors. One of the main takeaways from Page\Park's work on the Linburn Centre was the need to consider the impact of visual impairment on the other senses. For example, to improve the acoustic environment, the architect has incorporated a stretched black fabric between the slats in the ceiling, acoustic panelling along the avenue, cork flooring and more natural, sound dampening materials, as well as closing off the open servery in the dining hall from the clanging catering kitchen. And for architecture fetishisers, Page\Park even found budget to incorporate flush recessed skirting details too.
Having only opened six months ago, the building is already helping 111 of the SWB's 1000 members, which means 20-30 people visit the centre each day. Members do activities from woodwork, art and cooking to gardening, ICT, strength training and indoor curling. There is also a quiet room overlooking the garden for people to listen to music and watch films, while the sports hall doubles as a multipurpose space for events such as Burns Night Supper. The centre's ethos is about empowering people living with visual impairment, and has a non-institutional feel that owes a lot to Maggie's – Page\Park has in fact designed two of those. Into the healthcare and community building mix the Hawkhead Centre also adds education, leisure and creativity, with SWB believing strongly that the latter encourages wellbeing.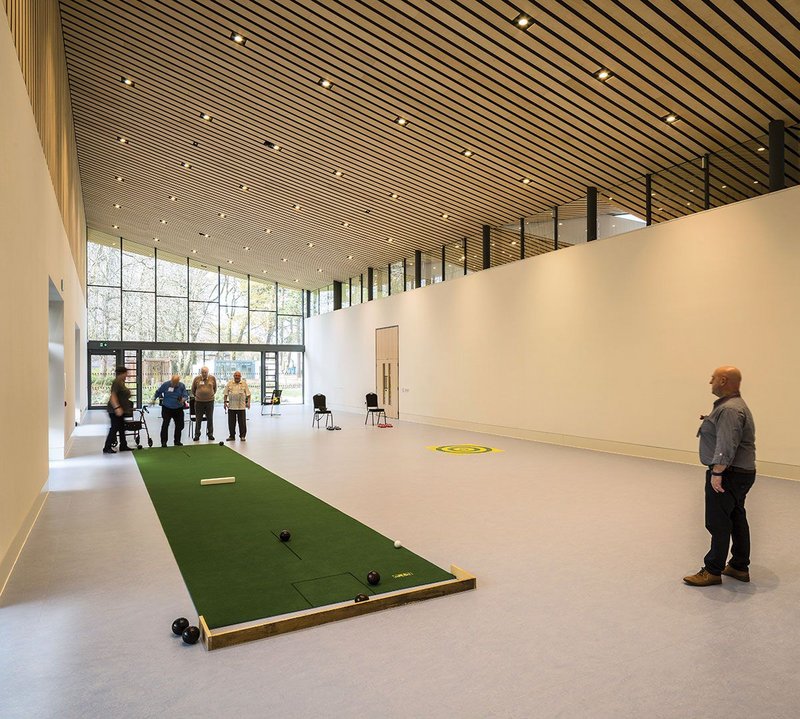 Clerestory windows between side rooms and the central avenue bring light in from multiple directions.

Credit: Keith Hunter
There are 15 permanent members of staff and Barr reports that many have noticed the abilities and demeanour of attendees improving in a short amount of time – some even look younger.
Over the past 10 years SWB has undertaken a significant building programme, transforming itself from primarily a hostel-style support service into a day centre offering a more modern way of providing care, so it is not likely that it will commission more buildings, but the Hawkhead Centre is part of its ambition to open its services to more people.
'There are a smaller number of war veterans now,' explains Barr. 'So in 2007 our constitution was changed to include people with age-related eye conditions and people who did national service.'
So while the oldest member at Hawkhead is a 102-year-old Dunkirk veteran, most are in their mid-70s, and SWB is expecting a 10-year expansion with the population bulge of baby boomers. All would like a centre at the end of their road. Membership is free, as is all of the in-house and outreach support, including meals and day trips. The organisation will even provide members with talking microwaves for their homes, as well as talking mobile phones.
'It's now that we need to spend our money,' concludes Barr. It would be great to see both Hawkhead's programme and its architecture replicated for more people, whatever the cost.
Credits
Architect Page \ Park Architects
Client Scottish War Blinded
Main contractor CCG Scotland
Structural engineer Jacobs
M&E consultant Atelier Ten
QS NBM
Acoustic consultant Sandy Brown Associates
Landscape architect Ian White Associates
Form of contract or procurement route SBCC Standard Building Contract With Quantities, 2011 Edition